Without a doubt, Dubai never runs out of exciting places to visit. Aside from its magnificent structures and skyscrapers, it also offers a spectacular array of theme parks for the whole family to enjoy. Here we share a list of theme parks (indoor and outdoor) where you can have a grand time of fun and adventure.
Each theme park is designed to create an exciting experience for the whole family. These parks include giant water slides, movie-themed rides, and even an indoor ski resort.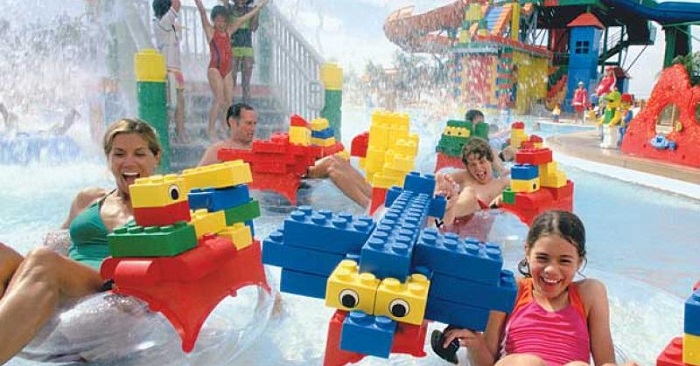 Theme Parks to Visit in Dubai
Dubai Tourism is making sure that Dubai is poising itself as global family destination. You can surely have fun and bring your family and relatives for an exciting and wholesome destination.
Here is a list of the must-see theme parks in Dubai:
#1 – Aquaventure Waterpark
The Aquaventure Waterpark is located in the Atlantis hotel at Palm Jumeirah, a man-made island in Dubai. It features a fantastic river ride and around 11 water slides. Here, guests will definitely get an adrenaline rush from the heart-stopping rides. Similarly, they will have a blast swimming alongside schools of fish, cownose rays, and sharks!
#2 – Dubai Parks and Resorts
As the name suggests, Dubai Parks and Resorts consists of not just one, but four theme parks: Bollywood Parks, Motiongate, Legoland Dubai, and Legoland Water Park. The first two are inspired by Bollywood and Hollywood movies, respectively. Meanwhile, Legoland Dubai and Water Park have 40 rides and many attractions — including the world's tallest Lego model of the Burj Khalifa in Dubai.
#3 – IMG Worlds of Adventure
Spanning 1.5 million square feet, IMG Worlds of Adventure is the largest indoor theme park. Similar to Bollywood Parks and Motiongate, it features plenty of movie-themed rides and attractions. IMG also presents a 12-screen cinema, eye-catching 3D rides, plus more than 20 restaurants and retail outlets.
#4 – Ski Dubai
Yes, there is a place in Dubai where you can actually go skiing! Ski Dubai is an indoor winter wonderland at the Mall of the Emirates. It contains about 3,000 square meters of real snow, where you can ski, slide, and have a snowball fight! Guests here will also have the chance to meet real, live penguins.
#5 – Wild Wadi Waterpark
Right beside the Burj Al Arab Jumeirah and the Jumeirah Beach Hotel is the Wild Wadi Waterpark. It presents 30 amazing rides inspired by Arabian folklore's tale of Juha. Among these attractions is a heart-pumping tube ride and a relaxing wave pool.
Indeed, there is never a dull moment in the city of Dubai. In these theme parks, you, your family, and friends are bound to have an unforgettable time. As we progress to more developments in the city, there will be even more attractions that are still waiting to be built. They are already in the works. For sure, Dubai will have more amazing places and options for you to keep coming back and visit.