We had a great time during our visit to Legoland Dubai during its pre-opening program. It was a fun experience to be one of the first few to enter the theme park while it wasn't open to the public yet.
While most rides were still on the testing stage (and therefore still closed), we were still able to enjoy our visit. This post talks about our experience being in Legoland Dubai and what to expect if you visit this amazing family theme park for the first time
Entrance Ticket Price: AED 250 for a day pass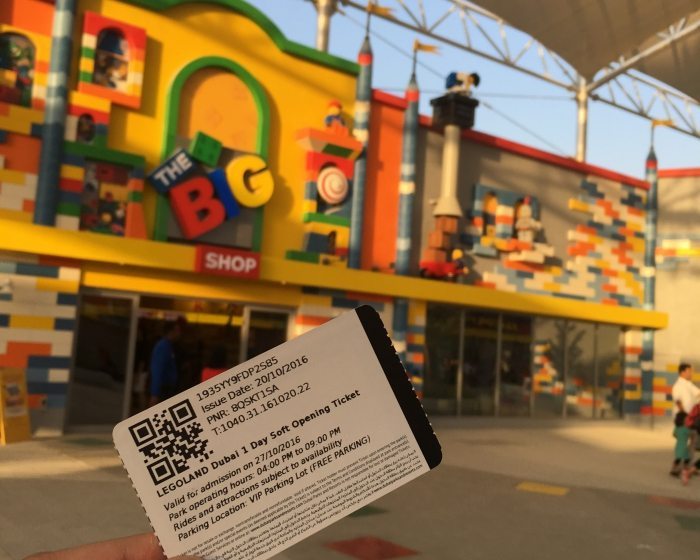 our entrance ticket
Dubai Parks and Resorts officially opened its doors to the public on 31 October 2016. First two attractions to welcome the public is the regions very first Legoland and Riverland, the multi themed dining and retail destination which is at the heart of Dubai Parks.
Legoland Dubai
The ultimate world of LEGO themed attractions for families with children aged 2 – 12 years old. It has over 40 interactive rides, shows, building experiences and 15,000 LEGO model structures made from about 60 million LEGO bricks!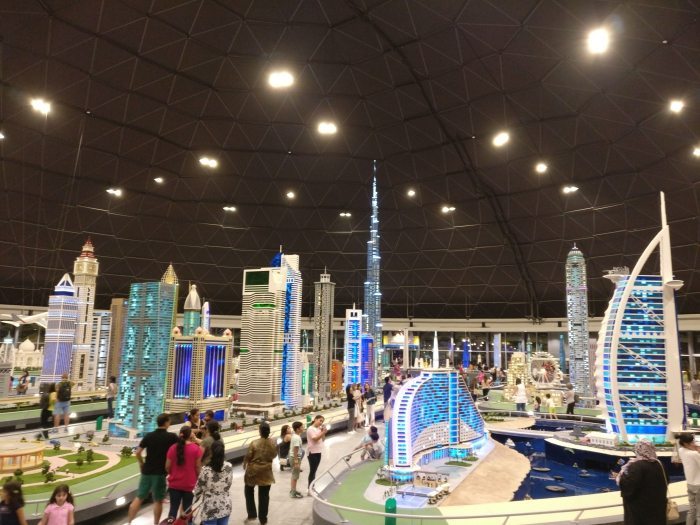 inside Miniland! a mini replica of famous landmarks in Dubai
What's inside Legoland Dubai?
Legoland Dubai has six unique themed lands providing different experience, entertainment and educational offering. These are the themed lands inside Legoland Dubai:
1. LEGO CITY – a place where children can experience playful learning opportunities which includes flying a plane at the LEGO City airport, steering a boat at the boating school, or even earning a LEGOLAND driving license at the driving school.
2. KINGDOMS – where your little princesses and knights can explore a medieval land and conquer the Dragon Coaster which will take you on a journey through the castle with LEGO models showing the medieval era.
3. IMAGINATION – a LEGO fan's ultimate area to enjoy hours of playing, building and racing LEGO cars. Visitors can also take advantage of the Master Builder Academy while toddlers and small children will enjoy DUPLO Valley. Kid Power Tower is a great way to see the entire park before a gentle free fall ride to the bottom.
4. ADVENTURE – this is where visitors can enjoy a captivating Submarine Adventure, or power through waves and dodge water blasts with the Wave Racers. They can also visit the ancient temple ruins to recover a pharaoh's stolen treasure.
5. MINILAND – is the heart of all the LEGOLAND Parks. This area is made up of 20 million LEGO bricks featuring Dubai's iconic skyline and landmarks from around the Middle East and other international destinations. Miniland in LEGOLAND Dubai is the first ever air-conditioned Miniland at a LEGOLAND park. It also includes "Build a City" where guests can find a 10 meter play table with white LEGO bricks which allows visitors to create a city skyline.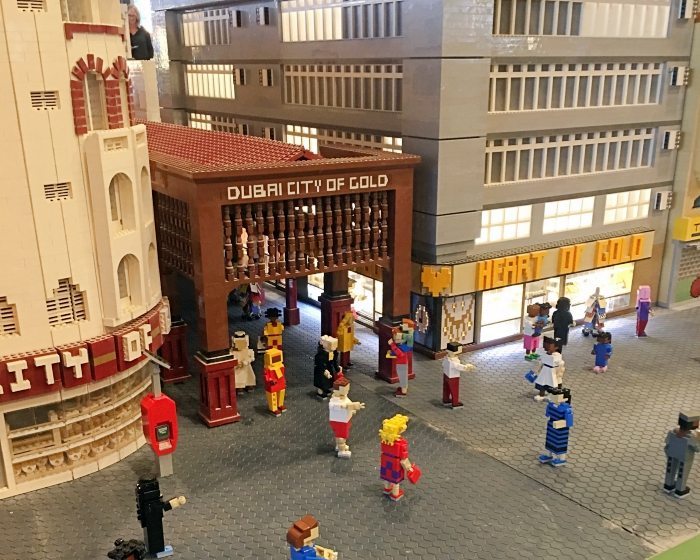 old Dubai in lego bricks (Gold Souk area)
Our Experience Visiting Dubai Legoland Park
The main attraction is MINILAND where millions of LEGO bricks were carefully constructed to resemble iconic locations in Dubai and the neighboring countries.
I personally enjoyed roaming around Miniland since there was so much to see! Every structure was meticulously made to look exactly like the real thing. It was amazing to see tiny motorized cars cruising in small streets. They even have a replica of the Dubai Metro which has a scheduled train going through stations.
We also stopped by "Imagination" area where we had a chance to build our own LEGO car and race it with other LEGO enthusiasts. We tried the LEGO Technic Twister as well.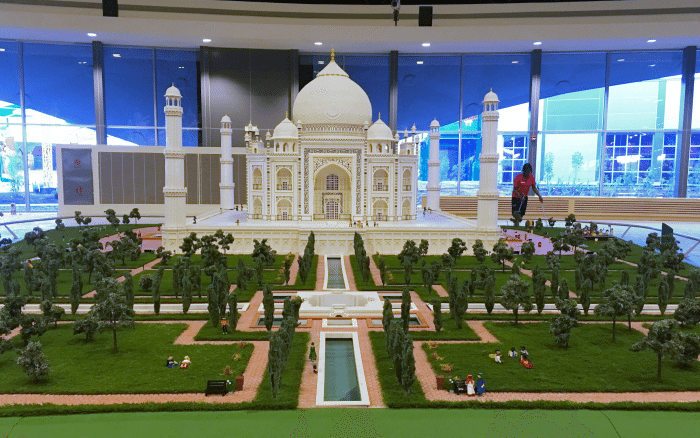 Taj Mahal in Lego bricks
Tips and Observations
Please be advised of the following points and helpful things to know when you visit this theme park. Be guided on things to do and other reminders:
– No food allowed inside the theme parks. There are several dining options inside LEGOLAND however, the "good" restaurants are found at the Riverland area.
– You can rent strollers and wheelchairs just after you enter the LEGOLAND gates, by the LEGO stores.
– LEGOLAND is open from 10 am to 6 pm only therefore, you should plan your visit accordingly.
– Tickets for LEGOLAND Dubai is priced at AED 250 for a day, however, if you wish, you can purchase tickets that would let you access LEGOLAND and LEGOLAND Waterpark which is priced at AED 350.
– Annual passes are also available. This is more economical if you will be visiting more than 3 times a year!
– If going by car, please note that there are parking fees starting from AED 50 – AED 150.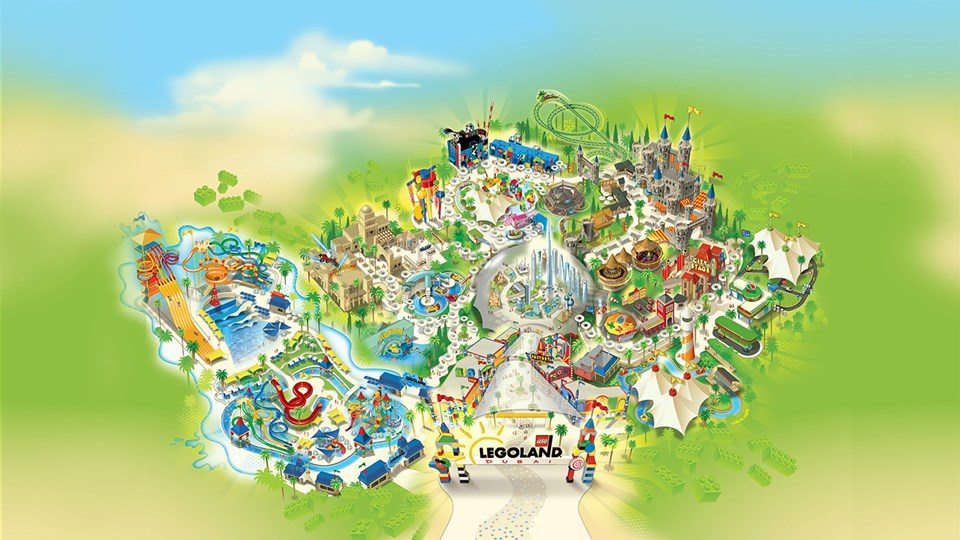 map of the park
Riverland Dubai – First view when you enter Dubai Parks & Resorts
How to Get to Legoland Dubai
The cheapest way to Legoland Dubai is by going via public transport. To do this, you would need to take the Red Line at the Metro until Jebel Ali station (last station down south) and take a taxi going to Dubai Parks.
Contact Information:
Opening Hours: 10am to 6pm
Entrance Ticket Price: AED 250 for a day pass
Website: http://dubaiparksandresorts.com/
Address: Sheikh Zayed Road , Opposite Palm Jebel Ali
Phone:+971 4 820 0000
Google Location Map
Below is a Google map of this famous theme park for the family in Dubai:

---
About the Author: Sheila

Sheila is a Filipina expat in Dubai working as a corporate slave by day, blogger by night and a mom 24/7. She loves traveling with her family, trying out new cuisines and waiting for the next big adventure to come. Follow her adventures on
www.abandme.com
.
---
Share your thoughts. Contribute an article to DubaiOFW.com
Want to publish your experience? Share your everyday stories, food trips, travel, photo stories, or tips in Dubai to our growing community. More information here – Become a Dubai OFW Contributor!