Residents of Dubai who love to travel have many options to go out and explore. The UAE is strategically located so you can travel to other countries, either in Asia, Europe or the Middle East. Plus there's plenty of airline companies that can take you to even farther countries in North and South America.
The common notion of travelling as a luxury is dispelled especially now when information is already at our finger tips and budget airlines and accommodations are even more accessible. Here we list some tips on how to plan your trip to your dream destination so you can prepare for it without spending much.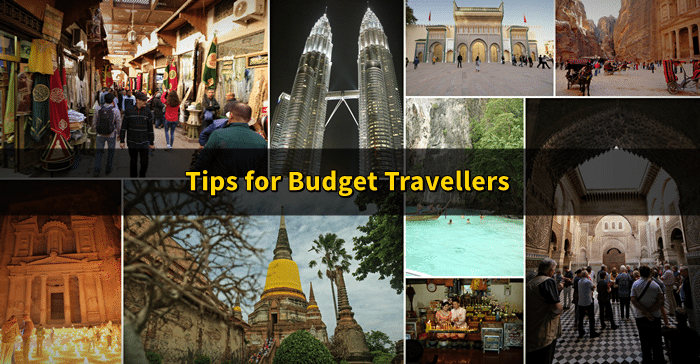 8 Tips for Budget Travellers
After you've chosen your destination, you can refer to these guidelines as a reference and just to give you an idea how to save on costs when you travel.
Set up a Budget – Review how much you're willing to spend based on your budget. Break down the costs according to hotel, food, accommodation, activities, and miscellaneous expenses. Depending on the actual prices of these points, you will be able have a rough estimate on how much you will spend and how much you're willing to spend. Flight Tickets and Accommodations are usually the main things that you really have to watch out price-wise.
Book Flights in Advance – It's important that you book your flights ahead.  You may usually get various airline promo deals 3-4 months before your flight date. Sometimes you can even book better deals if you purchase 6 months further. You can check Cleartrip  offers and coupons to can filter the best rates to your chosen destination from airline companies plying that route.
Book Budget Hotels or Room Rentals – Aside from booking discounted flight tickets, you can also search for budget hotels online. Try AirBnB to book room rentals at much cheaper costs. You won't have a shell out much. Also, if you're travelling to explore places, you won't really spend much time in your room. Hence, you simply need a safe and secure place to stay. Pick an accommodation that's near the location of the tourist spots. You can also find coupon aggregation sites that compile these discounts like ae.paylesser so you can find good deals in one place.
Create Your Itinerary / DIY Tour – It's usually cheaper if you create the itinerary by yourself. List down the places that you want to visit. Find out how to get there via a public transportation (metro, bus, tuktuk, etc.). Check how much are the entrance fees to the places you want to go such as museums, parks, historical places, etc. Travel writers and bloggers have published countless stories and tips how to go to a specific destination. You just need to search for these stories via Google or through travel forums.
Prioritize Important Activities – You will not be able to do everything at once, but you can highlight the things that you want to do the most, it's easier to create your itinerary. tip is to head out to TripAdvisor.com, or just do a random Google search and type "Top Things to Do in *Country*".
Eat Local Food –  When travelling, learn to eat local food. You can head to non-touristic places and find a cafeteria or restaurants to sample local food. This is a big part of travelling, to experience the cuisine of the countries you visit. If you're unsure of the prices, you can always check the menu of the resto before deciding if you want to eat there or not.
Understand the Local Culture – getting an idea how locals behave would also help in you making decisions on the road. This includes haggling when buying souvenir items, or not being scammed for regular tourist traps, and generally staying safe when on the road.
Save up for your Trip – Learn to set aside money every payday. Since you have about 3-4 months after you've made your flight reservation, you can allot cash when you receive your salary. On top of this, you can also try to do some side gigs to earn extra. Try going online for skill-based jobs like copywriting, data entry, photography, etc. – check out Upwork.com for more details.
—————
If you may notice, most of the travel tips that we've mentioned above clearly involves plenty of research online beforehand. In the age of the internet, information is easily accessed. You just need to have the patience to find these details. We hope that the tips above will guide you in having a worry-free adventure as you travel
Did we miss anything? Let us know and we may include It in this post!