Compared to most other places in the Middle East, Dubai has a liberal dress code. If this is your first time to visit the city, it's good that you know about the customs and how to behave. There are some guidelines on what to wear, although people here can usually wear anything they like, as long as they do so with a sense of modesty and responsibility.
While Dubai is more tolerant, other emirates in the UAE, like Sharjah and Ajman, tend to be more restrictive. This article focuses mainly on the dress code in Dubai, particularly in the office and in public places like shopping malls, mosques, and beaches.

When in Dubai: What You Should Wear
First of all, keep in mind that Dubai is part of the UAE, which is a Muslim country. Although a huge chunk of the population in Dubai are expats and foreign workers, it still adheres to Islamic culture in terms of dress code and social behavior.
Dress Code Policy in Dubai
Emiratis and Muslims living in Dubai usually wear traditional clothing: the kandura (a white robe) for men, and the abaya (a black robe) for women. Women also wear a head scarf or shayla, which is not to be confused with the niqab (a veil covering the whole face except for the eyes) and the burqa (a veil covering the whole face, with a thin mesh layer for the eyes) — traditional clothing that are often worn by the older generation.
That being said, non-Muslims are not expected to wear traditional clothing in Dubai, and women do not have to wear a head scarf in most public places. However, the general rule would be to dress modestly and responsibly, which is further elaborated below.
UAE Dress Code for Men
When out in public, here are some general guidelines for men:
Wearing knee-length shorts is generally acceptable.
Sportswear (e.g. cycling shorts, swimwear) is recommended for the sport being played.
Wearing long pants or trousers is required when visiting mosques.
Wearing sandals is common and acceptable.
Shirts containing words and images that are offensive to culture and religion are not acceptable.
Unless you are at the beach, going shirtless or bare-chested is not acceptable.
Some bars, restaurants, and clubs have a "no shorts" and "no sneakers" policy, so be sure to inquire in advance before going to any of these places.
UAE Dress Code for Women
For women in Dubai, be sure to keep these guidelines in mind:
Low-cut shirts, spaghetti straps, and tight tops are not acceptable.
Dresses and skirts must be knee-length or longer.
Shorts that are knee-length or slightly above the knees are okay.
Avoid wearing sheer tops and dresses where your lingerie is wholly or partially visible.
Women do not have to cover their hair, heads, and faces in most public places, although Muslim women do so for cultural and religious reasons.
When visiting mosques, non-Muslim women should cover their hair, bodies, and legs, but covering their faces is not required.
When visiting government offices, wearing conservative attire is recommended.
Carrying a shawl whenever going out is a good idea, as you might end up visiting places where you will need to cover your hair and shoulders.
UAE Dress Code for Children
Unlike adults, there are generally no restrictions on what children can wear in the UAE. Still, dressing them modestly is still recommended. Also, keep in mind that Muslim children trend to dress conservatively, with boys wearing long trousers and girls wearing dresses and skirts.
Teenagers, on the other hand, should follow the same guidelines for adults, and avoid wearing tight-fitting and revealing clothes.

Dress Code for Tourists and Visitors
First-time visitors and tourists should take note of the guidelines discussed so far: long trousers or knee-length shorts for men, clothes that cover the shoulders and knees for women, etc. Women are not required to cover their hair with scarf unless visiting a mosque.
Meanwhile, tight-fitting and revealing clothes are not acceptable. The same goes for clothes that feature potentially offensive words or images. If you have a friend or family coming to visit you in the UAE, be sure to tell them these rules so that they can be prepared.
Also, as mentioned earlier, some emirates are more conservative than others. Sharjah and Ajman, for instance, have strict dress codes for men and women. Men are not allowed to wear shorts, while women should cover their upper arms and shoulders, among other rules. While there is still a bit of grey area in terms of wearing shorts, just try to take note that the emirate of Ajman and Sharjah are more conservative.
What to Wear in Dubai Malls
When visiting malls in Dubai, keep in mind that you are going to a place that is frequented by locals as well as expats. So again, dressing modestly is the key. In fact, most shopping malls have a dress code, the general rule being your shoulders up to your knees should be well covered. It's also a good idea to bring a shawl or light jacket, since the malls are air-conditioned and it could get chilly inside, despite the extremely hot weather outside!
In any case, always be mindful of how you dress in malls and other places, like museums, parks, and public transportation. After all, the last thing you want would be for a security staff to come and tell you that you're dressed inappropriately, and that you should cover up!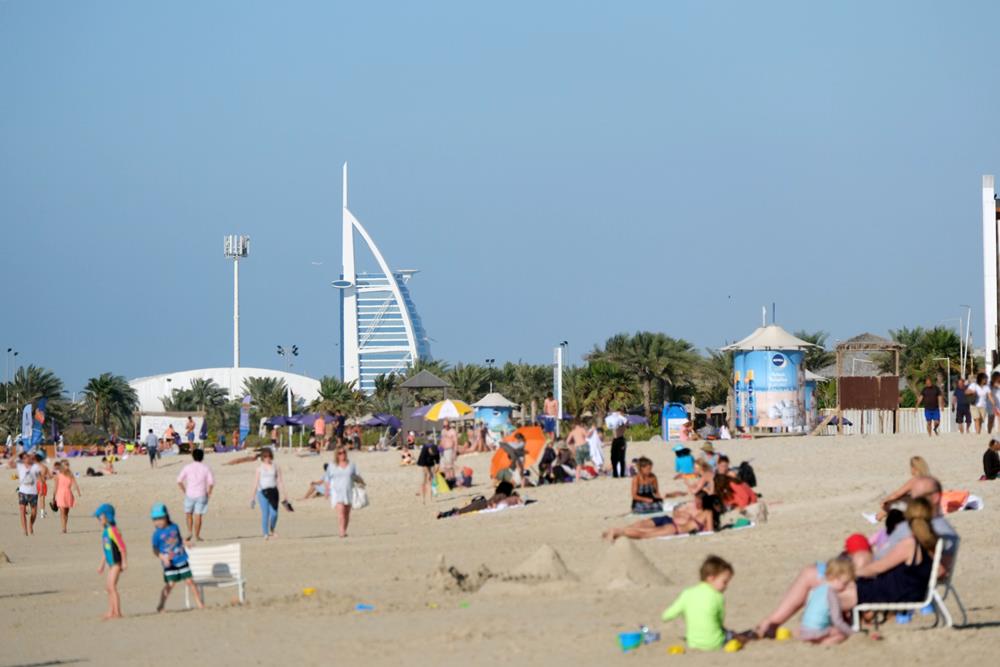 Dress Policy on the Beach
It is okay to wear swimsuits and bikinis at the beach, but at the beach only. Don't forget to bring a cover-up or robe, as this is usually part of the beach dress code. Wearing flip flops are also acceptable at the beach, but not in most other public places.
In any case, most beaches and pools would have signage on dress code, so be sure to follow these rules so that you can avoid being called out by security staff.

UAE Dress Code in the Office
Here are some tips for men and women on dressing up for the office:
For Men
Wearing long pants or trousers is recommended.
Collared shirt (short or long-sleeved) is standard in most offices.
Suit and tie may be required in some professions or formal occasions.
During business meetings, you may wear suits, blazers, and formal shoes.
For Women
Wearing a dress or knee-length skirt is recommended.
Full-length pants or trousers are allowed.
Blouses and shirts should cover the upper arms.
During business meetings, you may wear formal dresses or formal tops with skirts and trousers.
Additional Tips
Ask your company about the official dress code.
Choose natural fabrics (e.g. cotton, wool, linen) that can keep you cool in the warm climate. The weather can go up to 50 degrees Celsius during summer, so choose your fabrics wisely!

What to Wear When You Visit Mosques
Some mosques in Dubai are open to visitors. When visiting such places, it is important for you to dress appropriately. Here are some general guidelines to take note of:
For Men
Men should wear shirts or t-shirts with sleeves.
Full-length pants or jeans are recommended.
For Women
Women should wear pants, trousers, dresses, or skirts that cover their shoulders, chest, back, and knees.
Bring a scarf to cover your head. You may be asked to wear an abaya over your clothes, and given a shayla or head scarf as well.

Consequences for Breaking the UAE Dress Code
What happens if you are caught breaking the dress code? If you're in a mall, for example, security staff or even a complete stranger may come up to you and say that you are dressed inappropriately. When this happens, apologize immediately and cover up. If you don't have a shawl or jacket with you, assure the person that you will cover up as soon as possible.
Again, it would be best to avoid arguing with the person who came up to you. If you insist on arguing, the police may be called and you could be charged with "offending public decency." In extreme cases, you could get one-month imprisonment or even deported for not following the rules! Remember to be patient, polite, and respectful at all times, with all persons.
Video: Dressing Responsibly in the UAE
To know more about the dress code in the UAE, here is a video with reminders about how to dress responsibly in the emirates, as shared by Wateen Media on YouTube:
As foreigners living in another country, it is important that we follow local culture and practices, including the dress code. This way, we are able to show our respect, just as we expect other people to be respectful of our own culture.
Summary
Let us also keep in mind that Dubai is one of the most diverse cities in the world, and it's not uncommon to see many nationalities living and/or working in the same place. This means that we should always be sensitive to cultural differences among friends and colleagues.
In addition, always be mindful of where you are going — to the mall, beach, mosque, or other places — and use this as a guide on what you should wear. Other than the dress code, you should be aware of some cultural beliefs and practices, too. Here are some tips for first-time visitors in the UAE, so that you can be prepared even before you travel here.