We went to the Gitex Shopper Festival 2014 – Spring Edition last April and it was so full of people! Consumers from the UAE and nearby countries flocked the Exhibition Hall of the World Trade Center to participate in the biggest technology event in Dubai.

Gitex Shopper Dubai crowd photo
This was my first time to attend the Gitex show and I didn't know what to expect. I knew that there was going to be lots of gadgets for sale, but I didn't realize there were plenty of discounts on the different merchandise. From laptops to cameras to flat-screen TVs to home appliances to computer accessories to entertainment systems! Cars were even displayed outside to showcase what the Emirates has to offer!
Gitex Event at the World Trade Center – Dubai, UAE
We arrived at the World Trade Center around 8:30pm and there were still plenty of people around. Different tech shops like Sharaf DG, Emax, Plugins, Jumbo Electronics, E-City, etc. have booths that occupied large spaces inside the hall. There were also leading brands like Lenovo, Nokia, Samsung, Toshiba and such to release their line of IT products.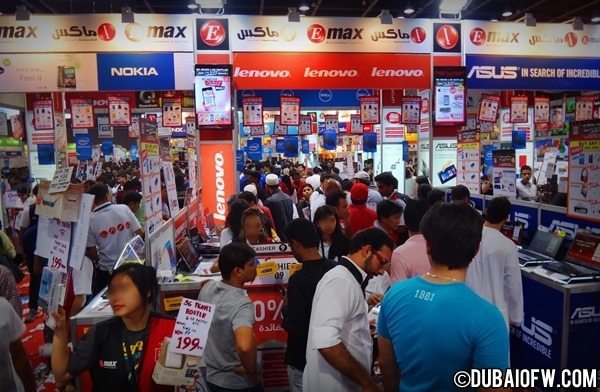 Emax shop at the Gitex Dubai
We paid the 15 Dirham entrance and got in. We browsed for some time and tried to window shop the different booths. It was really full at the time and the shops were carrying different products with huge offerings.
We saw signs that if you buy a smartphone, you'd get a free 32-inch TV. Items sold plenty of freebies, discounts, gift coupons which you can use right away on your purchase. Staff employees were carrying placards of available offers, others were inviting everyone to join their short contest and you'd get a prize right away once you answer a simple question even if you haven't bought anything!

different offers and promotions at great value!
I was already contemplating on buying either a camera or a laptop, but decided on the former since I needed to upgrade my camera so I can document my Dubai experiences better. Besides, my laptop was still I good and satisfactory condition.
FujiFilm X-E1 for 2299 AED
I was able to purchase a new camera from ECity shop for about 2299. I also got great accessories like a tripod, camera case, memory card, extra battery and an extra lens (50-230mm). Everything would've cost at least 6000 AED if I were to buy it at regular retail price!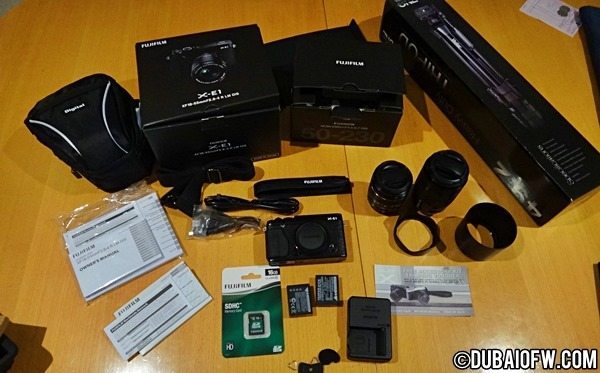 my new camera. a good investment for business opportunities!
This was my first Gitex experience in Dubai and I'm surely going to prepare as I replace my laptop this Gitex in October 2014.