One of the places you can dine in Dubai for grilled Filipino food is Manila Grill restaurant located in Asiana Hotel. We've been to Asiana Hotel before when we had a Pinoy pork buffet at Lamesa Restaurant. Manila Grill is another place in the hotel that specializes in our beloved Filipino cuisine as well as some Philippine street food.
Related Post: List of Filipino Restaurants in Dubai
We visited the restaurant on a weekday for dinner as we were craving for some grilled Pinoy food. There is also live acoustic entertainment when we arrived. By the way those who have "Korooti cards" will get 10% discount from the total bill (only for regular-priced items).
Nearest Metro Station: Salah Al Din metro station – Green Line
Alcohol: YES
Pork: YES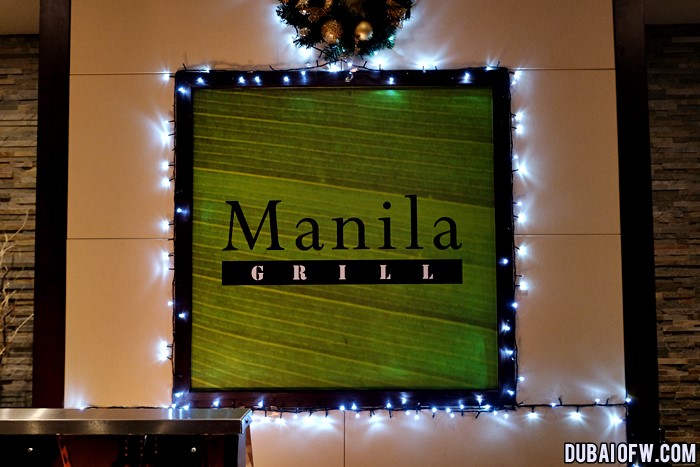 Manila Grill is located at the ground level of the hotel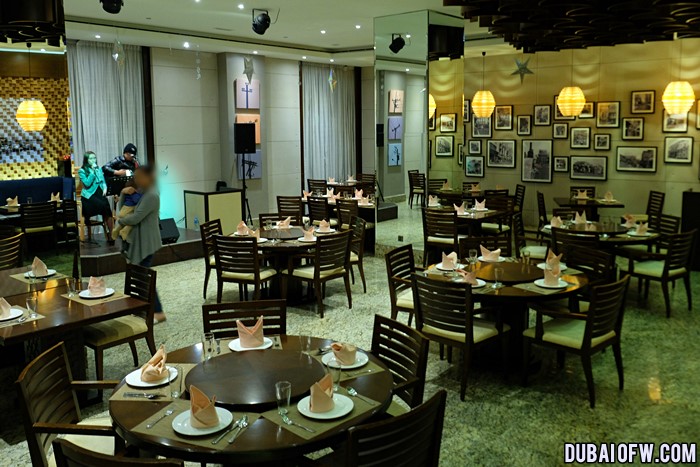 dining set-up inside the restaurant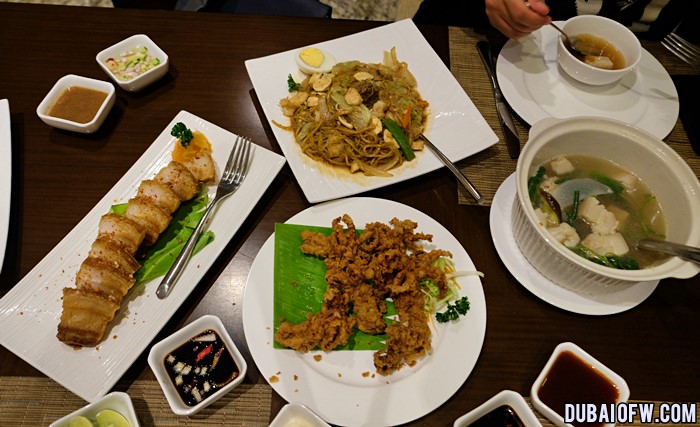 fried pork belly, fried calamari, pansit, sinigang na baboy
Savor Pinoy Cuisine at Manila Grill Restaurant
Having lived abroad for quite a while, it is only natural to feel homesick sometimes. Fortunately, there are places and things that remind us of home. There are also Filipino restaurants in Dubai where we can satisfy our cravings for delicious Pinoy dishes.
One of these restaurants is Manila Grill, situated on the ground floor of Asiana Hotel in Dubai. Set in a cozy ambiance with live entertainment, the restaurant serves Filipino favourites including pork. These include crispy pata, lechon kawali, sisig, and other pork dishes!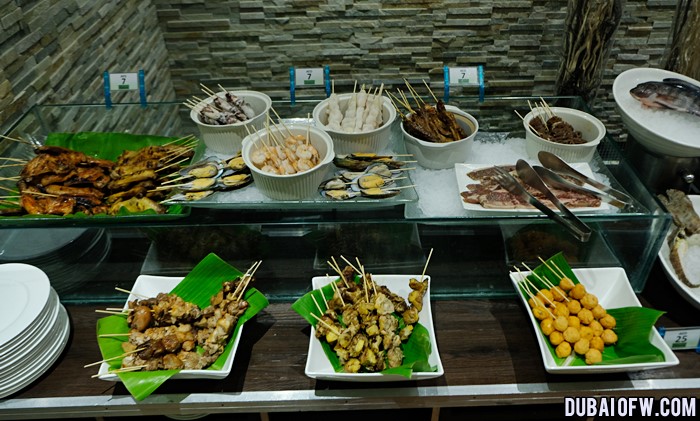 street food Pinoy – barbecue, etc. ready to be grilled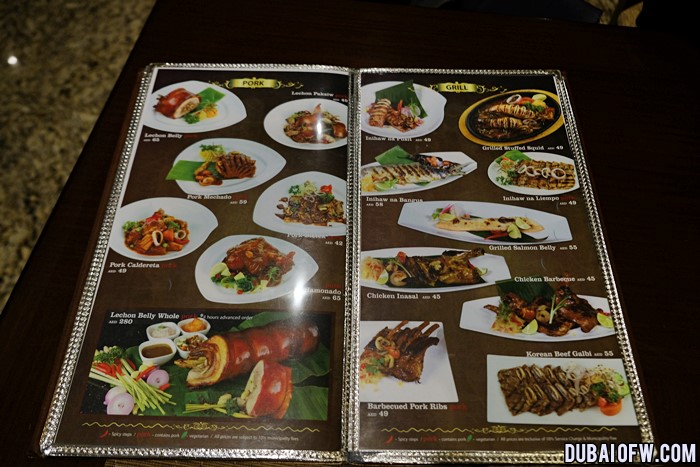 Pinoy food menu – we ordered a set as we found it cheaper to order the set of dishes
Whether you're planning a dinner for two or getting together with friends, Manila Grill offers special combo as well as group packages. Moreover, they cater for special events, such as birthdays, reunions, and corporate gatherings – with seating available for up to 140 guests.
At Manila Grill, they serve classic Filipino cuisine for lunch and dinner. The crispy pata is a popular choice, along with the crunchy lechon kawali and tasty sisig. Aside from pork dishes, they also have poultry, seafood, and beef recipes – all served Pinoy style, of course!
kare-kare Pinoy food – Manila Grill
grilled squid, pinakbet, mango salad, Kare-kare, fried pork belly, grilled chicken barbecue wings
What's more, you shouldn't miss other Filipino favourites: pansit bihon, pork barbecue, and even isaw! You will also enjoy the complimentary chicharon and a popular side dish – mango with bagoong. It's the perfect place to introduce Pinoy food to your foreign friends!
Cozy interiors, courteous and friendly staff, live music, a full bar — this is what Manila Grill Restaurant offers. A typical dinner for two here could cost AED 300, which may be a bit pricey — but definitely worth the cost — especially since you'd be in a 5-star setting!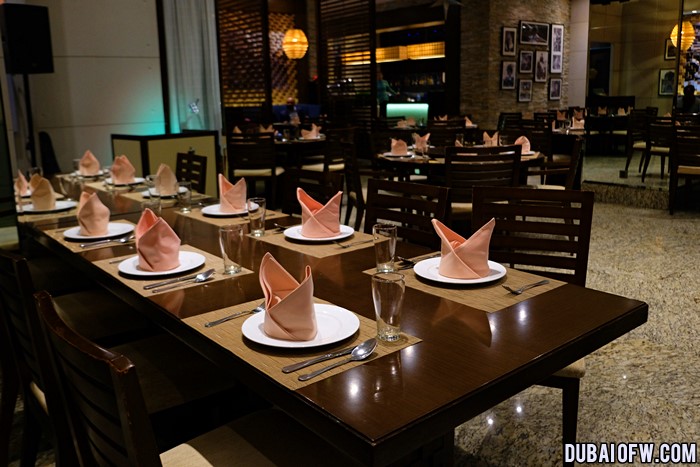 tables in Manila Grill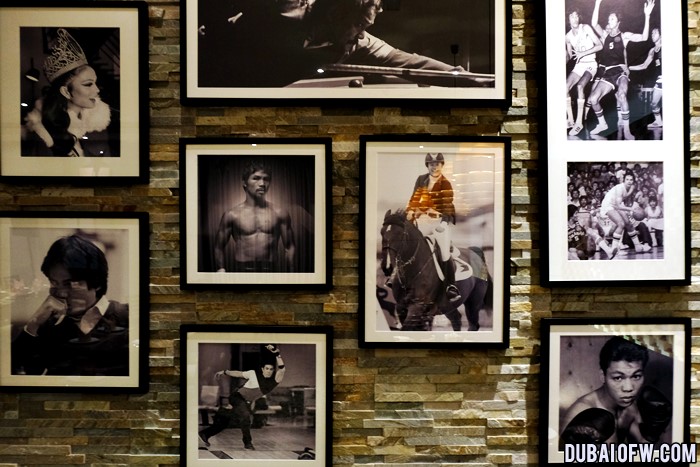 wall of frames of famous Pinoy personalities – Manny Pacuiao, Lea Salonga, Robert Jaworski, etc.
Whenever you find yourself longing for Filipino food, just head to Manila Grill at Asiana Hotel. Meanwhile, you may also want to check out another Pinoy restaurant in the same building! Located on the 5th Floor, Lamesa Restaurant is also known for its delicious pork buffet.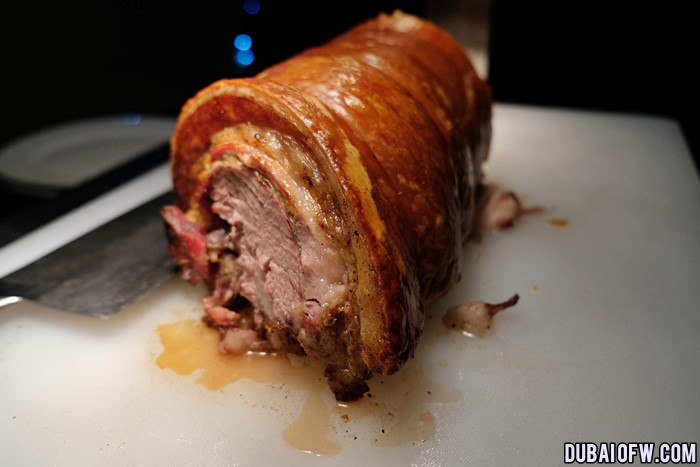 roasted lechon belly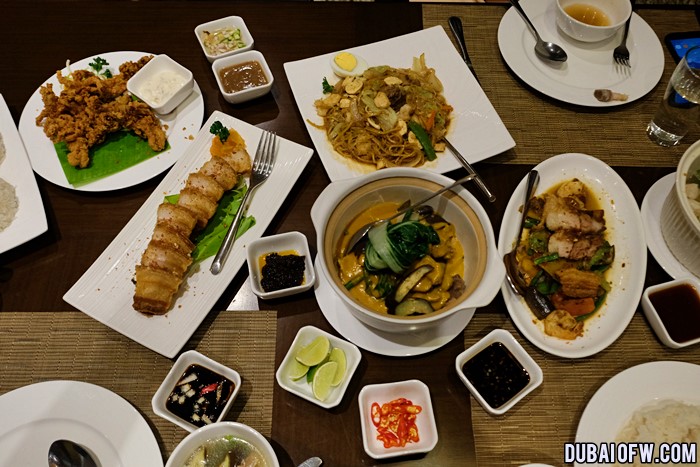 our delicious Pinoy food set (good for 4 persons)
Manila Grill is open daily during these hours:
Lunch – 12pm to 3pm
Dinner – 6pm to 10:30pm
Contact Information
Address: Ground Floor, Asiana Hotel, Salahuddin Road, Deira, Dubai, UAE
Phone: +971 4 608 2140
Email: asianahotel@asianahoteldubai.com
Website: http://asianahoteldubai.com/manila-grill/
How to Get There
Here is a Google Map location of the restaurant: