If you are craving some pork in Dubai and you're looking for a licensed restaurant to dine in, Lamesa in Asiana Hotel has a daily Filipino pork buffet available. In the same hotel, they also have an a la carte menu restaurant at Manila Grill. During one of our latest visits to Asiana, we got to explore another restaurant called Yuraku restaurant which offers an Unlimited Pork Belly buffet theme night in Dubai.
No matter where you are in the world, there's always a place where people come together to eat, drink, and relax after a hard day's work. The Americans head to their saloons and taverns, the Irish go to bars or pubs, while the Japanese have their Izakayas or Japanese taverns.
UPDATE: The prices have been updated for this offer and you can enjoy this unlimited pork belly offer for AED 75 per person (drinks not included). For an additional AED 55, you can also avail of their Korean "Jungeol". Prices may change without prior notice and it is best to contact Yuraku restaurant for more information at 04-238-7777.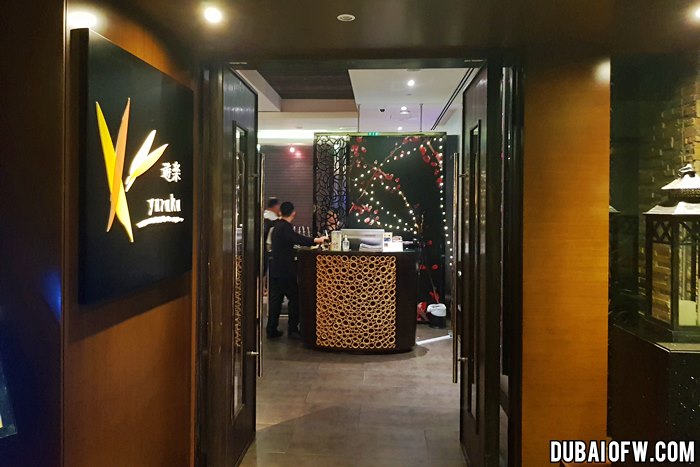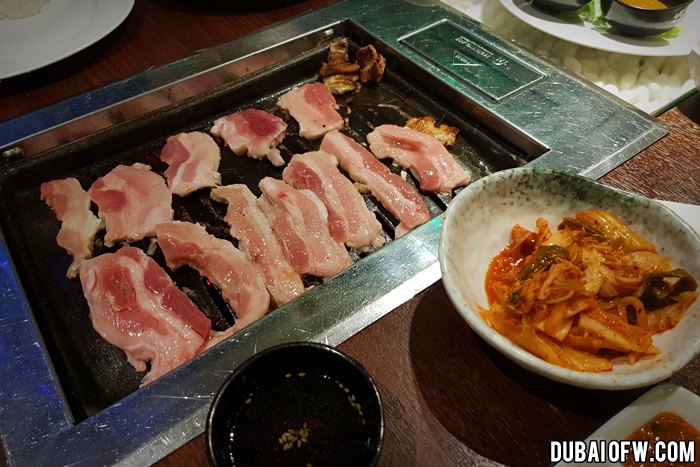 Pork Belly Buffet at Yuraku Restaurant in Dubai
Yuraku Restaurant combines casual dining with awesome dishes, a wide selection of alcoholic and non-alcoholic drinks, and of course… karaoke!
The term Izakaya literally means, "stay sake shop" — a place where wine is served with several small dishes, where people can stay for a drink and some good food. If you're looking for such a restaurant in Dubai, then simply head to Yuraku Restaurant at Asiana Hotel.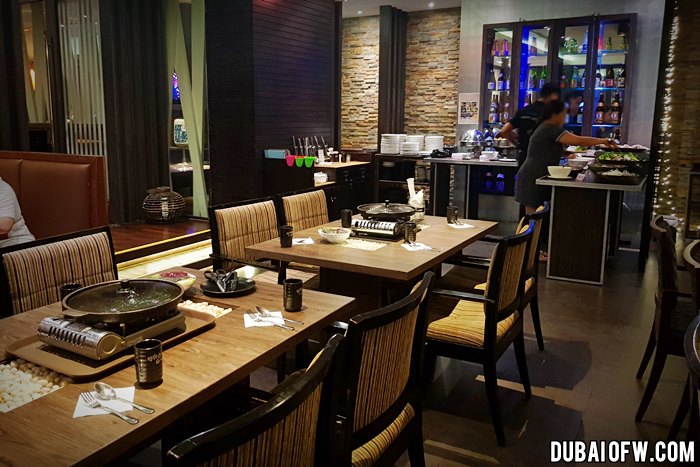 Casual Dining, Izakaya-style
True to its Japanese theme, Yuraku Restaurant features a relaxed setting for a casual night out with friends or colleagues. You can opt for the "grill-at-your-table" option, where you can mix and cook your own food! There are private dining rooms as well as private karaoke rooms, where you can eat and sing your heart out (without attracting too much attention, hehe)!
Variety of Food & Drinks
Aside from Japanese food, Yuraku Restaurant also serves Korean and Filipino dishes — making it the perfect place to sample Asian cuisines! The menu includes beef bulgogi, beef galbi, pork barbecue, pork galbi, crispy fried oyster, and salmon yuke, among other dishes.
When it comes to alcoholic drinks, guests can choose from traditional Japanese and Korean wines (i.e. sake, soju), draught beer, bottled beer, champagne, red wine, white wine, whisky, and more! Meanwhile, non-alcoholic beverages like soft drinks, sparkling water, and fresh juices are also available.


Opening Hours & Prices
Yuraku Restaurant is open at the following times:
Weekdays (Saturday to Wednesday) – 6:00 pm to 12:00 am
Weekends (Thursday & Friday) – 6:00 pm to 12:00 am
During weekday evenings, you might want to take advantage of their "Unlimited Pork Belly" Theme Night for just AED 75 per person. For an additional AED 55, you can also avail of their Korean "Jungeol"! The promo runs every Saturday to Wednesday, from 6:00 pm until 12:00 midnight.
Video: Yuraku Restaurant at Asiana Hotel
Check out this video featuring Yuraku Restaurant's delicious dishes, posted on their official Facebook page:
After a long day (or week) in the office, nothing beats a fun, relaxing evening with colleagues and friends. Gather the gang and go to Yuraku Restaurant for some drinks, dishes, and karaoke! Meanwhile, here's a list of more fun 
things to do
and
places to see
, right in Dubai!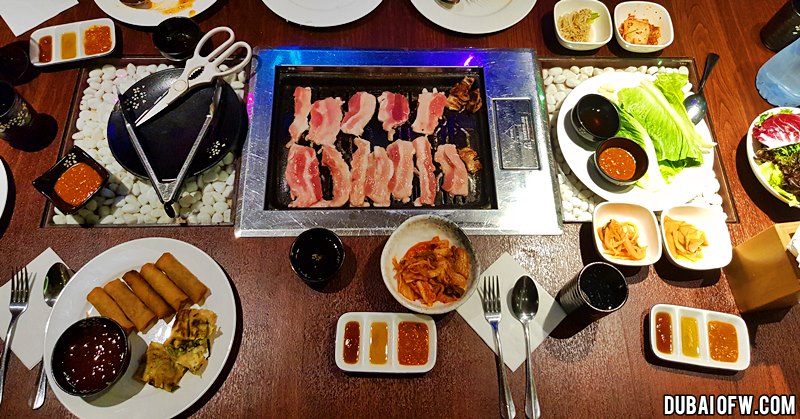 Contact Information – Yuraku Restaurant
Address: Asiana Hotel, Salahuddin Road, Deira, Dubai, U.A.E
Telephone: 04-238-7777 or 04-608-2130
Email: yuraku@asianahoteldubai.com
Website: https://www.asianahoteldubai.com/dining/yuraku-restaurant/
Facebook: https://www.facebook.com/yurakuasiana/
Google Map Location
Below is a map guide to the location of Yuraku Restaurant in Asiana Hotel.