If you're planning to get a car in the UAE anytime soon, there are certain things that you need to consider first. Other than the basics such as getting a driving license and learning about traffic laws in the country, one of the things which many people are having some trouble with is deciding which car or vehicle to get, and where to find the information they'll need to make this decision.
Also Read: How to Apply for a Driver's License in Dubai
For this purpose, there is a ton of websites you can go through the internet, but these can all be confusing and generic in most parts of the world, but not to the UAE.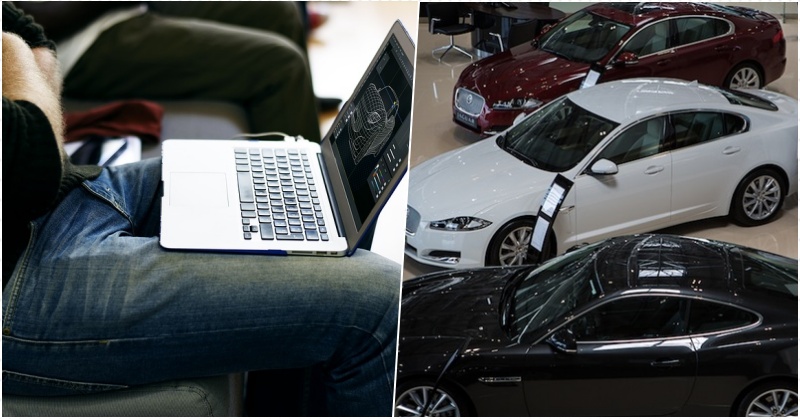 10 Best Car Websites to Check Out in the UAE
In this post, we will share some facts which we hope can help you decide when and where to get that dream car you've been eyeing for quite some time now.
Owing to the fact that 70% of the cars in the UAE are over three years old, there is a significant number of car owners who are looking for websites that could help them buy or sell cars, post questions, or connect them to services they need for their vehicles.
Despite the booming information shared on social media today, many car owners are still looking for dedicated car portals that could provide them with specific information they need in relation to their car needs. This also highlights the fact that most people we have on social media such as friends or colleagues aren't exactly car experts, and online searches can be very vague and generic while most car businesses aren't well versed with the technicalities of complex car issues.
Here's a summary of the said rankings::
Top 10 Car Websites in UAE According to Traffic Ranking
1. Dubizzle.com
2. YallaMotor.com
3. DubiCars.com
4. DriveArabia.com
5. GetThat.com
6. Carnity.com
7. YzerMotors.com
8. Motoraty.com
9. DubaiCars.com
10. AutoTradersUAE.com
10 Best Car Websites According to Engagement
1. Carnity.com
2. Dubizzle.com
3. Yzermotors.com
4. DubaiCars.com
5. DubiCars.com
6. GetThat.om
7. DriveArabia.com
8. YallaMotor.com
9. AutoTraderUAE.com
10. Motoraty.com
Top 10 Car Dealer Websites in UAE According to Engagement
1. HabtoorMotors.com
2. Hyundai-UAE.com
3. Kia-UAE.com
4. Nissan-Dubai.com
5. AlTayerMotors.com
6. Honda.ae
7. Lexus.ae
8. ChevroletArabia.com
9. Toyota.ae
10. BMW-me.com
According to GCC-specific research released by Alexa, an Amazon brand AI service, here is the list of the top 10 engaging car portals in the UAE: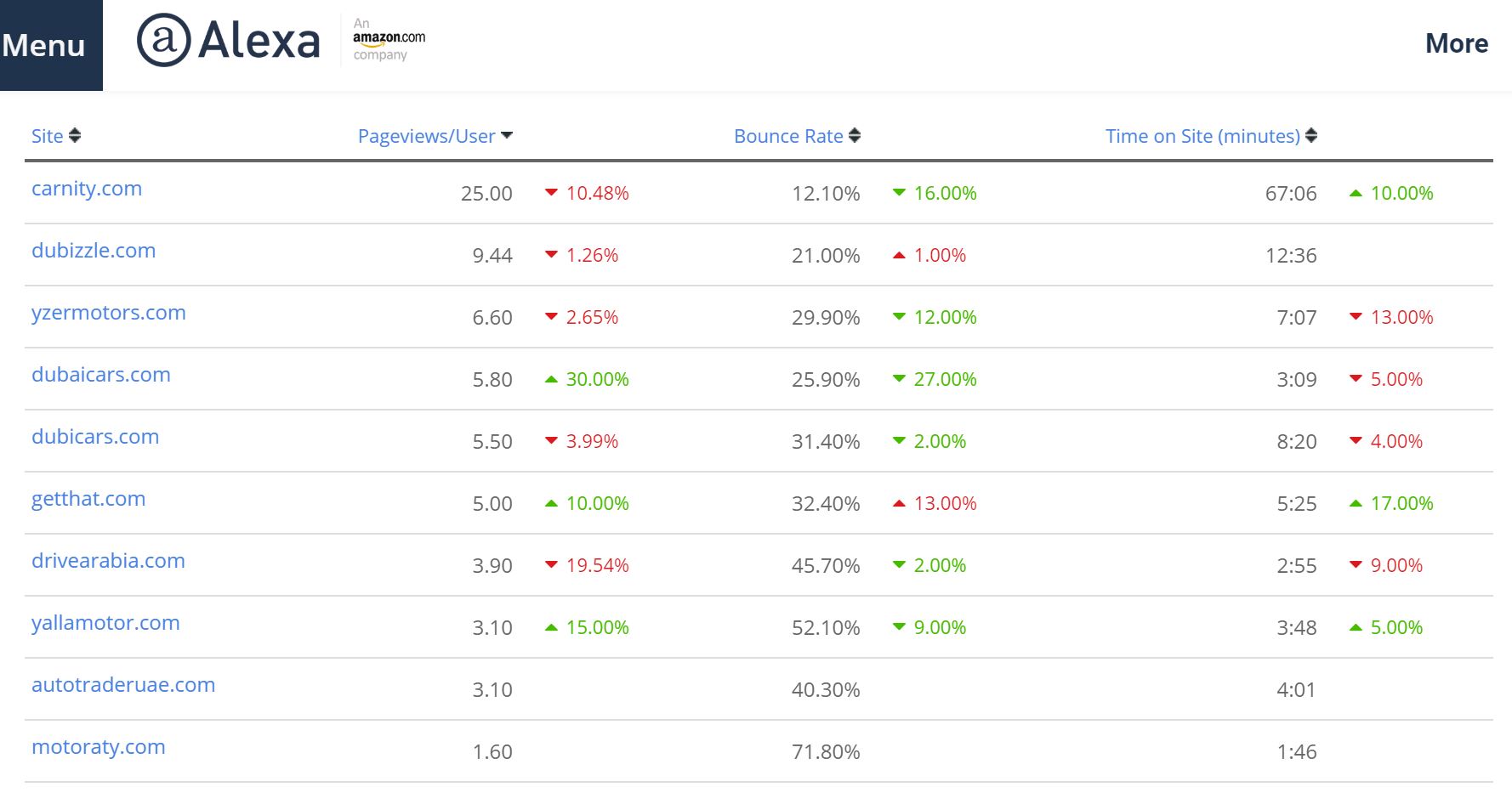 As per the report shown above, Carnity leads this service with 25 pages/user, followed by Dubizzle with 10 pages/user, and Yzermotors with 7 pages/user in terms of user engagement.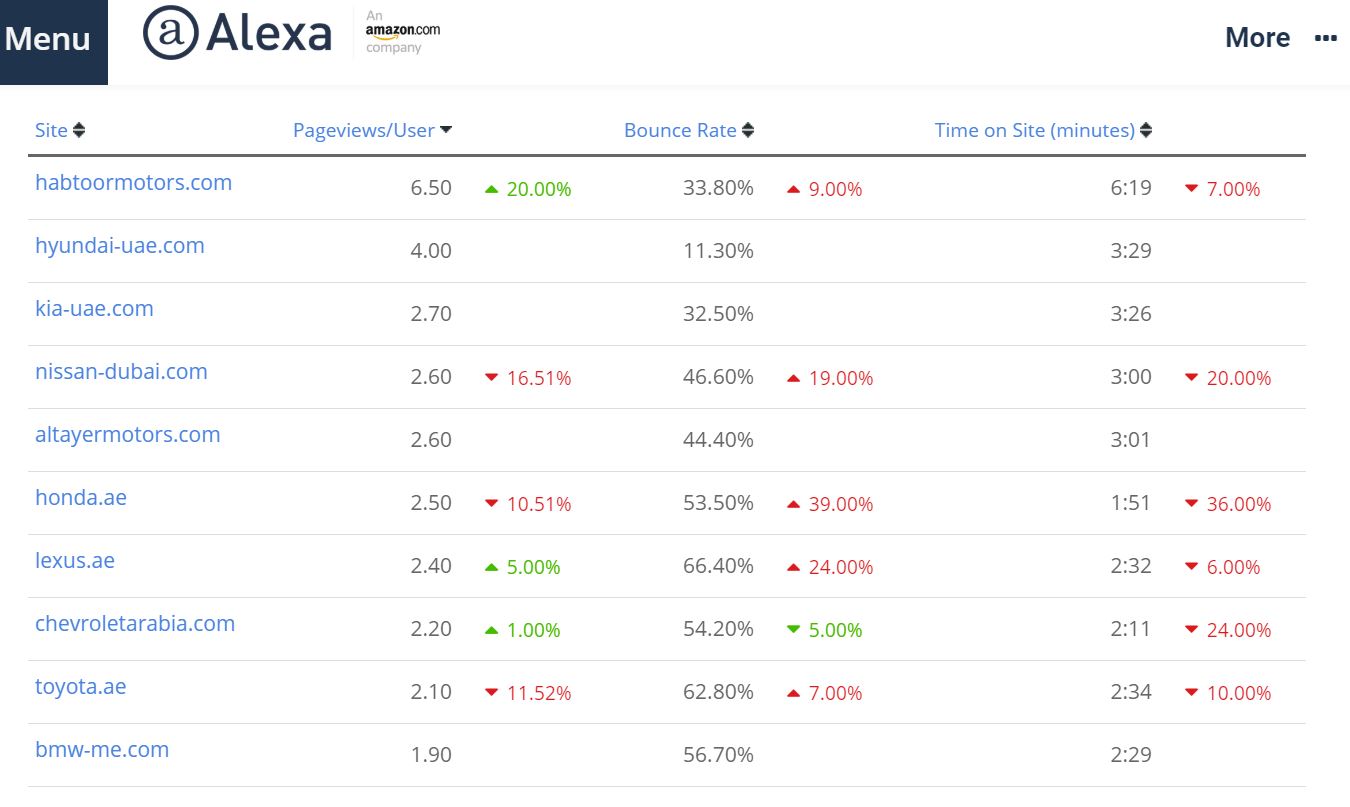 While Dubizzle ranks the 1st most popular car portal in the UAE at this point, its competitor websites such as Carnity offers value for service features such as higher engagement rates, which is one of the key features many car users in the UAE are looking for in car website services. Furthermore, Carnity's growth in its online presence shows an increase in confidence of car owners in the UAE with their service.
Among the sought-after features offered by car services such as Carnity include:
Buying your first or next car with expert advice, reviews, and ratings.
Finding the best car care, safety, maintenance articles, and blogs from thousands of UAE car owners since 2010.
Addressing any car-related issues such as queries posted in car forums with the help of 17,000+ car owners and experts in the UAE.
Informative pages regarding the best car workshops, parts, and accessories for discounted prices.
Membership access to enable you to drive with the best car clubs in the UAE – off-road, muscle cars, brand clubs, etc.
Better transactions with Carnity Classifieds
It's no secret that figuring out where to look for quality information and help in the automotive industry can be challenging, as most portals offer the same lucrative packages, without the added value for consumers to come up with informed decisions guided by expert and professional services, especially when dealing with car problems or getting a new one.
More than a marketing strategy, customer engagement remains to be one of the most sought-after features any value-for-service car portals could offer from anywhere in the globe.
ALSO READ: Up to 24% Discount at Dubai Driving Center for Korooti Members