If you want to apply for a driver's license, you need to go sign up for a driving training course from one of the authorized driving schools in Dubai. You will undergo 40, 30 or 20 classes depending on your experience. However, if you The school will teach you the basics of both theory and practical knowledge to prepare you for the driving exam.
Also Read: How to Register a New Car in Dubai
We've written this post to help everyone who want to know about the process in getting a UAE driving license and we hope this will serve as a resourceful guide for you. This article should cover necessary details for them to get a license.
Summary of Article Content
Step by Step Guide to Getting a UAE Driver's License – Application
Driving is an added skill that you can add in your resume and also helps in adding more value to your profile when you apply for jobs in UAE companies. Based on the information we've gathered through various job postings, you can demand for better pay if you apply for sales jobs and jobs that require a driving license.
This said, be advised that you may spend a minimum of 5000 Dirhams when applying for a UAE license. This covers costs of your training classes, exam fees and application fees. So make sure you study and take this seriously as retaking lessons due to failure in exams is expensive!
Document Requirements
Please make sure that you have the necessary documents before going to the driving school to process your application without any issue.
Application Form submitted to the Roads & Transport Authority (RTA)
Passport (original & copy) with residence stamp
No-Objection Certificate (NOC) from employer (Sponsor)
8 photos – passport size
Qualifications
You need to be qualified first before applying for a license. Here are some key points aside from the required documents mentioned above.
18 is the minimum age qualification to get a driver's license (Those who are 18-21 years will get a probationary license, source here)
Pass eye test (through your optician or through your driving school
The driving license application form should be typed in Arabic (your chosen driving school can help you with this) and should be submitted to RTA. Afterwards, you will be given a temporary license. The temporary license will be issued to you and you need to carry this at all times when you are undergoing the training.
Parking and garage tests are administered and you need to pass these exams before proceeding to the Theory Test. After the Theory Exam, you can proceed to the Road Test where an official will check your practical driving skills.
Procedure in Getting a UAE License
Below is a step by step guide which is the general process in getting the Driving License in the UAE:
Pass the eye test through your chosen driving school or at an optician.
Submit your documents to the driving school as they will handle all the paper-work.
Get your temporary driving license, which you must bring with you in your training car.
After passing all internal tests (parking and garage tests), the driving school will book you for the RTA Theory Test and Road Test.
Number of Classes to Attend based on Driving Experience
The driving school will assess your driving experience based on the data you give them (with submitted documents). They will guide you through various stages and assess you if you will have to go through 40 classes, 30 classes, or 20 classes. These classes consist of lessons about driving on the road.
Based on Emirates Driving Institute (EDI) , these are the number of corresponding classes depending on your current driving experience:
40 classes – those who don't have any driving license at all
30 classes – students who have an existing driving license from their country that is 2-5 years old
20 classes – students who have an existing driving license from their country that is more than 5 years old.
Note: Students who will be given 20-30 classes will still need to undergo a pre-evaluation test to verify your driving experience. Source: Driving Course by Emirates Driving Institute
The Theory Test
Theory test is still carried out in the authorized driving schools. A fee of 200 AED should be settled and documents such as your ID and driving files should be presented.
There will be a total of 35 questions regarding road hazards, signals, and guidelines on how to drive safely. This theory test will be conducted via computer touch-screen.
Theory Test Guideline
This is a multiple choice exam and consists of 35 questions and you have to answer a minimum number of questions correctly in order to pass and proceed to the road test. You will have 30 minutes to answer them.
1st Part: First part is composed of 17 questions and are about general traffic conditions and situations. You need to have at least 11 questions answered correctly.
2nd Part: Second part is composed of 18 questions and are about your specific driving license. You need to have 12 questions answered correctly.
Only when you pass the Theory Test will you be eligible to take the Road Test.
The Road Test
You will be scheduled for the practical exam (road test) and when you arrive at your assigned date, bring your driving files + 2 photos and your passport and present them to the RTA License section. Fill out the application forms and pay the necessary fees (about 200 AED for the road test).
You will join other candidates as your designated RTA inspector will direct you to the car you will be using so you can demonstrate your driving skills.
Once you pass, you will be given another set of steps so you can get your driving license card! But if you fail the road test, you will have to go back to your driving school and go through another set of classes (minimum of 7 classes) and then book another road test schedule.
Retaking Road Test Exams
Every time you retake classes, there are corresponding fees associated with them so please make sure that you study your lessons very well and be mindful and alert when you take the road test. It is expensive if you keep doing retakes.
We have friends who mentioned that they had to do a retake to pass the road test, and then there are those who had to take 6 retakes! We do not have the full account of these scenarios but it's good to study properly and be prepared during the exams to avoid these failures.
Here's a good article guide on how to pass the road test – How to pass Dubai Road Test – At First Attempt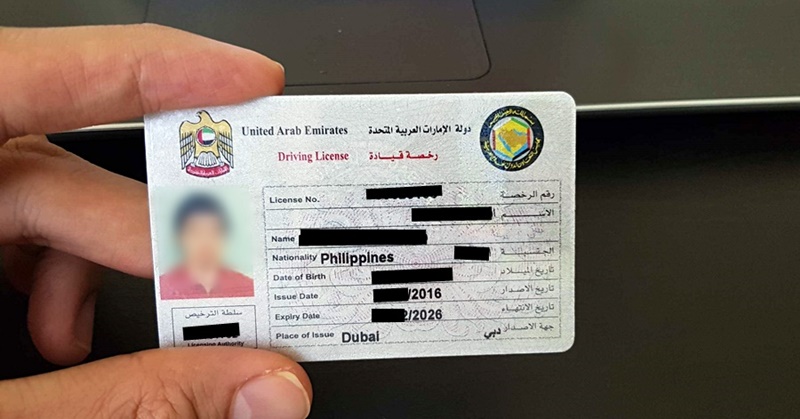 On Manual or Automatic Gear
Talking to drivers and reading through driving information, you can choose to register for a Manual or Automatic gear type for the driving license. However, for those who will get an Automatic gear license, you are NOT allowed to drive a Manual Gear car.
Countries Exempted from Going through Driving School
If you belong to any of these countries and you already have a driving license, you don't need to go through the same process process above. You can simply transfer your existing license and then get a Dubai driving license with minimum requirements. Hence, it's much easier for you because you simply convert your driving license to a UAE-approved one.
Here's a list of countries: Any GCC country, Australia, Austria, Bahrain, Belgium, Canada, Denmark, Finland, France, Germany, Greece, Ireland, Italy, Japan, South Korea, Kuwait, Netherlands, New Zealand, Norway, Oman, Poland, Portugal, Qatar, Romania, Saudi Arabia, South Africa, Spain, Sweden, Switzerland, Turkey, United Kingdom, and United States.
How to Transfer Driving License / Convert Your Current License
If you already have a driving license from one of the above-mentioned countries, you just need to convert to a UAE license by undergoing an eye exam and submitting the following documents to the Driving License Section of the Dubai Traffic Department: Original and photocopy of passport, residence copy, current driving license, passport photo, NOC from employer and eye test certificate. Fee is 360 AED.
Some Driving Reminders
Drinking and Driving: Let's be clear that the UAE has Zero-tolerance on drinking and driving. If you are caught, then corresponding sanctions are administered.
Using Mobile Phone: A recent reminder also states for you to avoid using your mobile phone when driving. A fine of 200 Dirhams plus 4 black points will be placed in your driving license.
Drive safely not only for your safety but for the safety of your passengers.
UAE Authorized Driving Schools & Contact Numbers
Here's a list of authorized driving schools in the UAE where you can enroll to carry out your driving license. These driving institutes have various branches spread in the UAE. It's up to you to choose which of them you wish will handle your license application.
Al Ahli Driving School – Contact Number: 04-3243535
Belhasa Driving School – Contact Number: 04-3243535
Dubai Driving Center – Contact Number: 04-3455855
Emirates Driving Institute – Contact Number: 04-2631100
Galadari Driving School – Contact Number: 04-2676166
We hope the information above helps you in understanding the process of getting a UAE driving license. We always  make it a point to write helpful Dubai tips on daily life and living in Dubai. If you have any questions, corrections or clarifications, don't hesitate to leave a comment below.