In case you need to apply for documents like NSO-birth, marriage certificates, DFA red ribbon authentication, CENOMAR, etc. LBC Express now has an easier solution to process these government papers. The great thing about this is that you don't have to go home to the Philippines or have a representative process them for you as you can simply do them yourself while in the UAE.
This is actually a more cost-efficient option because when you process documents in the Philippines, you will have added expenses like transportation, courier fees, processing fees, not to mention the long hours of queuing. With this service, you can have LBC process everything for you. It comes out cheaper in the end.
101 Video: A Guide to Processing Government Documents via LBC Express
Here's a detailed video to guide you when you visit LBC for this service and when you visit our Philippine consulate/embassy.
All you need to do is prepare the requirements for processing, authorize LBC representative to process on your behalf through an authorization letter or Special Power of Attorney from the Embassy or Consulate and pay the fee at any LBC branch and wait for LBC's call once your documents are ready for pick-up.
4-Step Procedure for Document Processing Via LBC
Here are the steps to help you understand how to process your documents abroad.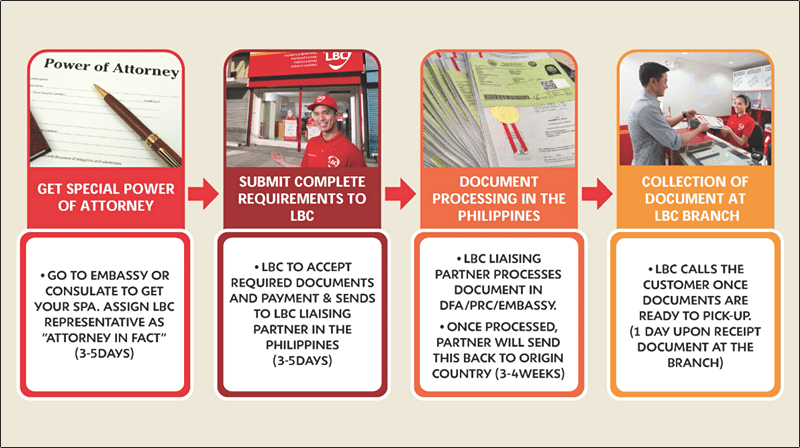 1. Get a Special Power of Attorney
Go to the embassy or consulate to get your SPA. The "Attorney In Fact" should be the name of the LBC representative. You can call the hotline at 800522111 to know the specific details for the LBC authorization process or get a copy of the SPA/Authorization letter from LBC branch/Smart Shelter. SPA issuance from Embassy/Consulate on average takes 3-5 days upon submission.
2. Submit Complete requirements to LBC
LBC to accept required documents and payment and sends to LBC Liaising partner in the Philippines (3-5 days).
Make sure that the supporting documents required are also available such as Passport Copy, 2×2 photo, Application forms for NSO requirements, etc. are ready while waiting for your SPA. You can call the LBC hotline for the actual list of supporting documents required for processing.
3. Document Processing in the Philippines
LBC Liaising partner processing document in DFA/PRC/Embassy. Once processed, partner will send this back to origin country (3-4 weeks).
Once everything is complete, submit the all documents to LBC and pay the service fee. LBC will be the one to send this to the Philippines and process documents on your behalf. Average processing time is 4 weeks.
4. Collection of Document at LBC Branch
LBC calls the customer once documents are ready to pick-up (2 days upon receipt document at the branch)
Requirements for LBC Document Processing
The requirements when you process these files will depend on the document that you are requesting. Please see the information below for more details: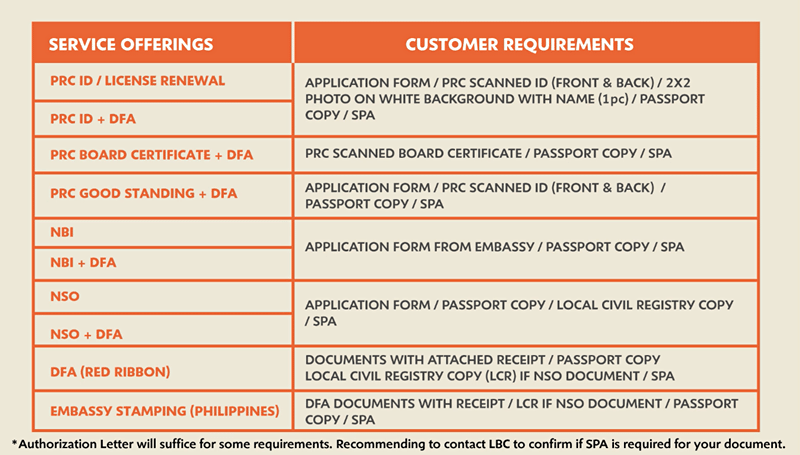 Price List for Document Processing in LBC Express
Below is the price list of the documents that you are going to apply for via LBC Document Processing. Please take note that the prices may change without prior notice.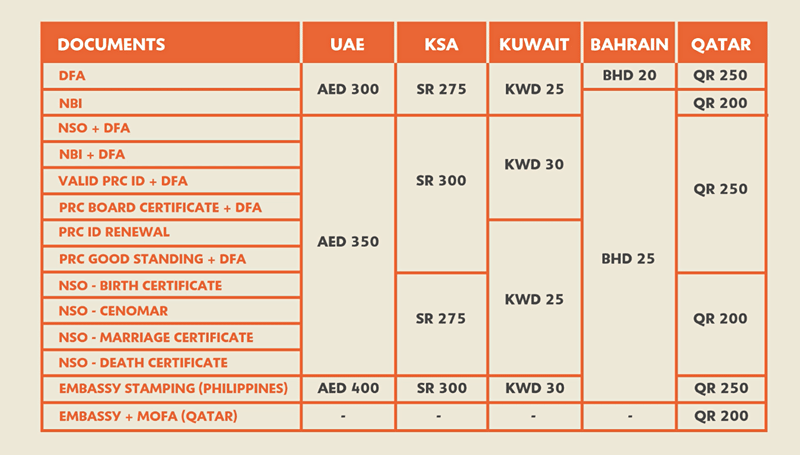 Rates included in the service already have processing fees and return couriers included. No other delivery fees needed. You can also be assured that the documents you apply for are legit. No need to worry about fake documents through fixers.
Service is available in all LBC Middle East branches. For further details, call their hotlines below:"
UAE
800-522-111
Bahrain
16195063
Kingdom of Saudi Arabia
STC and Landline: 800-8-110332

Mobily and Other Networks: 800-8-500058

Kuwait
222-00-428
Qatar
00-800-100-130