Filipinos in the UAE who are planning to send a household appliances like refrigerators, washing machines, gas cooker, etc. LBC Express & Royal Light are offering you a chance to send the best gift this holiday for an affordable price.
LBC launched the LBC Cares program wherein you can send delicate items including appliances and furniture to your loved ones back home. These fragile items will be given special handling and will be secured in crates
This holiday season you can make your family happier by sending them big gifts back home! LBC has partnered with Royal Light LLC, a distributor of European and Asian brand appliances in UAE. The edge of Royal Light is that it is distributing appliances which are 50/60HZ, guaranteed compatible and ready for use in the Philippines. These appliances will all be showcased and packaged in the BIGGEST KABAYAN HOLIDAY SALE event this coming NOVEMBER 3-4, 2017. Here are the full details of the event:
LBC Express & Royal Light Kabayan Holiday Sale 3-4 November 2017
Enjoy the best offers from Royal Light & LBC this Holiday Season with the Biggest Kabayan Holiday Sale! Please check the details below for the venue and time:
Venue: CROWNE PLAZA HOTEL – DEIRA (near Salah Al Din Metro)
Date & Time: November 3-4, 2017 from 11AM to 9PM
Free entrance and free valet parking for first 250 customers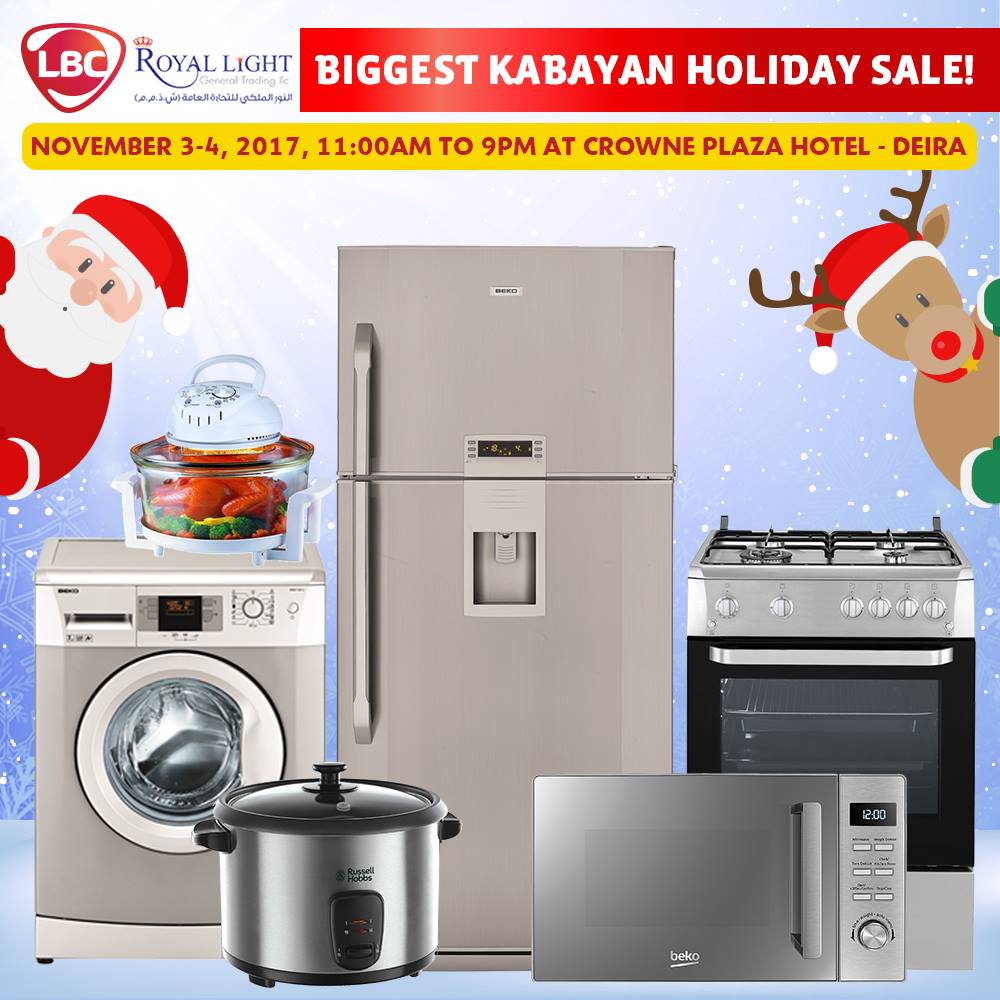 Customers in LBC have been shipping a number of appliances and furniture back home so in an effort to provide assurance and a sense of security for Filipinos who are sending their fragile items with LBC, the Special Handling crating service was launched. Now, customers can now worry less about having these items safely delivered to the Philippines.
Incidentally, Royal Light was also seeking for similar services while offering their products to the Filipino Market. LBC is more than happy to partner with Royal Light as their products will be useful for kabayans here in UAE and back home. Hence, the Biggest Kabayan Sale Event.
"We are inviting and encouraging all our kabayans to drop by the Biggest Kabayan Holiday Sale this coming November 3 to 4 at Crowne Plaza Deira." says Allan Michael Bautista, LBC Sales & Marketing Senior Manager for ME. "It's the first in UAE wherein quality appliances from Europe & Asia, ready for use in the Philippines, will be showcased and sold for up to 50% discount with straight shipment to anywhere in the Philippines. Plus, LBC will be providing security for their purchased products as these appliances will be under the LBC Cares Special Handling crating services prior shipment to their consignee. Royal Light as of the moment has limited stocks so make sure to take advantage of this holiday sale! " Allan adds.
So to those who are planning to send household appliances from Dubai to the Philippines, we suggest you drop by Crowne Plaza and check out the offers this season.