For those of you who are planning to visit Hong Kong and Macau, here's a travel guide for some helpful tips on expenses, accommodation, weather, things to do, and so on, especially if this is your first time to visit this place. I have also written a 4-day itinerary in case you need help in planning your trip.
HK has been the top holiday destination for most Filipinos because of its variety, close proximity (to the Philippines) and exciting theme parks. Likewise, nearby Macau is also a popular destination for travelers.
I consider this trip unforgettable because I get to spend it with the best people. But what makes it more special is when my boyfriend (now my husband) asked my hand to be his wife.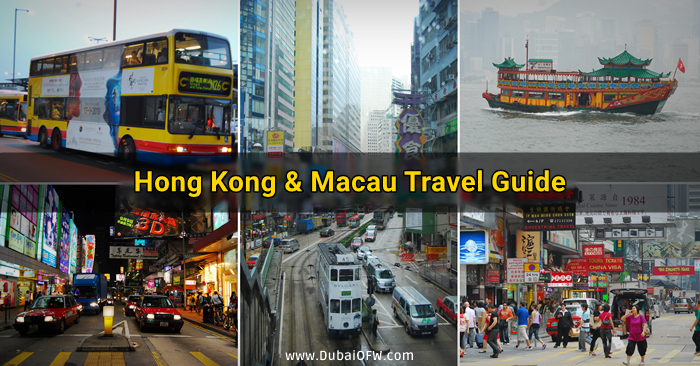 Travel Guide: Hong Kong and Macau – 4 Days Trip
We hope you find this guide and the tips helpful to assist you as you plan your trip.
Accommodation
It's easy to find cheap accommodations in Hong Kong, especially in Tsim Tsam Tsui and Central areas where there are tons of hostels and guesthouses that offer affordable room rates. In my opinion, it's better to stay in Tsim Tsam Tsui because it's close to almost everything. We walked during most of our stay here because of the accessibility of the place.
Cheap Tip: Book online to check the cheapest rooms and promotions available. Read also the ratings and guest reviews for you to get the best option. Check also their secret deals as you might score promotions from luxury hotels.
NOTE: Some immigration officers may ask for your accommodation especially if you're a first-time traveler, so it's best to have a confirmed room on hand before your flight.
Travel Pass
Passport. There should be a minimum of 6 months validity from the date of travel to avoid being offloaded from your flight.
Visa. Over 160 nationalities (including Filipinos) don't need to obtain a visa when visiting both Hong Kong and Macau.
Transportation
Hong Kong to Macau Ferry Boat
They say the most reliable ferry operators are Cotai Jet and Turbo Jet. It's better to buy your tickets in advance through the terminal or online if you don't want to end up like us who almost missed the morning ferry. It's a good thing someone made an exchange with our tickets so we were able to catch an earlier ferry.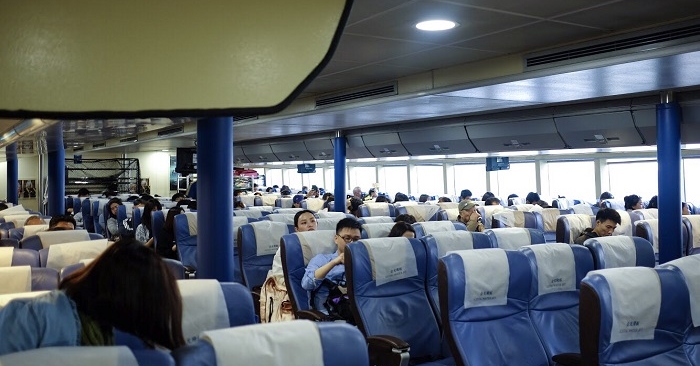 MTR – Train
Hong Kong's rail system which consists of a subway, overland and Light Rail. It's safe, clean and inexpensive.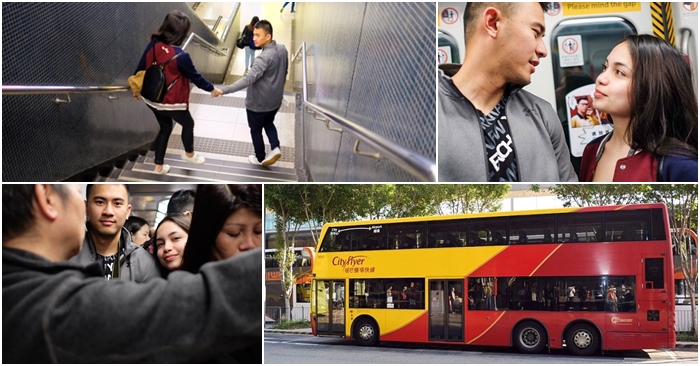 Taxi
All run by meter, but if I were you, stay away from taxis as they are relatively expensive.
Tickets
Octopus Card. A rechargeable card which is used in most forms of public transportation like the MTR and Buses (taxis not included). It is also used in making purchases at retails stores in the territory.
Cost: HK$150 and HK$70 for children and seniors
We didn't buy the Octopus Card because we walked most of the time during our trip, except when we went to Disneyland where we only bought a Single Journey ticket back and forth.
Cost: HK$23 and HK$11.50 for children and seniors
You can purchase this here, at the airport, convenience stores, fast food shops, supermarkets, vending machines and any MTR station.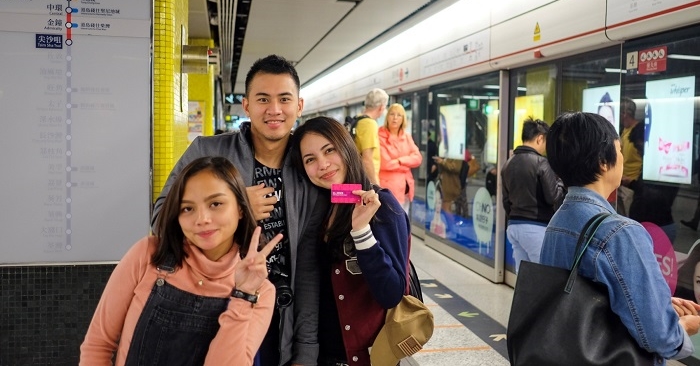 NOTE: You can claim a refund of the HKD50 deposit before leaving Hong Kong plus any remaining stored value. But they may charge you $9 so you'll only get $41 back.
Airport Express Travel Pass
This will allow you to travel 1 or 2 journeys at the airport and unlimited travel on the MTR Bus, Light Rail and MTR (Northwest New Territories). So if you think you'll be taking a lot of public transportation then consider buying this. It costs:
HK$250 Unlimited MTR Rides for 3 days with 1 Airport Express Ride
HK$350 Unlimited MTR Rides for 3 days with 2 Airport Express Rides
You can purchase an Airport Express Travel Pass here or at any MTR Station and Airport Express Customer Service Centers.
MTR Tourist Day Pass
This is valid on the MTR for 24 hours after the first use
Cost: HK$65 for adults and HK$35 for children
NOTE: Some immigration officers may ask for your return flight ticket especially if you're a first-time traveler, so it's best to have a confirmed flight on hand before you leave.
Currency: Hong Kong Dollar and Macau Pataca
You may be able to survive in Macau without exchanging your money to Macau Pataca (MOP) because almost all tourist establishments accept Hong Kong Dollars.
Cheap Tip: There are plenty of exchange centers around Hong Kong so avoid exchanging money at the airport as they tend to be more expensive.
4 Days Hong Kong and Macau Itinerary
Here's a sample itinerary for your Hong Kong and Macau Trip. This is valid for 4 days and you can rearrange the itinerary or plan your own. 🙂
Day 1 – Hong Kong City
7:40 am — Arrival. Take the A21 Cityflyer bus going to Tsim Tsam Tsui. Look for the A21 sign and take a line. If you don't have the Octopus card, you can pay in cash but it has to be in the exact amount.
9:00 am — Kowloon Park
9:30 am — Breakfast
10:00 am — Avenue of Comic Stars
11:00 am — Check-in hotel at Tsim Tsam Tsui
11:30 am — Strolled in the City
6:00 pm — Street Food Trip
7:00 pm — Mong Kok Market
9:00 pm — Korean Dinner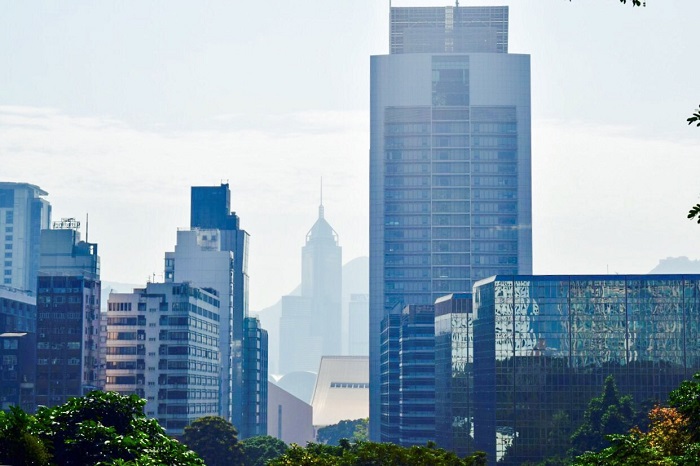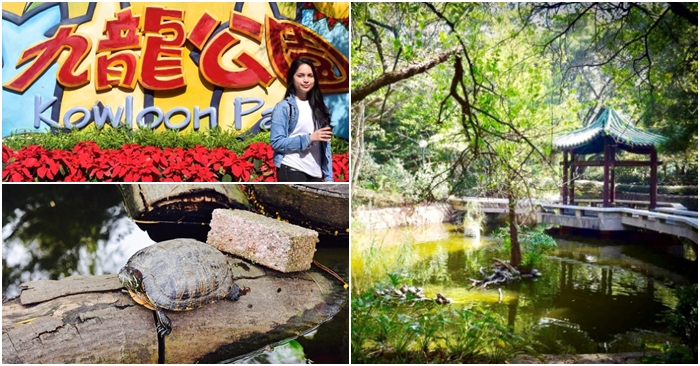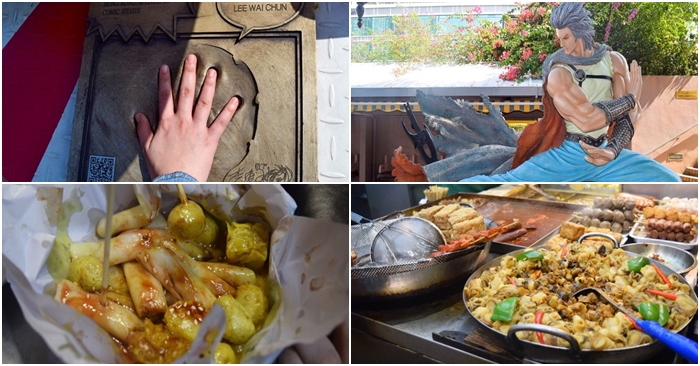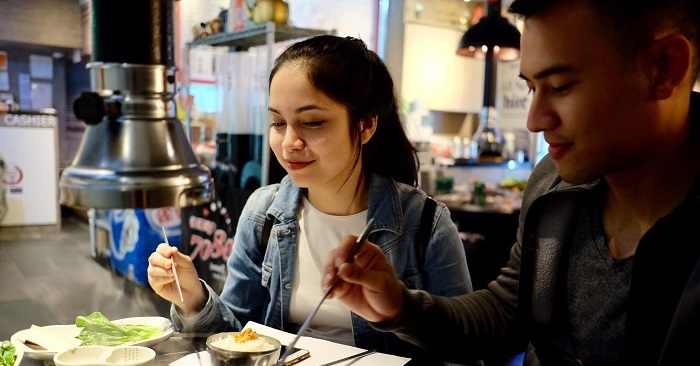 Day 2 – Macau
It's a 1-hour ferry to Macau. Upon arrival, our friend, Gelo, met a Filipina independent tour guide outside the port who offered to show us around. She brought us to different casinos and many shops where we could snag cheap finds. What's best about her is that she knows the schedule of every show and free bus rides. She did a really great job in showing us around. A+ for our tour guide!
8:00 am — Breakfast
9:00 am — Walk from Tsim Tsam Tsui to Hong Kong Macau Ferry Terminal
10:15 am — Clear Hong Kong Immigration Checkpoint
10:30 am — Boat Transfer to Macau
11:30 am — Clear Macau Immigration Checkpoint
12:00 pm — Met a Filipina Tour Guide. Took free shuttle to casinos, strolled in the city, i.e. Senado Square, Ruins of St. Paul, Fortess Hill, Parisian Macau, and Venetian Macau. Rode free shuttle bus from Venetian to Macau Ferry (every 5-15mins). Clear Macau Immigration Checkpoint.
7:30 pm — Boat Transfer back to Hong Kong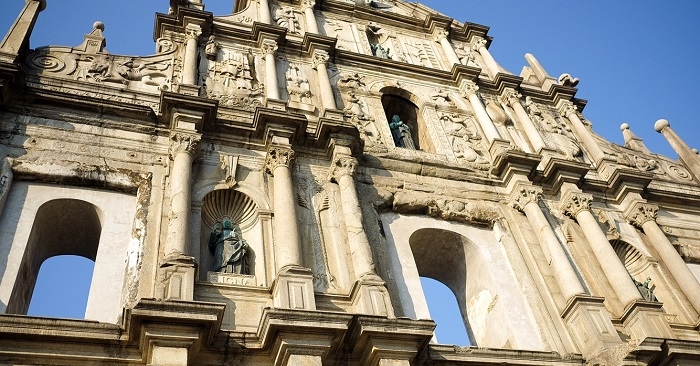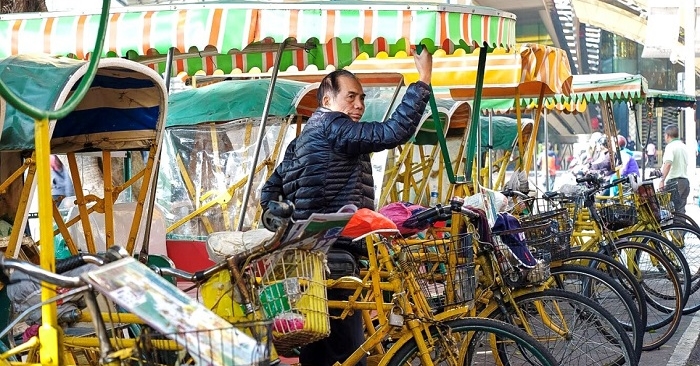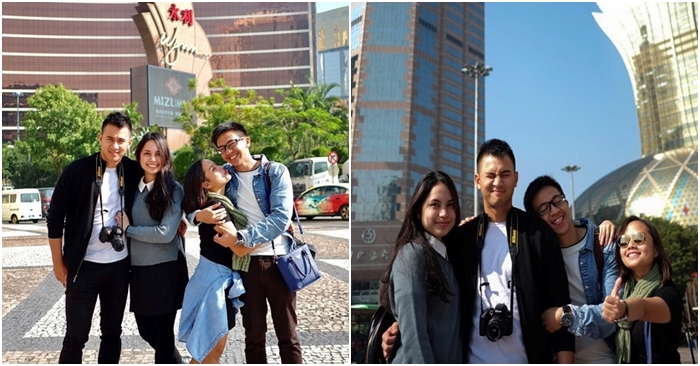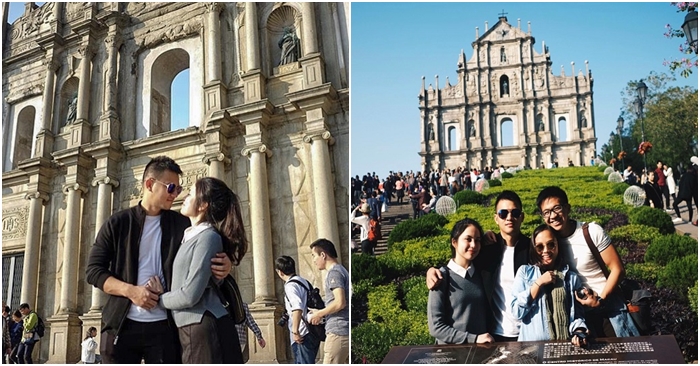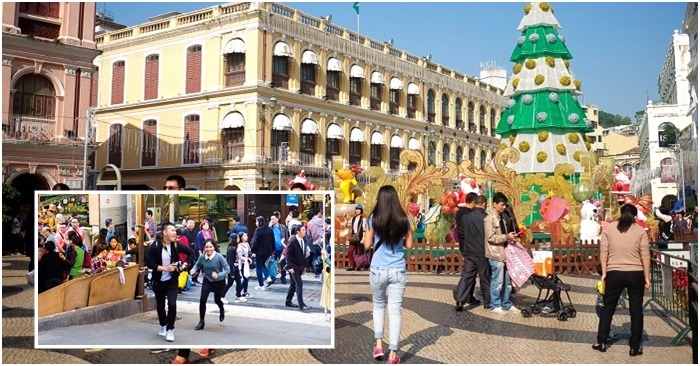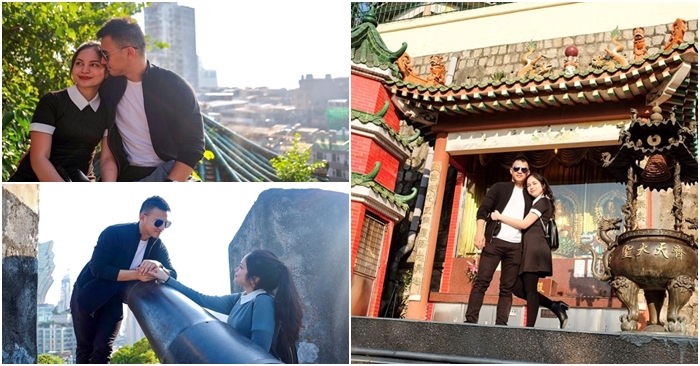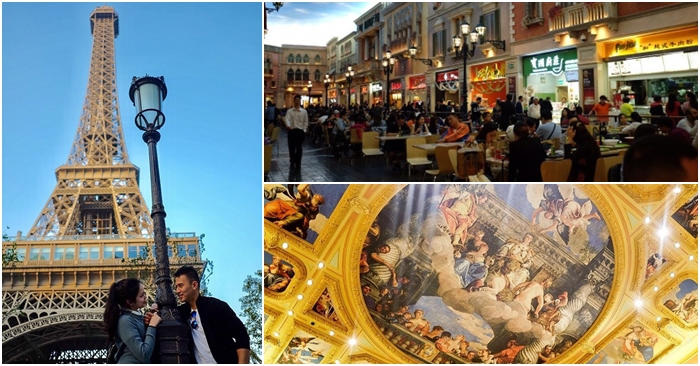 Day 3 – Disney Land
Ever since I was young, I've always dreamed of going to Disneyland, and that is why my boyfriend and I took advantage of our vacation and went here. I was a bit disappointed because I didn't get to see a princess up close, but what made this more memorable was the time when we went outside to watch the parade. Suddenly, our friend called the attention of everyone telling them to form a circle in front of the castle. Then right there, the love of my life went down on his knee and asked for my hand in marriage. I was speechless; I did not see any princesses up close but I felt like one. He truly made my dream come true, but even better.
8:00 am — Breakfast
9:10 am — Travel via MTR: Tsim Tsam Tsui –> Central / Hong Kong –> Sunny Bay –> Disneyland. Cost: HKD$589
10:00 am — Arrival at Disneyland
3:00 pm — Disney Parade. Do not miss the parade and the fireworks! For schedules, check https://www.hongkongdisneyland.com/calendars/day/
9:00 pm — Fireworks Show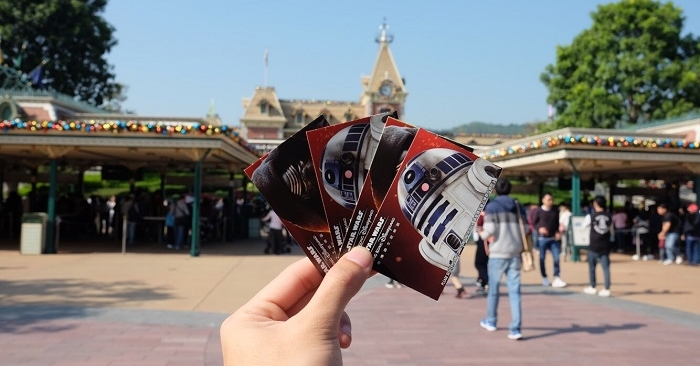 Day 4 – Hong Kong
8:00 am — Breakfast, Strolled in the city
12:00 pm — Mong Kok Market
3:00 pm — Victoria Peak, Avenue of Stars
5:00 pm — Check out from hotel, Bus from Tsim Tsam Tsui to Airport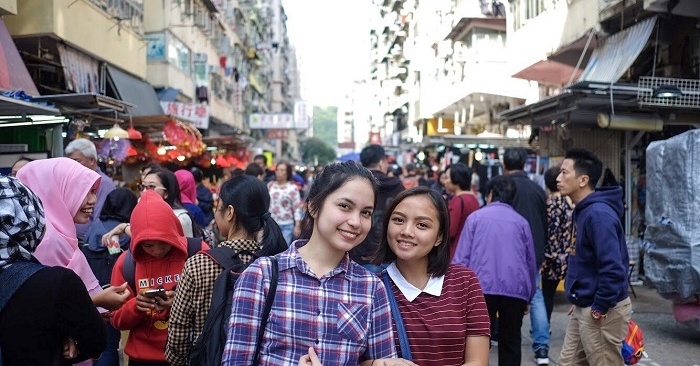 Hong Kong may be a small country, but it has a lot of attractions and activities to offer tourists. Due to lack of time and research, we weren't able to explore more of its famous tourist spots like the Ngong Ping, Tan Big Buddha, and Lantau Island. So lesson learned — do research as much as you can to make the most out of your trip! I hope the above guide helps you if you're planning to visit this place in the future.
*Photos by Precioso Angelo David
Follow their adventures, travels and some photography/videography tips:
Instagram: @preciosodavid, @ynnelunaria
Videos: www.preciosoynnethecity.com
---
About the Author: Nadia Angeles

I'm a 22 years old Filipina-Tunisian currently working and residing in the UAE for the past two years. I started writing blogs to enhance my writting skills as well as to share my life and travel experiences in the hope to give other people information and inspiration to help them in the future. Visit my blog at cheapventure.wordpress.com
---

Share your thoughts. Contribute an article to DubaiOFW.com
Want to publish your experience? Share your everyday stories, food trips, travel, photo stories, or tips in Dubai to our growing community. More information here – Become a Dubai OFW Contributor!