LBC Express is courier, cargo, and money remittance service company based in the Philippines. It has around 4,400 branches/stores all over the world, including Australia, Brunei, Canada, Germany, Hong Kong, Japan, Kuwait, Malaysia, Singapore, South Korea, Spain, Taiwan, United States, and of course… the United Arab Emirates (UAE)!
ALSO READ: 7 Tips to Save Money When Sending Your Remittances
There are three main LBC branches in the UAE: Dubai, Sharjah, and Abu Dhabi. In addition, there are several "LBC Smart Shelters" situated in RTA Smart Shelters across Dubai. These are conveniently located along bus stops, making it easy to access the services of what is popularly known as the "Hari ng Padala (King of Delivery)." Let's get to know more about it!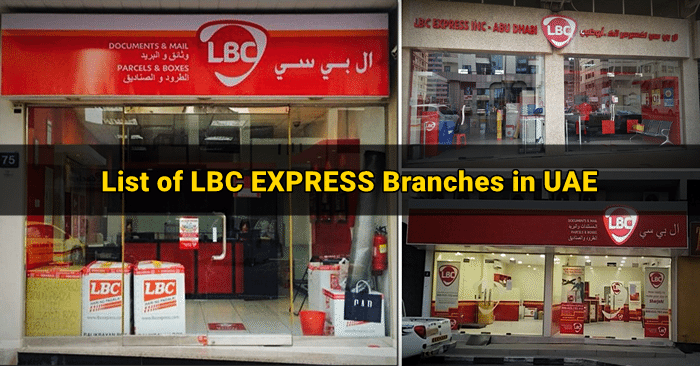 What are LBC Express' Services?
Through LBC, anyone can send money, pay bills, or remit money to bank accounts in the Philippines. They can also send packages of all sizes, including balikbayan boxes to their families back home. Indeed, it's a great way to send gifts and pasalubong!
Other than consumer services, LBC also provides business services, such as: general cargo, international cargo, trucking, bulk mail, courier and parcel, warehousing, inventory management, cash collection solutions, cash disbursement solutions, and reverse logistics. The company also offers printing services, including book printing, direct mail printing, and full colour variable printing.
List of LBC Branches in UAE
Below is a list of the main LBC branches in the UAE, including their addresses and timings. As for telephone numbers, the following LBC hotlines apply to all branches, regardless of location: 800 522 000, 800 522 111, and 1 800 10 858 599.
A. LBC Express Dubai Branch
Address: Shop No. 4, Mubarak Khalifa, Building No. 75, 10D St., Al Karama (across from Al Attar Centre), Dubai, UAE
Timings: 9:00 am – 10:00 pm (daily)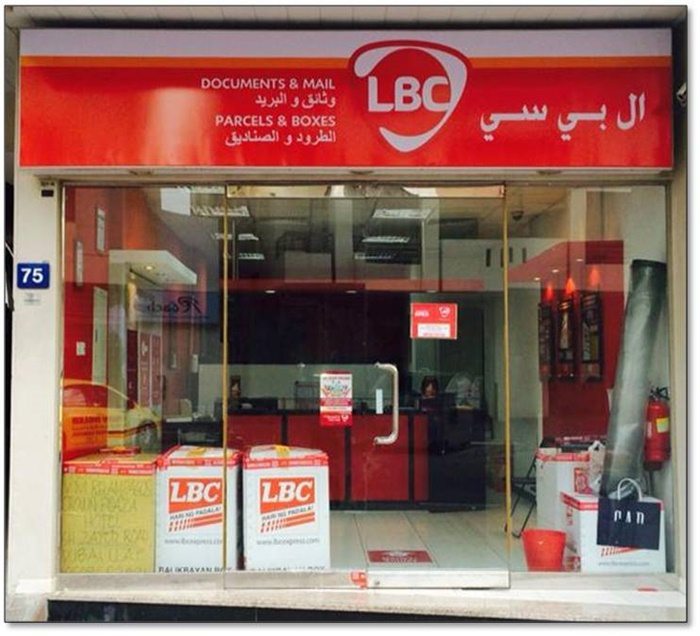 LBC Dubai store front (Located in Karama – near Al Attar Centre)
B. LBC Express Abu Dhabi Branch
Address: Shop No. 3, Sultan Al Suwaidi Building, Hamdan St., Tourist Club East (E13) Basin (C59), Abu Dhabi, UAE
Timings: 9:00 am – 10:00 pm (daily)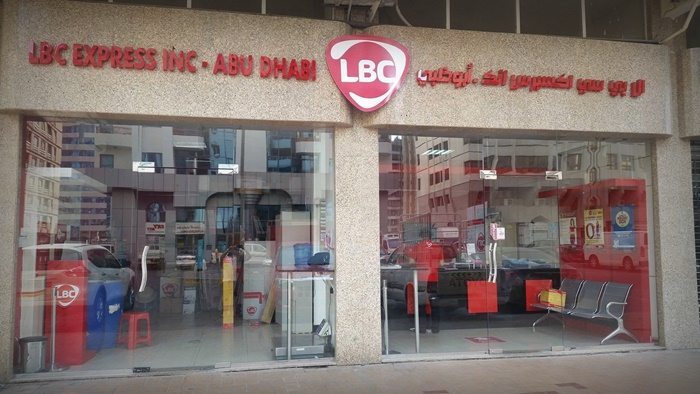 LBC Express store in Abu Dhabi
C. LBC Express Sharjah Branch
Address: Shop No. 1, Al Shamsi Building 2 (Ground Floor), Al Majaz, Sharjah, UAE
Timings: 9:00 am – 10:00 pm (daily)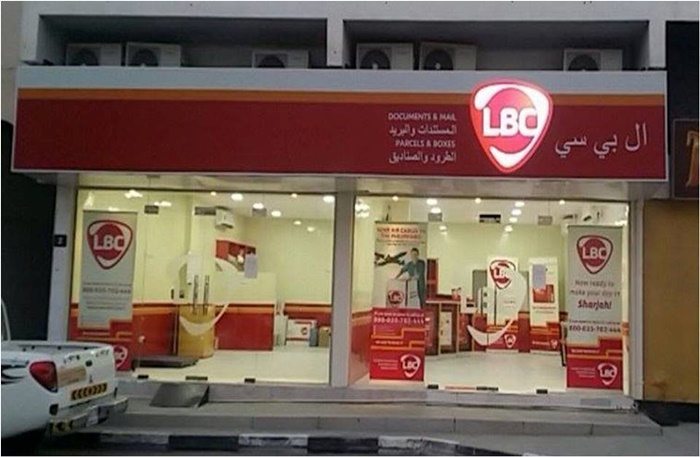 LBC Express store in Sharjah
LBC Smart Shelters in Dubai
Aside from the main branches, there are LBC Smart Shelters located in RTA Smart Shelters in Dubai. Through these shelters, customers can send packages, pay bills, buy balikbayan boxes, and avail of other services without having to go to the main branches.
Below are some of the LBC Smart Shelters in Dubai:
LBC Smart Shelter Al Rigga
Location: Al Ghurair Centre, in front of Jollibee and Papa John's
LBC Smart Shelter Dnata
Location: Maktoum Road, Opposite side of Dnata office, Near Deira Clock Tower
LBC Smart Shelter Mankhool
Location: Opposite Al Hana Centre, in front of Carrefour and Chowking, Satwa
LBC Smart Shelter Oasis Center
Location: Oasis Mall, Sheikh Zayed Road, 2nd Interchange, Al Quoz
LBC Smart Shelter Al Satwa
Location: Al Hudaiba St., in front of New Westzone Supermarket, Near Yellow Cab and Almaya
Video: LBC Smart Shelters
Check out this video featuring LBC Smart Shelters across different parts of Dubai:
Tips When Sending a Balikbayan Box
You can buy a balikbayan box from the nearest LBC Express branch or by calling their hotline. However, before you send a box, be sure to keep the following tips in mind:
1. Choose the right box size. Before anything else, make sure that you get a box that's big enough for your items, so you don't "overstuff" your box! The size of the box would also determine the delivery rate. Below are the different box sizes offered by LBC:
Junior Balikbayan Box – 38 x 60 x 45 cm
Medium Balikbayan Box – 53 x 51 x 51 cm
Large Balikbayan Box – 53 x 51 x 76 cm
Anniversary Box – 71 x 53 x 83 cm
Extra Large Balikbayan Box – 71 x 53 x 91 cm
2. Pack your items tightly. To prevent items from moving around inside the box, you can put them in bubble wrap. Small items should be placed in containers, and as an extra precaution, place a tape around liquid items (e.g. lotion, shampoo, etc.) to keep them from spilling.
3. Declare your items and their values. Each balikbayan box comes with a Packing List and Inventory Forms. Don't forget to fill these out before sending the box through an LBC branch. You can also contact their hotline if you want the box picked up from your house.
4. Keep track of your package. Once your balikbayan box is in transit, you can monitor its status by entering the tracking number on the LBC website. That's it!
List of Prohibited Items
Of course, you can't just put anything inside a balikbayan box! There are certain items that should not be included inside a balikbayan box, such as:
Tobacco
Alcoholic beverages
Pornographic materials
Animal carcasses
Live animals and insects
Switchblades and flick knives
Lottery tickets and gambling devices
Firearms, ammunition, and war materials
Waste or garbage for disposal
Hazardous waste (e.g. hypodermic needles, medical waste, etc.)
Cash (bills and coins), bearer bonds, stocks, cash letter, deeds, and other instruments equivalent to cash
Dangerous and hazardous goods (e.g. gas, explosives, flammable liquids, flammable solids, toxic and infectious substances, corrosives, radioactive material, etc.)
Articles of extraordinary value (e.g. archaeological artifacts, artwork, antiques, bank cards, credit cards, crystal, porcelain, collectable coins, fur, fur clothing, gems, jewellery, etc.)
Obviously, some of these items are prohibited due to safety reasons, as in the case of hazardous goods, hazardous waste, and firearms. Meanwhile, some items are not allowed due to existing laws in most countries, including laws on carrying cash and valuable items, as well as laws on alcohol, tobacco, and transporting animals.  For the full list of prohibited items in LBC Express' balikbayan boxes, please see this link.
DISCLAIMER: The above guide is presented for information-sharing purposes only. For more information about the company, its services, and its various locations in the UAE and abroad, please visit the official website of LBC Express. You can also follow the company's official accounts on Facebook and Twitter.
READ NEXT: Pinoy Start-Up Company Awarded AED 50,000 Fund by LBC Express