UPDATE June 2019: And advisory posted by PCG Dubai mentions that red ribbons will no longer be affixed in authenticated/notarized documents. Be advised that you may still need to authenticate your docs, but there will be no more red satin ribbon added. There will be the seal stamped on the paper, but no more attached red-colored ribbon.
As a Filipino resident in Dubai, one of the things that you normally have to submit to process visas for employment or sponsorship would be your university diploma and Transcript of Records (TOR). These documents will only be accepted by the UAE government once they are attested by the Ministry of Foreign Affairs (MOFA). But before having it attested by MOFA, you need to have your diploma authenticated by the UAE embassy in the Philippines and sealed with red-ribbon authentication by the Department of Foreign Affairs (DFA) in the Philippines.
It's a long process but everybody has to go through with it. We had to get one ourselves when we applied for a family visa and employment. In this post, we outline the steps on how to authenticate your diploma and TOR.
UPDATE: There is a new option to have your documents authenticated by DFA. LBC Express in UAE is offering a Document Processing service. More details here – How to Process Philippine Documents in UAE via LBC Express (DFA Red Ribbon, PRC Renewal, NSO Birth, Marriage Cert, etc.)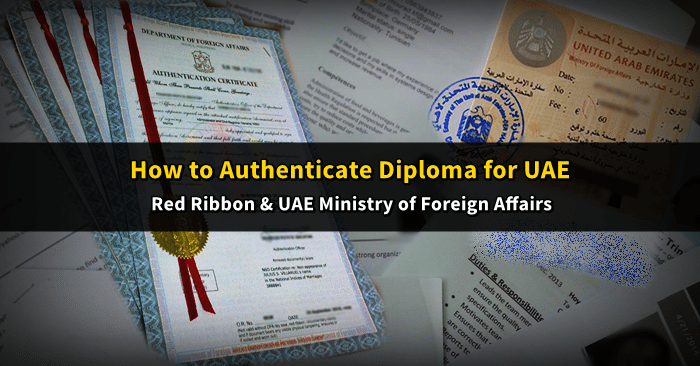 Please be advised that this article acts as a guide based on a Filipino's experience, and may differ per case. We want to help our fellow Pinoys in understanding the procedure for their reference.
Guide to Processing Red Ribbon and UAE-Authenticated Diploma / School Records
Note that the documents we are referring to in this article are the Transcript of Records and the Diploma. In case you will have somebody like a relative/friend process these documents for you, you should be ready to have an authorization letter with your signature plus a photocopy of your ID and the ID of your relative attached. Sometimes the authorization letter is also required to be notarized. In our case, I was able to go back home during my vacation leave to request the documents from the school (Step 1) and I had my sister process the rest. Here are the steps:
1. TOR & Diploma – Request for a copy of school diploma and TOR from the school registrar where you graduated in the Philippines. We paid the fee and waited for the school to process it. The school submitted the documents to CHED (Commission on Higher Education) and CHED brought the documents to the Department of Foreign Affairs (DFA) for red-ribbon seal.
2. DFA "Red Ribbon" Authentication –  Fortunately for us, the school already had a system where they will send it themselves. We did not have to walk-in to DFA anymore. All we had to do was pay some more fees to for them to request that these papers be authenticated with a 'red ribbon' stamp. We waited for about 2 weeks for this.
Note about Red Ribbon: Red ribbon is not an official term. It's actually a process by the DFA where they will seal your document and comes with a red ribbon attached. Hence the term. 
3. Attestation in UAE Embassy in Philippines via DHL service – We received the documents with red-ribbon stamp. The next process is sending the papers to the UAE embassy in the Philippines. This can be done via DHL Express outlets as the embassy doesn't allow walk-ins. DHL Express already has a system for UAE-embassy authentication of documents and it will take about 7 days for it to be processed. So we availed the service and waited for the UAE embassy-attested documents.
Fees:
Embassy Authentication Fee: 1700 Php
Courier Fee: 550 Php
4. Send the Documents via Courier – After the DHL package with our  UAE-attested documents arrived, I had my sister send them to UAE and paid courier fees. We waited for about 3 days for it to arrive in Dubai. Courier fees cost about 2000 Php.
5. Attestation at UAE Ministry of Foreign Affairs – The documents have arrived in our hands here in the UAE. The next and last step is to present them directly to MOFA. There's a MOFA branch in Bur Dubai where we dropped by to have them authenticated. It cost us 150 AED for the stamping fee. After the MOFA stamp, it can now be submitted to the employer or to whichever governing body it is intended for. For other MOFA offices in the UAE, you can check the MOFA website.
Note: We've heard from other people that before the document is attested at the MOFA, the document needs to be authenticated at the Philippine Consulate General office in UAE first. In our situation, we did not have to go to this process as it was already stamped in the Philippines. Regardless, it would be the MOFA staff that will advise you if you need to go to our embassy in Dubai first prior to having it stamped there.
Above is just a general flow of the process in getting your documents approved by UAE government. Please make sure that you allot time as each step may require a week or more plus the processing fees by each department. For us to get everything authenticated and ready to submit for family visa, it took about 1.5 months to 2 months for everything to be completed.
As per announcement, the UAE Law requires that original documents should be submitted when applying for visas. So if you are planning to pass these authenticated documents for your work, please be aware of the time and fees.
What about other Documents like Marriage Certificate, Birth Certificate, NBI Clearance, etc?
If you have some other documents such as your birth certificate or marriage contract that need to be attested by MOFA, you need to proceed to step 2. You may have to walk in to the DFA to have them certified with red-ribbon stamp first before you proceed to the next steps. You still need to have these Philippine documents attested by the UAE embassy in Manila before presenting them to MOFA. Afterwards, you can present these documents to MOFA in Bur Dubai for them to be accepted as legal and valid for use in the UAE.
Why so many Steps to Authenticate?
In case you're wondering why there are so many steps in authenticating these papers, it is to ensure that the documents are not fake. Philippines and UAE are getting stricter in making sure that the papers we present (for employment or for other purpose) are legitimate. If you apply for a job, you will be required to submit these authenticated papers as proof.
—————-
We hope you get a clearer understanding how to go about these steps. Please share this to fellow Pinoys for them to know the process. If you have questions, you can share them in the comments section and we will update this page when we can get more helpful content.