For expats in Dubai and the UAE, the Ministry of Foreign Affairs (MOFA) is the office that stamps your country documents so that it would be accepted by the UAE government for processing of papers. Whether you are applying for a family visa, husband/spousal visa, employment visa, etc. and you need to submit paperwork to present to the governing body (your employer or to the UAE government). But before these would be accepted, they would require that you head to MOFA to have them attested.
To authenticate your papers, you can either hire a service or do it yourself by heading to the MOFA office in Bur Dubai.
Related Article: How to Authenticate Diploma (Red Ribbon and MOFA Attestation)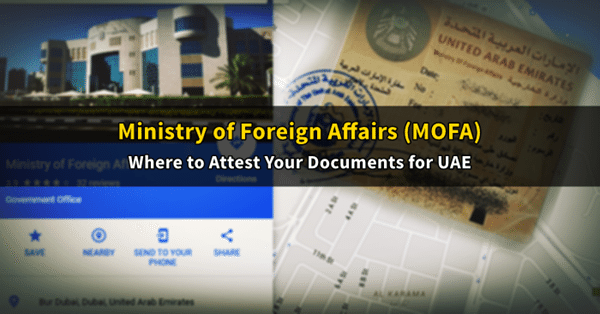 Ministry of Foreign Affairs in Bur Dubai
The process to UAE-attest your country documents is quick so long as the document you are presenting is legitimate. Depending on the situation, your document may not be accepted right away because it needs to be verified in your own country first. The staff at the office will advise you what to do.
Sample Documents that need to be authenticated in MOFA are:
Wedding certificate/marriage contract
Transcript of Records
University Diploma
Birth Certificate
Other Government Documents
When you have the MOFA seal, this means that your document is UAE-approved and you can now submit your document to any governing body that will require these certificates in the first place. Whether it's for your work, or applying for visa sponsorship.
Here's a sample photo of the seal that will be stamped on your document. Please be advised that there is a corresponding fee per stamp. Last time we checked, it was 150 AED per stamp.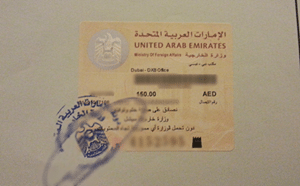 MOFA Location in Dubai and Contact Details
The office is in front of the Ansar Gallery in Karama. You can check their information in case you need to contact them below:
MOFA Contact Details:
Contact Number: (04) 404 0000
Fax: (04) 357 2112
Email: Dubaioffice@mofa.gov.ae
Opening Hours: 8am to 2pm (Sunday to Thursday)
This article was posted to help share information for those who don't know where the Ministry of Foreign Affairs in Dubai is located. We hope you get an idea how to process it by yourself so you can pay the minimum fee only. The service is quick and efficient based on our experience.
Google Location Map: