A reminder to all UAE residents to avoid posting rumors on Social Media. The Philippine Consulate General in Dubai and the Northern Emirates reminds Filipinos to avoid publishing rumors on social media sites.
1 Million AED Fine for Damaging Social Peace and Public Order
A press release from PCG says to "refrain from posting or sharing unconfirmed or baseless information on social media that may be considered rumor mongering". If found guilty by the UAE government, "one may face imprisonment and a civil fine not exceeding to AED 1 million." This would be a criminal offense and will face consequences if found guilty.
With recent events and calamities happening and with the easy access of social networking sites as Facebook, Twitter, Instagram, etc. we may be inclined to posting stories on our news feeds. But please be careful and think twice before sharing the content.
500,000 AED Fine for Posting Photos of People Without their Consent
The press release also warns on posting pictures of other people without their consent as this is a punishable crime which could lead to imprisonment of up to 6 months and a fine of 500,000 AED. So even if you are an amateur photographer in Dubai, please don't just take photos of people without asking their permission. Please read the rest of letter from the Consulate here: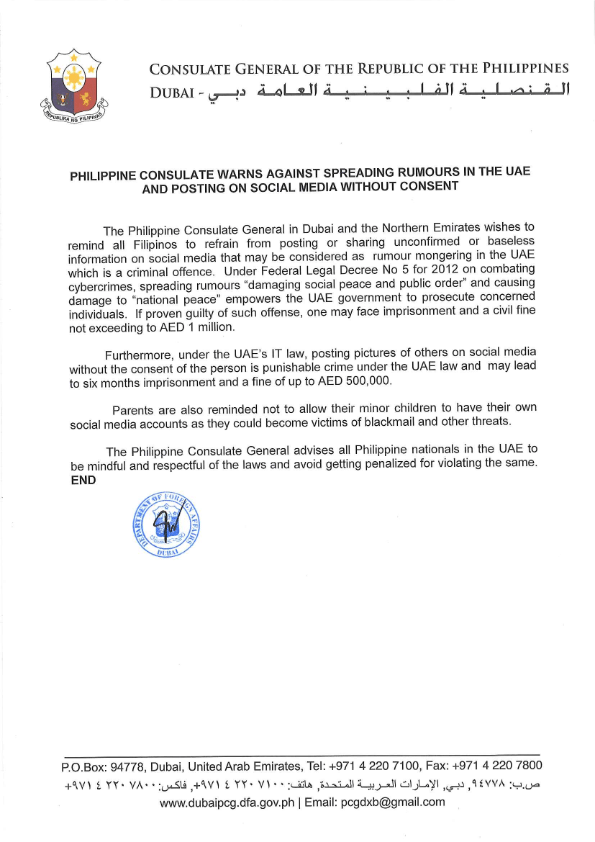 Press Release Source: http://dubaipcg.dfa.gov.ph/consulate-news/496-press-release-philippine-consulate-warns-against-spreading-rumours-in-the-uae-and-posting-on-social-media-without-consent
There's been a report from Emirates 24/7 mentioning the use of social media platforms where users post stories online but would do damage in the country's reputation. If these were to take place, and public peace and safety are disrupted, these acts are punishable.
As a precaution, always verify the source of your information and make sure to think twice before posting anything online. We will be following this up with an article about Social Media Policy in the UAE.