Mga kabayans, please be advised of an announcement made by the Philippine Consulate General of Dubai concerning red ribbon authentication/notarization of Philippine Documents. According to an advisory by PCG Dubai, starting June 15, 2019, the Consulate will no longer include Red ribbons on the documents.
Also Read: How to Renew Philippine Passport in Dubai – Step by Step
Please note that documents are still being notarized / authenticated, but there will be no 'red satin ribbon' added in the documents. There will be a gold seal with Embassy seal only.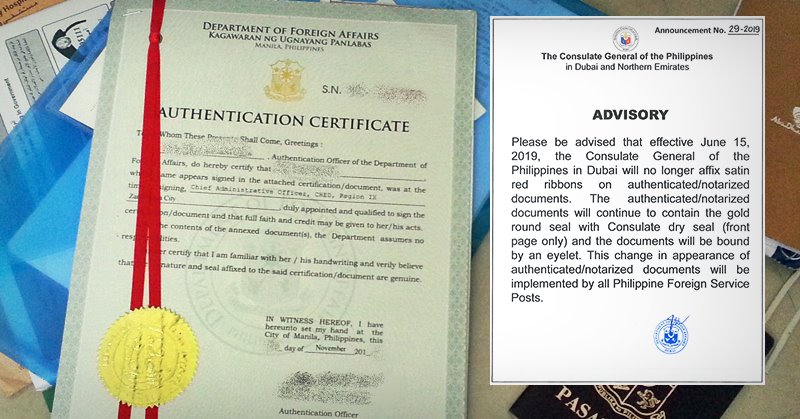 PUBLIC ANNOUNCEMENT NO. 29-2019: PLEASE BE ADVISED THAT EFFECTIVE JUNE 15, 2019, DUBAI PCG WILL NO LONGER AFFIX SATIN RED RIBBONS AUTHENTICATED/NOTARIZED DOCUMENTS
Consulate General of the Philippines in Dubai in Dubai and Northern Emirates
Announcement No. 29-2019
Please be advised that effective June 15, 2019 the Consulate General of the Philippines in Dubai will no longer affix satin red ribbons on authenticated/notarized documents. The authenticated/notarized documents will continue to contain the gold round seal with Consulate dry seal (front page only) and the documents will be bound by an eyelet. This change in appearance of authenticated/notarized documents will be implemented by all Philippine Foreign Service Posts.
Below is the photo of the said announcement taken from PCG Dubai website.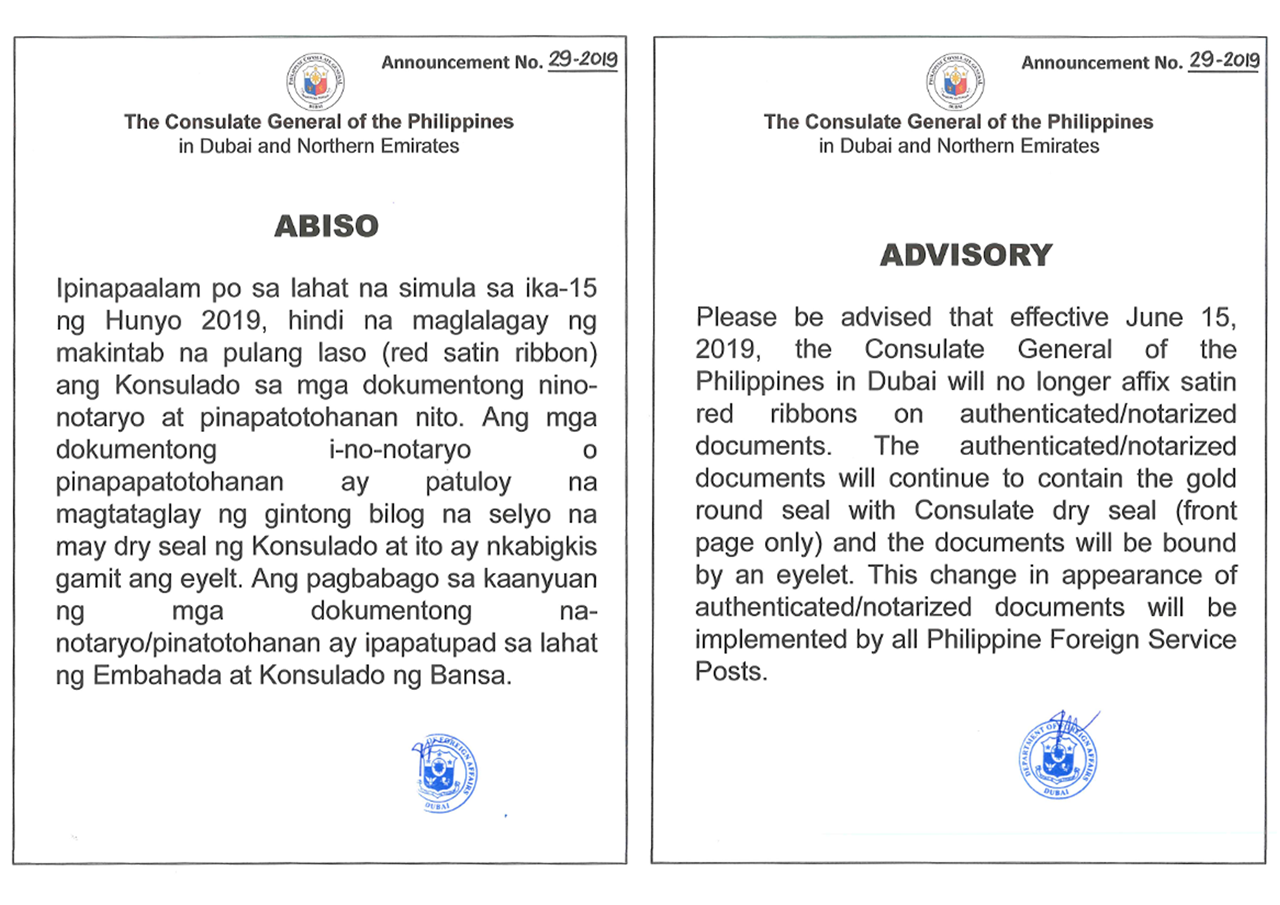 Note: Information below are based on our understanding of the said announcement. Please contact PCG Dubai for more updated information.
Does this mean that there will be no more authentication processed?
Take note that Authentication/Notarization is still being processed, but the actual 'red ribbon' will no longer be included. The PH government has just agreed that the ribbons will still no longer be added. You MAY still need to secure authenticated docs when you apply for work (depending on your future company), or when processing government documents.
What's the purpose of announcing that red ribbons are gone, but we still need to go through the process of authentication?
The red-colored ribbons has been a common knowledge for OFWs who need to bring authenticated documents abroad (for employment purpose, or for processing government documents). In our understanding, you might think that it is a fake document if there is no ribbon. So this advisory is really important to make people aware that of this update.
Also Read: How to Authenticate Documents at UAE Ministry of Foreign Affairs (MOFA)
This is a change in appearance on the notarize/authenticated documents only. Please be advised of these changes for your information.