Whether you are getting married, applying for NBI clearance, or processing officials documents, you will need to have these notarized at the Philippine Consulate General (PCG) in Dubai. The notarization is a process in which documents are authenticated (with red ribbon) in order to validate them. In our case, we were applying for a loan in the Philippines and a notarized copy of our contract was one of the requirements so we  needed to visit PCG to process it.
ALSO READ: How to Apply for an OEC in Dubai
Today's article presents the general procedures for the notarization and release of notarized documents at PCG Dubai. It helps to be familiar with these steps, so that you can easily plan your schedule whenever you need to have a document processed or notarized at the consulate.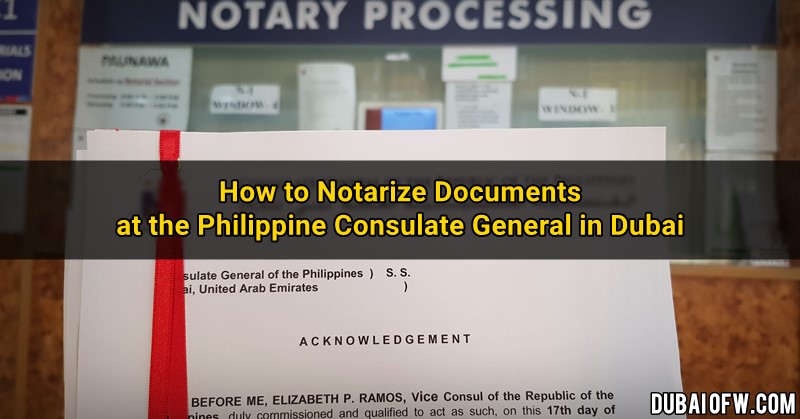 Guide to Notarization of Documents at Philippine Consulate of Dubai
When we visited the Phil Consulate the first time, we were not able to process the notarization because there are specific timings for the processing – 8am to 2pm. We were already late when we arrived so we had to come back at another time. Good thing that we processed our passport renewal at the time so our visit didn't go to waste. Please take note of the timings!
General Procedures
Here is the step-by-step procedure for having your documents notarized:
Fill out the appropriate application form related to your document (e.g. NBI Clearance, Special Power of Attorney, Memorandum of Agreement, etc).
Prepare the original and two (2) photocopies of the document.
Prepare the original and two (2) photocopies of your passport.
Get a queue number from the guard at the PCG entrance.
Proceed to the Notary Window and wait for your turn.
Pay the required fee at the Cashier (AED 100 per document).
Take note of the date and time of release of your notarized document, as specified in the receipt.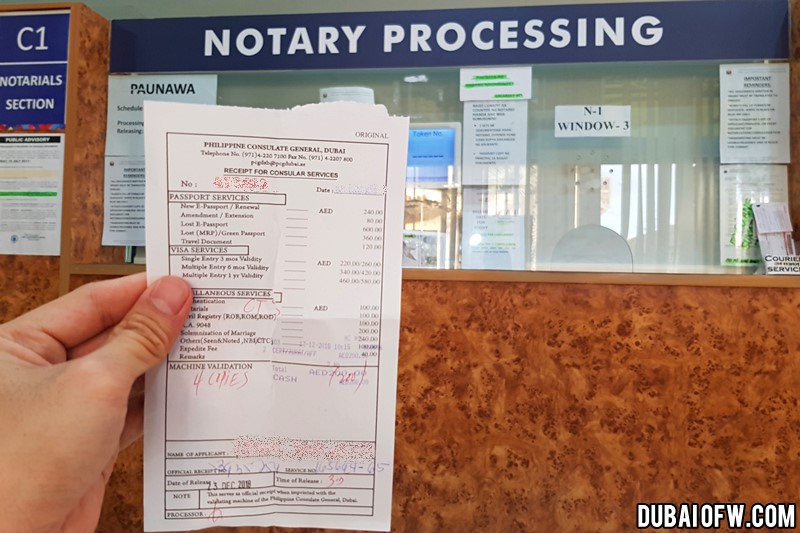 Release of Notarized Documents
To claim your notarized document, you can pick it up personally, authorize someone to get it for you, or have it picked up by a courier service provider. Be advised that the release of the documents is done at a specific time only – 3pm to 5pm.
Personal pick-up. Bring the original receipt on the date and time specified. Claim your document from the Notarial Section at PCG Dubai.
Authorized Representative. Your authorized representative should bring: (1) original receipt; (2) authorization letter from applicant; (3) photocopy of applicant's passport with signature; and (4) photocopy of authorized representative's passport with signature.
Courier Service Provider. The authorized courier personnel should bring: (1) original receipt; (2) authorization letter from applicant; and (3) photocopy of applicant's passport with signature.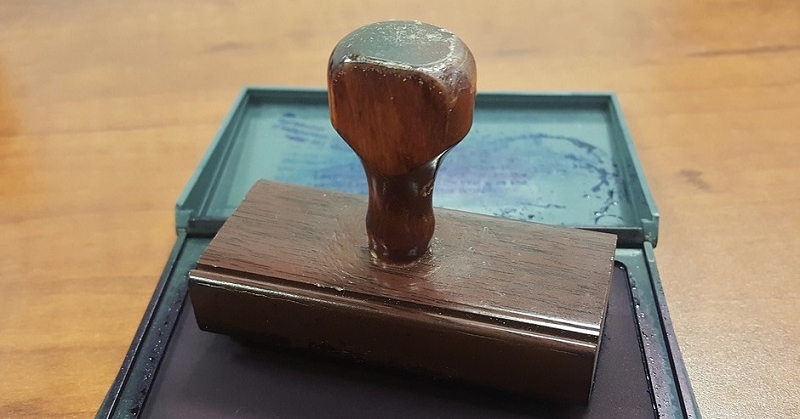 Consular Hours & Notarization Schedule
PCG Dubai is open every Sunday to Thursday, except during legal holidays.
At the Notarial Section, documents are processed between 8:00 am and 2:00 pm, and released from 3:00 pm to 5:00 pm. On average, processing time takes about four (4) working days.
ALSO READ: Services Offered by the Philippine Consulate and Overseas Labor Office in Dubai
Releasing time was also done in a different schedule and upon collecting it, we didn't have much problem. I was able to get the papers right away.
Below is a sample of the document that was notarized. The first page is the acknowledgement certificate (with red ribbon) from PCG Dubai authenticating the papers we submitted.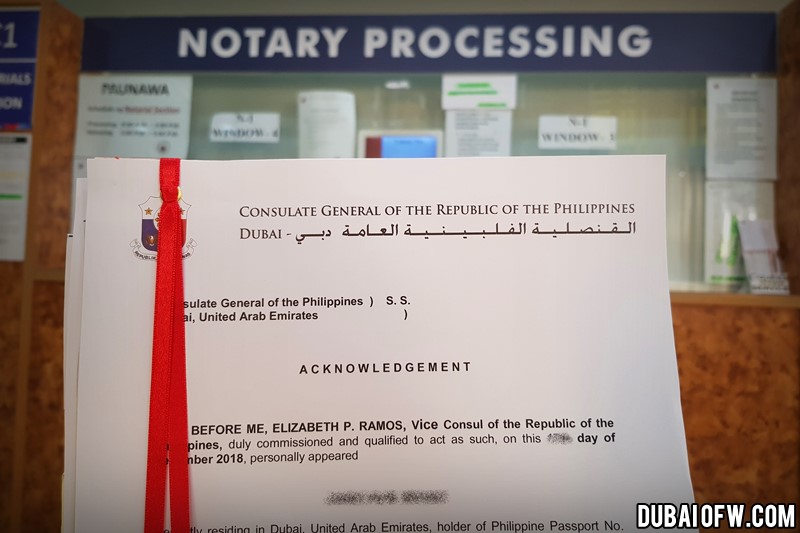 Important Reminders & Tips
Please allot 4 business days for the processing of the notarized documents.
All documents written in Arabic must be translated to English
Always fill up forms/in duplicate. Write in black or blue ink only
Attach passport copy of applicant or principal on every document for notarization
Handwriting documents must be legible/readable and in BLOCK format.
If you are going to claim the papers on behalf of the applicant, you need to present an authorization letter with photocopy of passport and signature (of applicant), as well as the passport copy and signature of the person who will claim the file.
We hope you find this guide useful to help you in case you need to process this.
DISCLAIMER: The details above are presented for information-sharing purposes only. For more information about having your documents processed and notarized, please visit the PCG Dubai official website.
PCG Dubai Contact Information:
Address Location: 35 Beirut St., Extension 2, Al Qusais 3, Dubai, UAE
Telephone Number: +971 4 220 7100
PCG Dubai Website:  http://www.dubaipcg.dfa.gov.ph/
How to Get There
Below is a map location of the Philippine Consulate in Dubai located in Al Qusais: