For Filipinos who want to renew their Philippine Passport in Dubai, this is a post to guide you about the process. If your passport is about to expire, don't wait further as you might get denied to travel. Please get an appointment and then head over to the PCG – Philippine Consulate General office in Dubai. The PCG (Philippine Consulate General) embassy in Dubai is the office where you will process your passport. They have enlisted steps to take in order to process your application. If you DO NOT want to wait for an appointment, you can renew your passport via ePassport Renewal Center in WAFI Mall for an additional fee of AED 92.
Also Read: How to Get Married in Dubai for Filipinos
Remember that you might have a hard time travelling back to the Philippines or to any other country if you will wait 6 months before your passport will expire. Better to process it as soon as possible to avoid inconvenience. Please let this article guide you.
UPDATE: Reminder to all Pinoys to Make sure to Schedule an Appointment at least 10 MONTHS before your passport expiration. We checked the availability for passport appointments on the PCG website and the schedule looks fully booked! So you really have to keep an eye out for the dates as somebody might cancel so you can book that slot.
Due to safety precautions, passport processing is strictly done only for those who have an online appointment. You cannot enter the PCG Dubai office if you do NOT have an appointment.
Below you can play a video guide to help you understand how you can renew your PH passport at our Consulate. Please do subscribe to our YouTube Channel for more updates and tips!
In case you don't want to watch the video above, you can check out the process we have outlined below. so you will have a better idea and read through each step carefully in order to avoid going back and forth the Consulate because of lack of requirements or knowledge.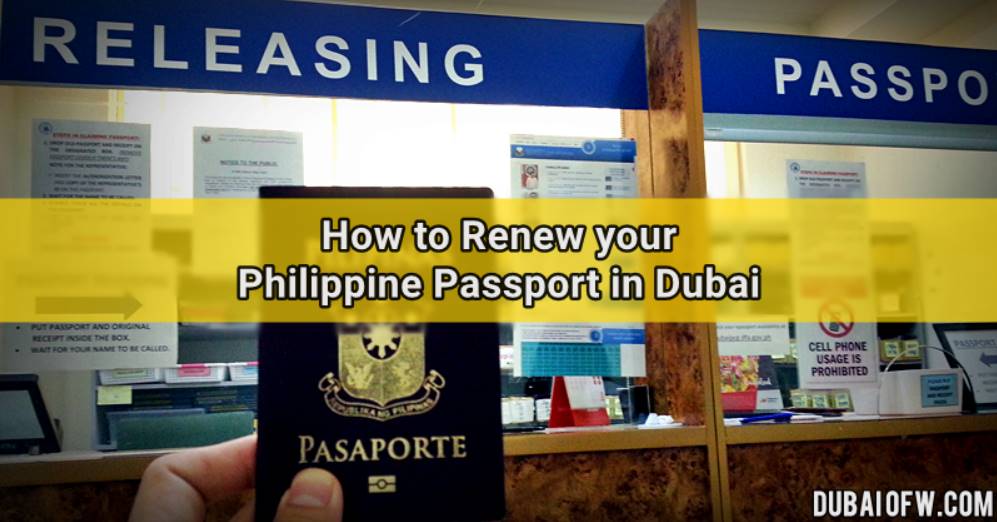 Steps to Apply for a Philippine Passport in Dubai
Here are the steps for you to apply to renew your passport while you're in the UAE. Take note that this is applicable for residents of Dubai and the Northern Emirates. For those based in Abu Dhabi, you may still renew your passport at PCG Dubai, but you can also head to the Philippine Embassy in Abu Dhabi to process the renewal.
1. Book an appointment online. Schedule an appointment by going to the website and choosing the available dates. – http://dubaipcg.dfa.gov.ph/services/passports/epassport-appointment-system
2. On the date of appointment or appearance, go to the Philippine Consulate located in Al Qusais (directions at the bottom of this post).
3. Fill out the E-passport Application Form.
4. Proceed to Passport Processing Area [1]
5. Proceed to Cashier [2] to pay the fee. 240 AED.
6. Proceed to Passport Encoding Area [3] – This is where they will ask for your name, birthday, and other information needed to type in the new passport as well as your photo to be taken.
7. Proceed to Releasing Section on date of release [4]
Requirements
Below is the list of requirements you need to bring during the day of appearance at the Consulate:
Printed Confirmed Online Appointment, with QR Code 
Money to pay the fee of the ePassport – 240 AED
Personal Appearance of Applicant
Original Old Passport
Accomplished E-Passport Application Form – download the form here
Photocopy of Passport Data Page and Photocopy of Visa Page
PCG Dubai Passport Renewal Form
In case you are wondering about the passport renewal form, you need to fill out the details completely. Here is a photo of the PH passport application form for your reference. You may also download a high resolution of the application form here.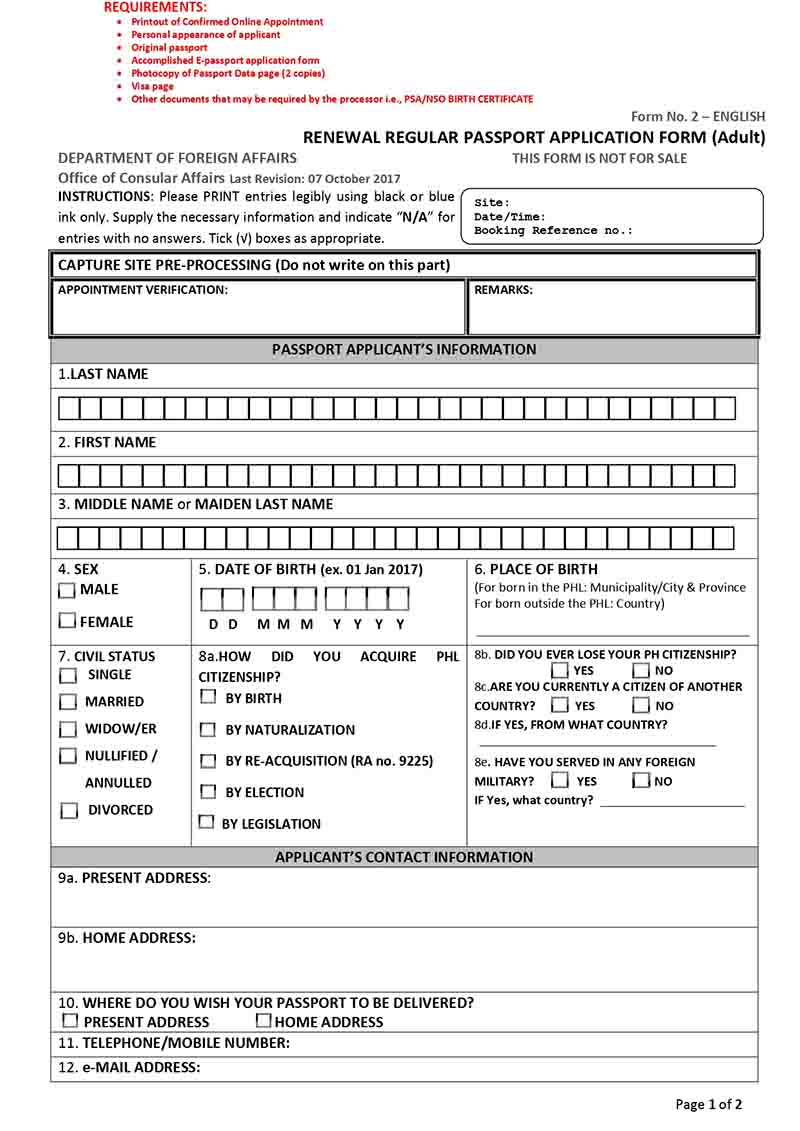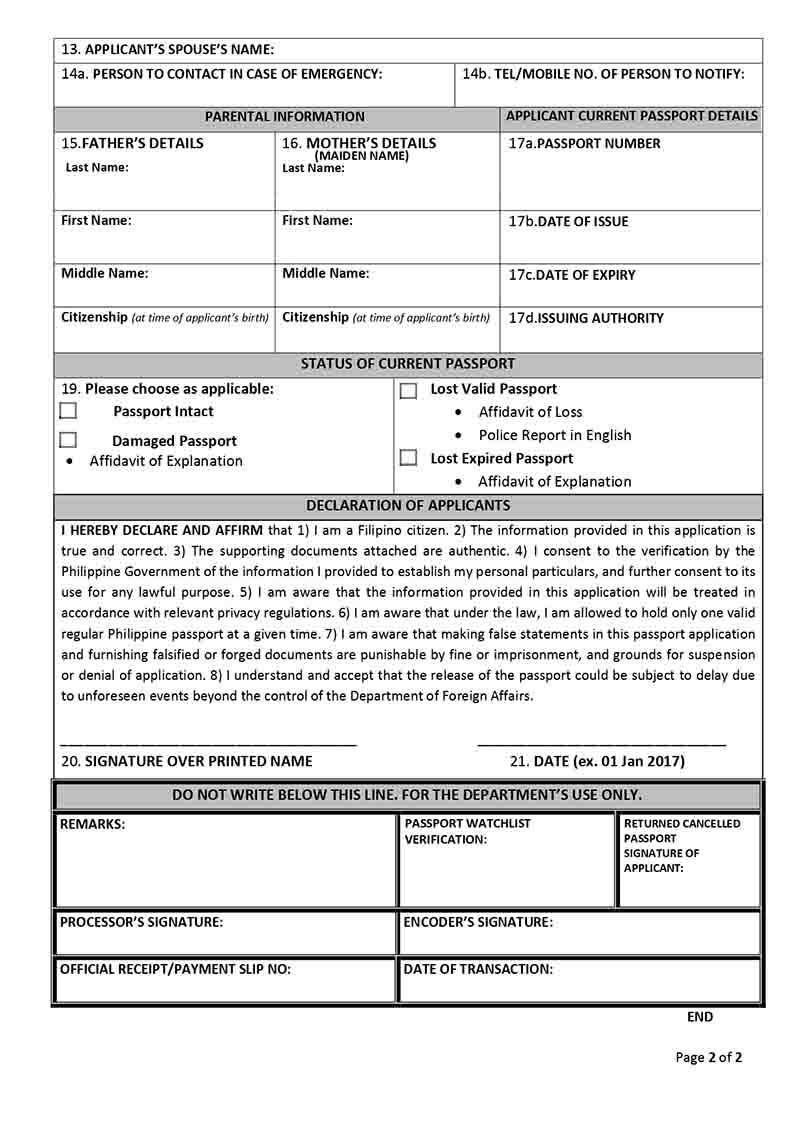 PCG Dubai Appointment
During the date of the appointment or appearance, since you already have a scheduled appointment, it will take about 2 hours for everything to be finished. The staff will process your biometrics, take your new passport photo and enter your data in your new passport.
You need to make sure that the details that the staff will encode in your passport should be accurate and correct. Having an error will result in an invalid passport and you might have to go through the same process all over.
PCG Dubai Passport Release
After processing your passport renewal, you will have to wait about 4-8 weeks for the Philippine Consulate in Dubai to release/issue your passport. It is advised that you do not call the Consulate office every time you want to inquire if your passport has been released because they are constantly updating their website page whenever they announce that new passports are ready for pick-up.
Remember that PCG Dubai also handles all other inquiries from Filipinos for various issues. They have also mentioned clearly on their website that the passports ready for release are indicated on their page. For your convenience, here's an article to check the status of your Philippine passport application online.
Claiming the New Passport
Once you see that your name is already on the list of released passports available for pick-up. It is time to go back to the Consulate office so you can claim your new passport. Below are the steps in claiming the newly released Philippine passport at PCG Dubai on the day of release:
Drop the old passport and receipt on the designated box. Remove the passport cover if there's any. Note for Representative: Insert the authorization letter and copy of the representative's ID on the passport.
Wait for the name to be called.
Double-check all the details on the passport.
Sign on Page 3 of your new passport.
Log (in their logbook).
Reminder – DO NOT STAPLE the new passport.
Once you have your new passport and everything is correct, the staff will then put holes in your old passport (using an office puncher) to make it fully invalid. You now have your new Philippine passport and this will is going to be valid for 10 years.
What if I cannot personally pick Up my Passport?
In case you are not available to personally pick up your passport, you can send an authorized representative to get it for you. The representative must provide the following documents:
1. Authorization Letter – here's a sample Authorization Letter by the Consulate
2. Old passport of Applicant
3. Original Receipt
4. Valid ID card of Authorized Representative (Original and Photocopy)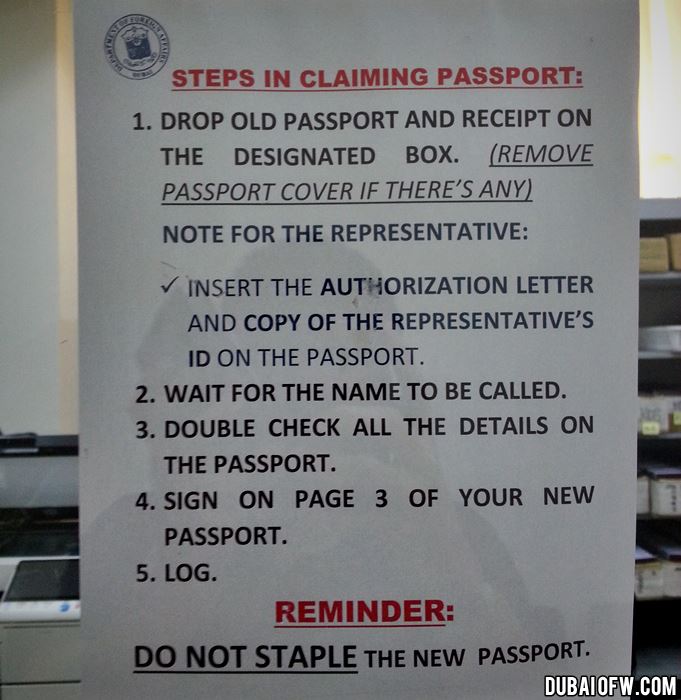 Courtesy Lane for Passport Application / Walk-ins
If you're wondering how you can get an 'express lane' or 'fast track' processing, the Consulate has a courtesy lane for individuals in special instances. There is strictly NO WALK-INS allowed for the rest of us. The Courtesy Lane is available for Filipinos under specific categories and they are given priority due to the nature of their job or situation. Listed below are people who do NOT need to set an appointment. You only need to go to the Consulate and will be given priority for passport renewal.
Minors (aged 12 and below)
Senior citizens (60 years and over)
People with disabilities (PWDs) with with medical report
Seafarers and Cabin Crew
pregnant women (with medical certificate)
household service workers (i.e., nannies, family drivers, household helps)
If you belong under this category, you can proceed directly to the Priority Lane section between 8:00 A.M. to 3:30 P.M. from Sunday to Thursday (except during legal holidays).
Important Reminders during Passport Appointment
Make sure to schedule an appointment a year before your passport expires. The reason is the availability of appearance schedules are very limited. Sometimes you have to wait until somebody cancels for you to get a slot.
During the appearance, ensure that the details the staff enters is correct. The staff will ask you to verify the details (birthdate, name, etc.) are accurate so pay attention during this time.
If you process the passport renewal back in the Philippines, you will not have to schedule an appointment as we will have priority.
The Consulate will announce the release of passports on their website so make sure you check it out after 4 weeks or so. If your name is on the list of released passports, there is NO NEED to call the Consulate to verify.
Keep the claim receipt so that when you come back to the Consulate, you can easily pick up your passport.
If you are on a tourist visa, you may still head to the Consulate in order to renew your passport.
For those whose residence visas are based in Abu Dhabi, you may visit PCG Dubai or the Philippine Embassy in Abu Dhabi depending on where it is more convenient for you to process the renewal of the passport. Here's a guide.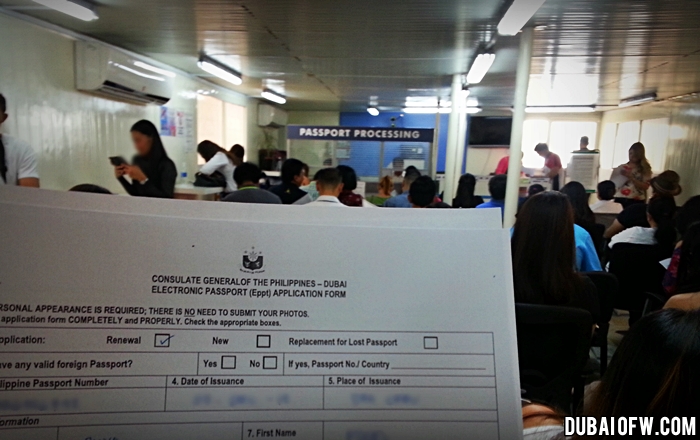 Public Advisory: Reminders by PCG Dubai Passport Renewal
The Philippine Consulate General in Dubai would like to inform the Filipino expatriates in Dubai and the Northern Emirates of the following procedures and regulations relating to application/renewal of Philippine passport.
1. Please be reminded that passport processing applications in the Consulate General are strictly by appointment, except for household service workers, seafarers, senior citizens, and children below 12 years old, and emergency cases. Please visit the website http://www.dubaipcg.dfa.gov.ph and click the link for passport application requirements. An email will be sent to the applicant to confirm his/her appointment. This service is free of charge.
2. The Consulate General advises applicants to book their appointment at least 10 months before the expiration of their passports to provide ample time for the arrival of new passports. Please be reminded that UAE authorities require passports to be valid at least 6 months to process visa applications. Also, many foreign governments only accept the validity date reflected in the passport data page and stored in the ePassports chip as mandated by the International Civil Aviation Organization (ICAO).
3. Applicants must appear personally on their scheduled date and time for passport processing and data capturing.
4. In the event that the applicant cannot come in on his/her appointment date, he/she must either (a) cancel his appointment online or (b) inform the Consulate General, through email epassportcoord@pcgdubai.ae, five (5) working days before his/her scheduled appointment. This would allow the Consulate General to cancel the appointment and open the slot for others.
5. Starting 01 June 2017, "no-show" applicants are required to re-apply for an appointment online. The new procedure aims to unclog the online appointment system and allow the Consulate General to accommodate other passport applicants.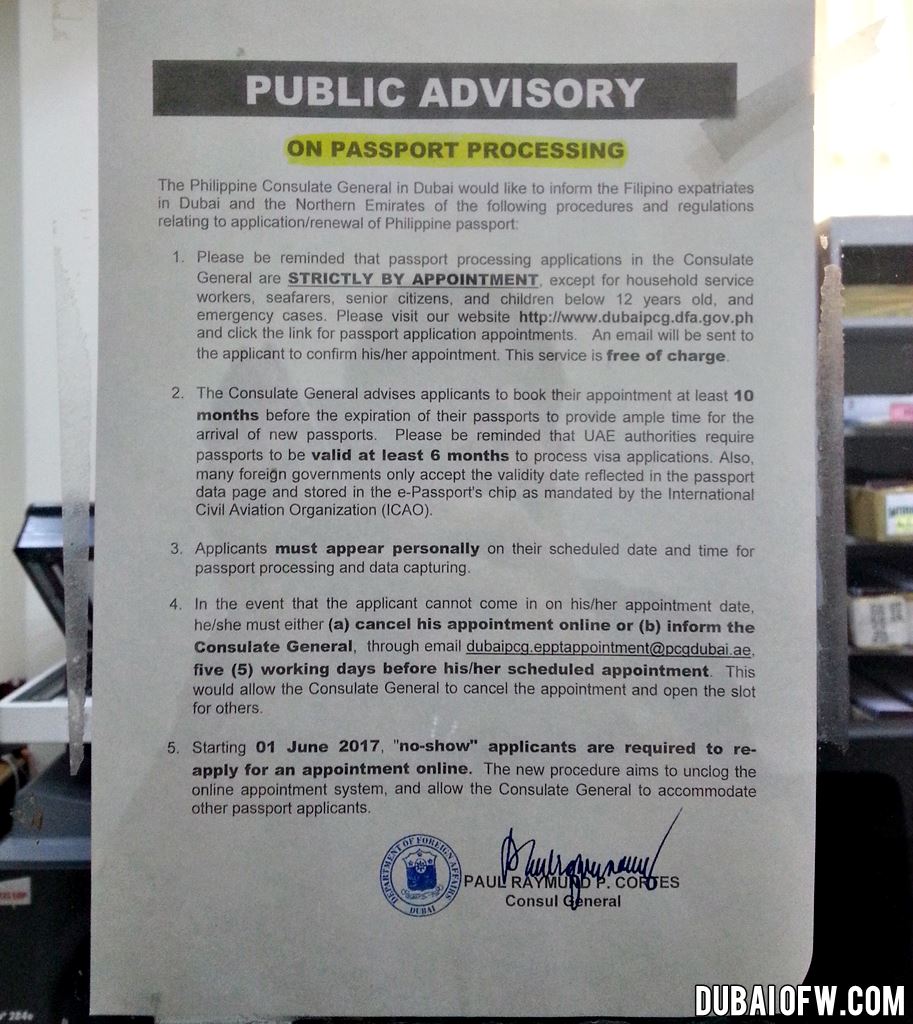 Video: Passport Renewal Guide in Dubai
Here's a video tutorial on how you can renew your Philippine passport at the PCG Dubai office in Al Qusais:
Contact Information
Address Location: 35 Beirut St., Extension 2, Al Qusais 3, Dubai, United Arab Emirates
Telephone Number: +971 4 220 7100
Website: PCG Dubai Website – http://www.dubaipcg.dfa.gov.ph/
Facebook Page: https://www.facebook.com/PHinDubai/
PCG Dubai Office Hours:
Sunday to Thursday (Except Holidays)
8am – 12nn – Morning
12nn – 1pm – Lunch Break – Compound will be closed
1pm – 5pm – Afternoon
4pm – Cashier Payment closes
During our experience renewing our passport, we didn't wait that long (only 4 weeks) and the appearance took only about an hour. We were quite happy with the service and system that PCG Dubai has set up. We look forward to better service and location in the coming months.
How to Get to PCG Dubai via Public Transport
Metro and Taxi seem to be the most convenient way to get to the Consulate embassy. Here are the directions to get there:
Red Line – Drop off at Emirates Station or Rashidiya Metro station. Take a taxi and pay about 20 Dirhams for the fare.
Green Line – Drop off at Al Qusais Metro Station or Etisalat Station and you can also take a taxicab as it might get very hot if you walk (around 3 blocks away)
Google Map Location
Below is a map for directions on how to get to the Philippine Consulate General office in Al Qusais. You can save this map on your phone so you can be guided in case you will drive to the PCG Dubai office.