Good news to Filipinos especially those who are abroad as the issuance of the 10-year validity of our Philippine passports has begun in January 3, 2018. In a statement from the Department of Foreign Affairs (DFA), Director Geronimo Suliguin, officer in charge for DFA-Office of Public Diplomacy, mentioned that January 1 and 2 were holidays, so that's why the issuance of these 10-year valid passports begin in January 3.
There are no additional costs (it is still 240 AED) for renewal so this is definitely welcome news for us Pinoys.
Related Post: How to Check the Status of Your Philippine Passport Application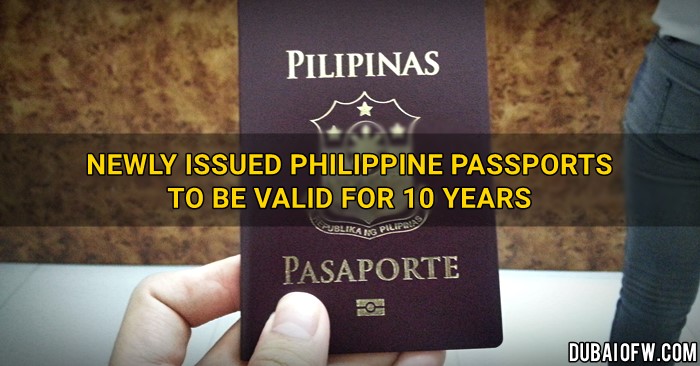 10-Year Validity of Philippine Passports Begins 3rd January 2018
Below is the statement from DFA
MANILA — The Department of Foreign Affairs (DFA) on Wednesday announced that issuance of passports with 10-year validity starts January 3.
"Since January 1 and 2 were holidays, passport applications made starting today, January 3, shall be 10-year valid, provided the applicant is not a minor," said Director Geronimo Suliguin, officer in charge for DFA-Office of Public Diplomacy.
As per the implementing rules and regulations (IRR) of Republic Act No. 10928 or Act Extending the Validity of Philippine Passports, only applicants 18 years old above will be provided with a 10-year valid passport, those below 18 years old will be issued with five-year validity.
In a text message, Suliguin told the Philippine News Agency that regular release schedules are still observed for applications made from all DFA units.
Meanwhile, for expedited applications made in DFA National Capital Region units today, he said they expect to release the passports on January 12.
Philippine passports issued prior to Jan. 1, 2018 with a validity period of five years will remain valid until expiration.
Both booklets with 10-year and 5-year validity will not have a change in design, security features, and the number of pages. Further, there are also no changes in passport application fees.
While original application fees are retained, additional costs may apply once the DFA add pages, change materials, and enhance security features of the passports, according to the IRR.
Personal Experience
Personally, since I just renewed my passport last October, I still have to wait for 5 years to renew it. Nevertheless, it's still great to know that there's no extra charges even if the validity has been extended. This saves us the extra money for renewal.
Below is a post we shared last year wherein it took only 3 weeks for PCG Dubai to release my passport.