Residency in the UAE can be availed by sponsors under certain situations. You can apply for a residence visa for you family in the UAE provided you have the proper documents and qualifications. Here we share the important points in terms of restrictions of family visas.
A woman is allowed to sponsor her family in Dubai and the rest of the UAE under certain conditions. Also, check out the difference between a Tourist Visa and a Residence visa as well as the benefits of each.
Take note though that the information posted below serves only as a guide and always check the Ministry of Interior as well as your local embassy for more updates.
Related Posts:
– How to Sponsor Your Husband (or Wife) in Dubai (Spousal Visa Sponsorship)
– How to Sponsor Parents in Dubai (Residence Visa for Mother/Father) in UAE
– How to Sponsor Your Child in the UAE (Residence Visa)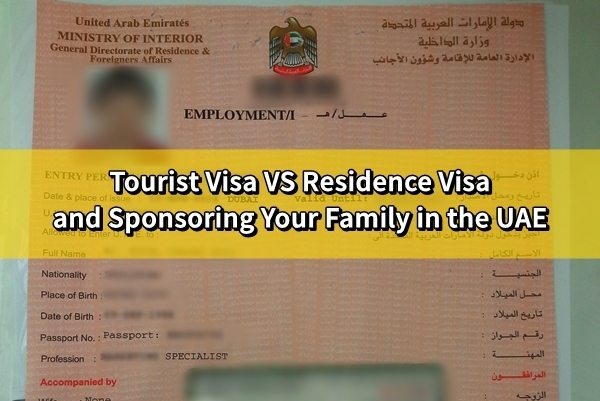 Sponsoring Family Visa in the UAE
1. A woman is allowed to sponsor her family in the UAE if:
– she's married
– she makes at least AED10,000
– she has a college degree
*Subject to further restrictions.
2. A man can sponsor his family if:
– he makes AED3,000 + accomodation, or AED4,000 without accomodation
– must secure an independent accomodation
– must show a registered tenancy contract under his name
Tourist Visa vs Residence Visa
TOURIST VISA is a one-time entry permit which is usually a minimum of 30 days
Tourists coming from the following countries do not need to obtain an actual physical visa in their passports when entering the UAE as they are entitled to visa on arrival valid for 30 days which is subject for extension. They are also entitled to easily re-enter UAE after they depart.
USA
Australia
New Zealand
Japan
South Korea
Hong Kong
Malaysia
Most European countries
Any other tourist not coming from the countries mentioned must obtain an actual physical visa in their passport before arriving in the UAE. Some nationalities may need to wait up to 30 days from their departure date before they can re-enter the UAE.
Benefits of a Tourist Visa:
1. Rent a car (may require international driving license)
2. Buy & own a real property
However, with tourist visa, one cannot:
1. Open a bank account
2. Sponsor a family
3. Cannot own a car
Residence Visa
RESIDENCE VISA is issued to those who work in the UAE or own a business registered here and is usually good for 2-3 years which subject is renewable. Those with residence visa are allowed to re-enter the UAE multiple times provided they visit the country at least every 6 months.
Benefits of a Residence Visa:
1. Sponsor a family
2. Sponsor domestic help as nanny, maid, driver
Sponsoring Children
* Spouses bringing children in the UAE from previous marriage must obtain a no-objection letter from the other parent so they can be granted the Residence Visa
Visa under Husband or Father's Sponsorship
* A woman under her father's or husband's visa is entitled to work upon securing a no objection letter from her sponsor (father or husband)
Husband Under Wifes's Sponsorship
* A husband sponsored by his wife cannot work in the UAE. If he desires to work, he should obtain an employment visa. Now men sponsored by wive's in the UAE can now find a job and apply for a work permit.
Visa when there's a Change of Job
* Residence visa should be cancelled or transferred. It is a must to first cancel one's dependent's visa. Some nationalities may be required to exit then re-enter the country using the new employment visa.
Note: Please be advised that the UAE Ministry of Interior is constantly reviewing the immigration laws which may be updated anytime. Such changes should reflect on their website.