So I recently applied to renew my UAE residence visa under my spouse's sponsorship and I was able to get a 3-years UAE visa. I've been renewing my residence visa in the last few years and in case you want to know the process, it is actually very convenient when you visit the Amer typing center in Dubai.
For Dubai residents who want to apply for a 3-year residence visa, please check out the steps that I've outlined which show how I was able to do it.
Disclaimer: This procedure is based on our experience when we applied for a residence visa for myself and may be different from your situation. Policies in the UAE often change and get updated without prior notice. It is best to contact authorities or ask the Amer centers themselves if they have the service available as rules change from time to time.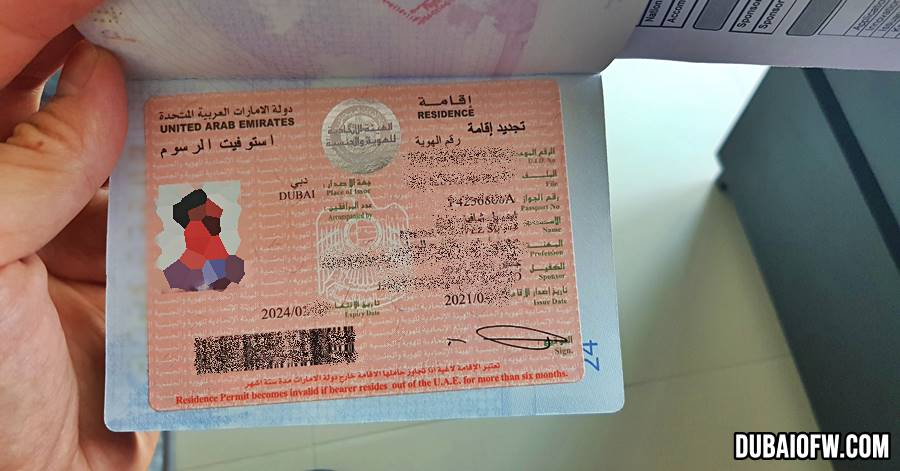 Qualifications
As I already had previous residence visas issued/approved, it was much easier to apply for a renewal. Below are the general qualifications to get a UAE visa:
Based on latest update, INCOME and NOT profession is the main requirement now for you to be qualified to sponsor your family. You only need to have a minimum salary of 4000 AED without accommodation (or 3000 AED with accommodation) to apply for a residence visa for family members.
First and foremost, you need to make sure you are qualified. In order to process a residence visa for your spouse, here are the qualifications:
Husband Sponsoring Wife in UAE
For a husband to sponsor his wife, his salary should be at least 4000 AED (or 3000 AED with Accommodation Allowance from his company)
Wife Sponsoring Husband in UAE
For a wife to sponsor her husband, her salary should be at least 10,000 AED. For women to sponsor their children, her salary should be at least 4000 AED (or 3000 AED with Accommodation Allowance from her company).
Note: There may be humanitarian cases wherein if the sponsor is not able to meet the income requirements. So please ask the Amer Typing Center or DNRD for further clarifications as policies keep changing and also situations are handled on a case to case basis.
Requirements
Below are the documents that I presented in order to apply for the 3-year residence visa:
Application Form (Done at Amer Typing Center)
Salary certificate of Sponsor (in Arabic)
Marriage Certificate (Attested by MOFA – Ministry of Foreign Affairs)
Tenancy Contract (Attested by Ejari)
Latest DEWA Bill
Photocopy of Passport (Sponsor)
Photocopy of Visa Page of Sponsor
Photocopy of Passport (Dependent)
Cancelled Visa Page of Dependent (if already in UAE had a previous visa)
Passport Photos of Sponsor
Step by Step Process
Once you have the document requirements, you may follow the steps below to apply for the 3-year visa in Dubai.
1. Apply for a Medical Fitness Exam
I went to the Amer typing center in order for them to process an application for the medical fitness exam. The fitness test will be conducted in a Dubai Health Authority facility. There are various options whether you want a 24-hour rush result, or wait for 3-5 days for the normal test result.
2. Apply for Emirates ID
You may apply for the Emirates ID while you're already at the Typing center. You may also wait for the medical exam results to be cleared before applying for the Emirates ID. The Emirates ID will be delivered to you via postal mail.
3. Apply for Health Insurance (valid for 1 Year)
Get a health insurance as this is mandatory for all Dubai residents. There is a Health Insurance application counter in the Amer center where you can apply for a health insurance. The cheapest one I got was at AED 900 valid for one year from Orient Insurance. Take note that if you have a UAE visa that is valid for more than one year, you have to take the responsibility to keep renewing your health insurance every year. It's also important to have at least the basic insurance cause you might need it in the future if you need to go to the doctor. (Note: This is insurance after all, better pay a minimum fee rather than pay every time you need to have a doctor's appointment).
4. Apply for the UAE 3-Year Visa
After securing all the documents, present these documents to the Amer Typing Center. They will ask you what type of visa you want to get. As they asked me if my sponsor works in the government, the staff advised me that I can get a 3-year visa. So I took this option.
5. Passport Stamp
After processing and once approved, your visa will be stamped. So there are two options:
RUSH –  if you want a RUSH option, the visa stamp can be processed within 24 hours. Once you are approved, you can head to the nearest office with your passport to get the visa sticker stamped.
REGULAR – The REGULAR process will take about 3-5 days wherein Zajel Courier delivery services will pick up your passport at your residence, and then they will return your visa after 3-5 days.
As I was not in a hurry, I chose the regular option. However, I had to call Zajel Courier Services to make sure that I get to schedule the pick-up of my passport. The Phone number for Zajel is 04 701 8000.
Payment Fees
Below are the fees that I paid for this 3-year visa:
Medical DHA Fitness Exam – 322.50 AED
Emirates ID (3 Years) – 405.63 AED
Health Insurance (1 year – Orient) – 900 AED
Visa Fee (3 Years) – 559.90 AED
Total: 2188.03 AED
Important Reminders
So this is the process of applying for a new visa that is valid for 3 years. Here are some important reminders:
1. Policies might change without prior notice as Dubai rules keep changing.
2. There are other visa options like 1-year visa, 3-year visa, or even 10-year visa. So please ask the Amer typing center what are your options and how much each one costs.
3. For the 3-year visa, you may get a high chance of getting approved especially if the sponsor works in the government. But again, these are handled on a case-to-case basis.
Please check out these other important articles about UAE visa processing in Dubai: