I needed to get a health insurance as all dependents need to have one as mandated by a new rule in the UAE. I had to search for insurance companies in Dubai that would be able to provide just a basic minimum coverage in order to comply  with the new rule.
I ended up going to Takaful Emarat as they have a package that would cost only 650 AED per year 750 AED (price update as of April 2020). Be advised that I chose Noor Takaful because this was the cheapest option I could find. The other insurance companies I checked and called ranged from 1000 AED to 8000 AED. Of course these prices varied depending on the coverage and privileges included in that package.
Related Post: How to Insure Your Home in Dubai
Cheapest Medical / Health Insurance Plan in Dubai
I visited the Takaful Emarat office in New Century Tower (opposite Deira City Centre) and went up the 7th floor to their office. There were a few other clients during my visit as this was already an extension from last year's deadline.
500 AED Fine for no Health Insurance
The first deadline for this mandatory health insurance was in 31st December 2016, it was extended to 31st January 2017. It was extended again but there was no definite deadline. There is a Fine of 500 AED per month for the sponsor if the dependent does not have health insurance. As I did not want to risk waiting for the deadline, I finally applied for one.
Even if this is an added expense, this rule was I implemented for the benefit of the residents in Dubai. In case something unforeseen may happen, at least we will something lean on and not break our banks for hospital bills cause we are already covered.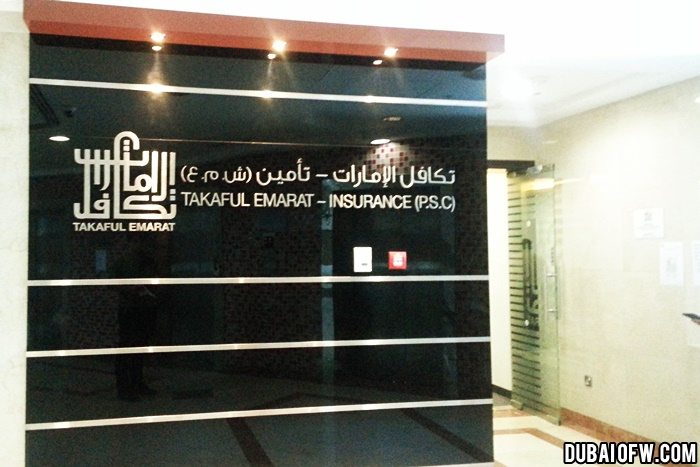 Takaful Emarat insurance office in Deira
Usually if you have work, your employer (which is your sponsor) will be the one who will provide your health insurance. But it may also depend if you have medical benefits as part of your salary package. That's why it's good to know your benefits before signing your employment contract.In my previous work, my company was the one who provided me a health insurance, but since I resigned from my job and became a dependent, I had to secure one for myself.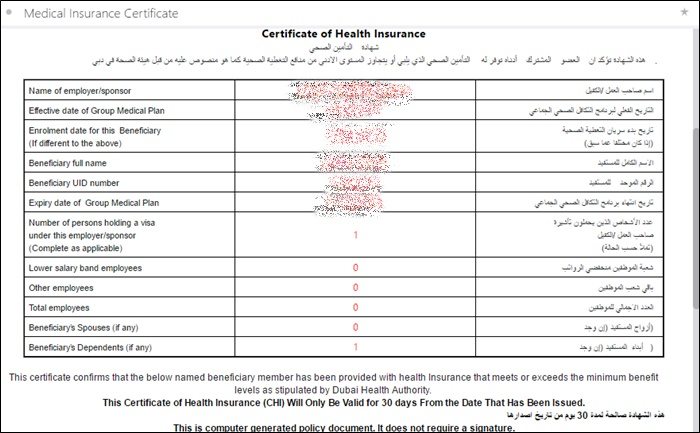 the email from Takaful Emarat with my health insurance certificate
Processing the Health Insurance Application
I spoke with one of the reps in Takaful Emarat, gave my contact details and paid the 650 AED fee. I was advised to wait for 24 hours to receive an email from them about my application. Afterwards, I was told to wait about 10 days for the health insurance to be activated in my Emirates ID. But I was already covered at that time which is good. They mentioned that I could also apply online and make the payment as well so that I didn't need to visit their office. But I preferred to speak to a person to have my inquiries answered.
no more card, the insurance will be attached to your Emirates ID
Your Emirates ID will be connected to your health insurance. So if I may need to use my medical coverage, I can just show my Emirates ID to the hospital staff that is also accredited according to my package.
Takaful Emarat is located at Office No. 701-708, 7th Floor New Century Tower.
Office Hours are from: Sunday to Wednesday: 8am to 5pm, Thursday – 8am to 3pm
——————–
We hope that this information will help you get an idea where you can seek basic health insurance in Dubai without spending as much.
Do you have any suggested Medical insurance company that is also cheap and offers good coverage packages?  Do let us know and we can add it in this article for reference.