With news reports of fire in different apartment buildings, it is important for every resident to think of ways to protect themselves and their homes in the event that this tragedy (knock on wood) might happen to them.
Recent reports of fire of a residence building in Ajman is very alarming. It's very disheartening to hear stories of residents losing all their belongings and are left with nothing.  We may or may not know the cause of the fire, but if you fall as victim to this tragedy, it might be wise to set aside a budget for home insurance for yourself.
Disclaimer: Please be advised that I was not paid to write this article. I am not affiliated with AXA Insurance (or any insurance company). I just happen to drop by their shop in a mall after my former boss told me about getting a home insurance without spending thousands of Dirhams. I thought of sharing the knowledge to help give enlightenment on this topic. You may check other insurance companies and their packages that might suit your needs.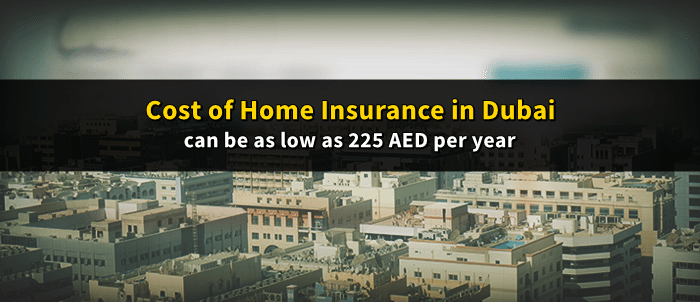 As a Dubai resident, I initially thought that it would be too expensive to get a home insurance in this emirate. You can't blame this thought as we all have ideas on how costly rent can be in Dubai.
Cost of Home Insurance in Dubai
But did you know, you can get home insurance for as low as 225 AED?" – I found out about the cost of insurance for your apartment could be as low as 200 AED plus and you are covered on major appliances and home contents (washing machine, refrigerator, stove, furniture etc.) good for one year.
If you have some electronics and expensive personal items (jewelry, etc.), you can add more budget to insure them too.
In the event of a tragedy, what happens to your important household items if you lose them? Compare the cost of your household items vs the cost of getting an insurance, it might be wise to set aside a small budget for it.
I'm still scouting for other options to insure our new place (we are transferring to a new flat very soon), but I know I can just get it easily inside booths inside malls. I remember there was an AXA Insurance booth in Deira City Center and in The Dubai Mall so I can simply sign up for a plan right away.
Dubai Home Insurance Quote Online
I also checked their site online and you can actually get an instant home insurance quote from their website. You can visit this link – https://online.axa-gulf.com/home-insurance/newbusiness/GetAQuote.aspx?country=UAE&sid=1
Below is a screenshot of a two-step process to get an idea how much budget you can set aside for insuring your flat.
You just fill out your details in their quite form and then click on "Get a quote".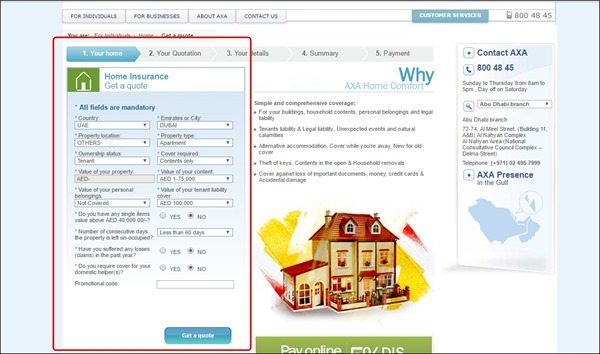 Based on my details, I could insure our apartment for as low as 225 AED only. I tried to include covering 'personal belongings' and it ended up with 459 AED for the year. Check it out for yourself.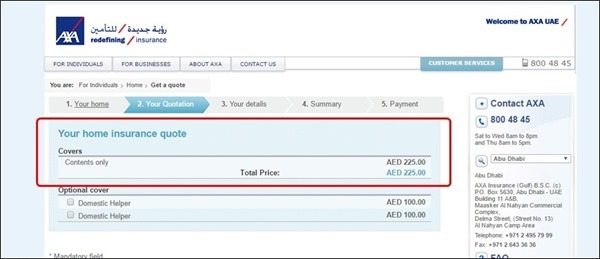 If you wish to proceed, you can finish the next 3 steps online until the payment and it seems that you can get insured without having to go to a physical shop or through one of their agents. You can do it yourself online.
As for me, I prefer to just do it by myself and talk to an actual person before I decide as I have a few more questions to ask regarding the coverage. The important thing is that as a tenant inside an apartment, if you thought that you would spend thousands of Dirhams per month for home insurance, then you have to think twice.
I hope this post will help enlighten every tenant to consider protecting your place in the future.