If you are planning to rent a new apartment in Dubai, there are certain steps and procedures you may need to go through in order to make it a smooth process and avoid disputes in the future. We have transferred a few times in our life as an ex-pat in the UAE. We have created this guide to help those who are renting a new flat.
Did you know that it's not only the annual fee that you have to consider when setting a budget for a new flat? There are other things such as the security deposit, commission, agent fee, DEWA set-up, gas set-up, home insurance, etc. You might get overwhelmed by the information but don't worry as we will try to make it easier for you to know how to rent an apartment for the first time in Dubai.
Related Post: How Much Should You Pay on Rent in Dubai
We just transferred to a new apartment and this has been our second time to rent a flat for a year. Being new in the real estate industry in Dubai, we had plenty of expenses that we didn't realize we had to pay that are on top of the annual rent. If you don't have any idea of the costs, then there might be agents who will abuse and take advantage of you.
This article serves as a guide to expats who want to move to a new apartment or villa and want to know other costs of renting a new flat in this side of the United Arab Emirates. If you are looking for short-term contracts or bedspaces/partitions/rooms for rent, we will write a short guide in the future. This post is intended for properties with annual payment terms.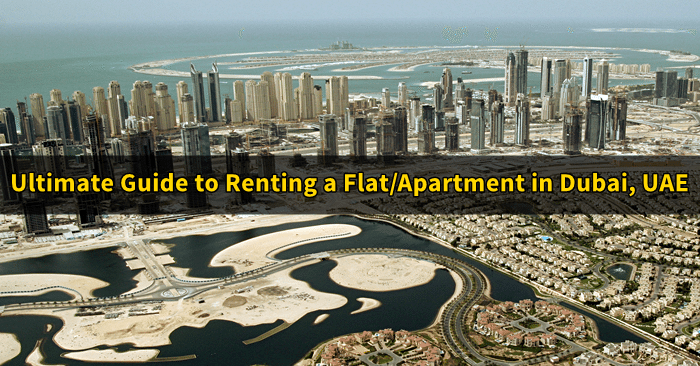 Guide to Renting a Flat/Apartment in Dubai
Apartments, where you will be given a tenancy contract, are usually fixed-term and require annual payment in advance. This means you have to pay for the apartment for a year in check payments  (2 checks, 4 checks, 6 checks, 12 checks).
The term "Villa" is referred to a house in communities/subdivisions. "Apartments" or "flats" are condominium units inside residential towers. For apartments, depending on the number of people living in the it, you might choose a minimum of Studio Flat to a One or Two Bed Room Flat.
Note: Couples who declare that they will stay together may need to produce a marriage contract that is attested by the Ministry of Foreign Affairs. Families who employ a housemaid/nanny, it is mandatory that you to secure a maid's room/quarter. You will need to include this in your search.
1. Where to Find Available Flats in Dubai
Let's start with the basic thing first which is where to find vacant apartments in the city. Here's a list of places which should be sufficient enough to get you started.
Dubizzle.com – Dubizzle has plenty of listings from various agents that post apartments and flats for rent in the UAE. From 3 bedroom villas to studios to even partitions and bedspaces. You can filter these details out according to the type of property according to location, occupancy and price.
Actual Buildings – Buildings will have telephone numbers posted on one of their balconies or exterior walls. These buildings will have a "TO LET" sign and a phone number beside it. You can contact these phone numbers right away to see if the real estate company is offering an available space.
Newspapers – Newspapers are still a reliable way to know about properties for rent. We don't use it as often because Dubai is always online so internet research would already suffice.
Real Estate developer websites – Rocky Real Estate,  Better Homes, SBK realty, Mohebi Properties, etc. You can also find available properties by scanning through the websites of the real estate companies. Our preference is still via Dubizzle as some properties may not offer spaces in the location of choice.
Others:
— Other Real Estate Marketplace websites in the UAE: Bayut.com, PropertyFinder.ae
— Supermarket bulletin boards – If you happen to drop by your neighborhood supermarket, you can find a community board with postings from residents offering spaces for rent?
— Recommendations from friends
Tip: Scan Prices of the Apartments – Be aware of the prices of the apartments. Learn to scan and inquire from each agent about the properties available in the area. You'll  never know that you'll find a cheaper building within the same facilities and located in the same neighborhood as the more expensive one.  When you also do a search, you might also notice that different agents may post different price listings of the same unit in the same building. So it's also wise if you choose which one has the best rate.
Once you have selected your chosen units, call the representative to schedule a site visit so you can see the actual place.
2. Site Visit: Questions to Ask Your Real Estate Agent / Broker
You will definitely have questions to ask so the site visit and meeting with the agent will answer a lot of it. Here are some questions we've asked based on our needs:
What are the facilities included in the building? (Pool, gym, free parking space)
Is the unit good for families/bachelor?
Process in Gas set-up, Internet and phone set-up – if it's a brand new building, better ask if the gas is ready and the internet/phone is ready as it may take a longer time to set up.
Where's the nearest bus stop/public transport?
Are there community areas nearby (parks, supermarkets, etc.)?
How many checks are required for payment?
Some of the questions can only be answered if you conduct a site visit such as transportation and the neighborhood. Like checking the time a bus or taxi ride will take from your house to your office. Same goes with checking the area during day time or night time if there are plenty of well-lighted areas or what the environment is like during these times.
Tip: Ask for the RERA ID – To be extra cautious when dealing with real estate agents, ask for their RERA ID. This is important to verify that your agent/broker is a certified representative. These people will not get offended if you ask for their IDs as it is already part of their protocol. Besides, you want to make sure you are paying a legitimate broker, right? So ask for their ID and verify if they are listed on the RERA government website. Here's the link.  RERA ID verification.
3. Documents Needed to Rent an Apartment
Once you've chosen the property, you may need to pay a deposit fee and submit necessary documents for approval. The real estate company still needs to review your profile first if you are qualified. Here are some of the documents you may need to present.
passport photocopy and UAE residence visa page, Emirates ID copy
passport photo
marriage contract copy attested by UAE Ministry of Foreign Affairs (if married)
work contract/salary certificate
latest bank statements
4. Rental Fees
There will be some deposit and other processing fees that you will need to pay on top of the actual tenancy contract price. Here are some of the fees that you will need to learn and prepare in advance:
Booking Deposit Fee – this is a deposit fee to process your application request to rent your selected flat. This will be deducted to your annual fee.
Annual Fee – the yearly price you pay for the flat usually settled in checks.
5% Security Deposit – this is a deposit which will be returned once you end your contract. Please note that security deposits may take a minimum one month processing time to claim.
5% Commission – this is the commission of the  real estate company.
Agent Fee – this is an additional fee you pay for the agent assisting you in touring the flat during a visit. Amount may vary on their ad posting so better verify this upfront when you meet the agent.
DEWA Set up with Security Deposit of 2000 AED – when you apply for DEWA in your new apartment, you will need to pay a security deposit which is also refundable.
Gas Set -up with Security Deposit of 1000 AED (more or less) – when applying for a centralized gas set-up, you will also pay a security deposit and is also refundable.
Once you agree to the said terms, you will need to visit the real estate company office to submit your requirements, pay the booking deposit fee and submit the annual fee checks. This is also the time where you will sign the contract.
Depending on how fast the real estate company is, there will be a processing time before you get your keys. Just make sure that you finalize the actual date of your house shift/transfer with the property so you can also prepare your schedule ahead. You will also need to get a copy of your Tenancy Contract.
Note: Always get a copy of the contract and also request for receipts of the payments you've made.
5.  Setting up Utilities – DEWA, Internet, Gas, Insurance
Once you secure your tenancy contract, you can now use this document when applying for house connections. Below is a list of connections:
DEWA – for electricity and water
Internet connection (Etisalat or Du) and Landline Phone
Gas Set-up
Cable TV (Etisalat or Du) – optional
Home Insurance – optional
You can ask the building watchman/caretaker to verify the providers, especially for the gas connection.
6. Moving Your Stuff / House Shifting Service
Once you have the key, you will be able to transfer you household items and other household items to your newly rented apartment.  You may need to hire a moving service (house shifting service as they term it here in UAE). You can check online.
The first time we moved, we used one of the pick-up trucks we saw on the road with their phone numbers plastered on the vehicle. These are usually manned by Pakistani drivers who will also bring their friends to help in the house transfer. Price of the shifting will vary on your negotiation.
In case you wish to hire a professional moving service in Dubai, there are house transfer services available. One such company is WeMove – we used this service and the guys packed all our stuff properly, complete with bubble wraps for our appliances and plastic wraps for household items. They can even dismantle IKEA furniture and set it up again. Although a bit more costly, you will definitely time to set your house up as they will do it for you. You can refer to other moving services online as there are plenty in Dubai.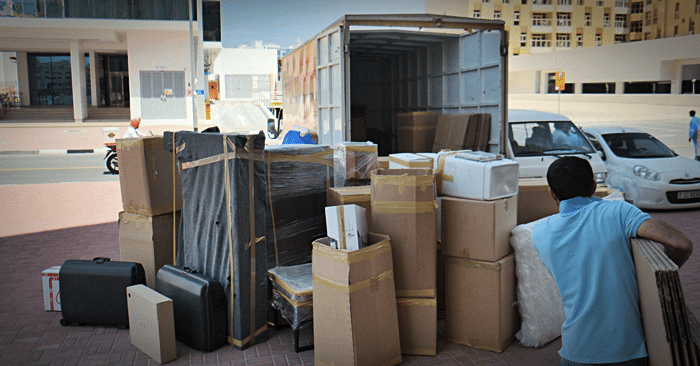 The Guys from WeMove – carefully packing our stuff for the house transfer
7. Other Tips
Not all pictures posted online are accurate. Not all rates are accurate, it is best to visit the flat and talk to your broker. List down the information you have discussed in a paper. This avoids any issues on sudden changes of pricing or added fees which can turn out bad if you have to argue with your agent. Visit the property so you can be sure of the setup of the house that you're going to rent. Plenty of questions will be answered by your agent and if you conduct a site visit.
Check How You Would Commute to and from Work – One thing that we had to do was measure the cost of public transport and via taxi. As we lived farther from the metro, we needed to see how much taxi fare would cost going to our place of work. So this was something we had to experiment by actually taking a cab and ride the public bus to the house.
Always check the RERA ID of your agent. You can check it by asking for their identification number to make sure you are conducting business with official representatives. Once you have the RERA ID, you can verify it at the RERA website to see if the agent listing is there. We've had a prior experience where the agent was actually a middle man of a middle man. Payments were already made and there were no official receipts handed out. The so-called agent was able to run away with the rent money. This leads us to our next tip.
Cheaper Accommodation Areas – Properties in Dubai Marina, Business Bay and Sheikh Zayed Road are the most expensive ones. Midrange prices are in Bur Dubai, Oud Metha, Karama, etc. You can find cheaper rent in areas in Old Dubai and in the outskirts of the city. The closer you are to the city and to the Dubai metro train, the more expensive it is. You can explore other properties in Al Nahda, Al Qusais, Al Muhaisnah for more affordable apartments but take note of the transportation so you can commute to and from work.
Always ask for Official Receipts – whenever you handout money, demand for an official receipt as this is your proof that you made a payment. whether this is for the cash deposit or the monthly installments in check. Make sure you have your copy.
Secure your Tenancy Contract – on top of the receipts,  you should definitely have a tenancy contract as proof the you are the tenant of that specific property. You will also need this contract in future business and visa applications like DEWA bill, visa sponsorship applications, etc.
Prepare for the Added Fees. When you are transferring to from your old apartment to your new apartment, keep in mind expenses such as set-up fees such as the house-shifting service, community fees, phone and internet transfer fees, gas set-up fees. If you are transferring to for a cheaper option, you have to compute these other expenses to see if there's a huge difference compared to just paying for the next annual rent.
Get a Home Insurance – Although this is additional, once you've secured your contract, it's an added assurance that you insure your flat and your belongings. You'll never know when a disaster might strike, so it's good that you have a back-up when unforeseen incidents may happen. Plus a home insurance doesn't seem that pricey. We were able to insure our apartment for 225 AED only (coverage was about 75,000 AED). More details here – Insure Your UAE Apartment for as Low as 225 AED Per Year
I guess this about covers the information you may need to understand how transferring houses in Dubai work.
Summary
Dubai is booming in the real estate industry with so many projects lined up. As it gears towards the Expo2020, there will even be more opportunities for growth in various sectors. You can expect a lot of advertisements offer various flats/houses for rent and for sale. We hope the tips above will guide you in understanding the ins and outs of flat rental procedures to make it a smooth transfer for you.
Let the information posted above act as a guide only. The situation may be different with every apartment. We hope that you get a general idea on what to expect if you plan on finally renting a flat for yourself in Dubai. You may pay (or not) additional fees depending on your agent/broker's agreement so please consult with them before making any final decision.
Did we miss something in this post? Do let us know and we can add it in this list of tips. We hope you find these information useful as you plan your transfer to a new accommodation.