If you're planning to renew your residence visa anytime soon, then you'd better have health insurance. The Dubai government is now upholding the "no health insurance, no visa rule" for all residents. If you are not insured, you will have to pay a fine of AED 500 per month.
Even for those who have existing residence visas, it is also important that you apply for a health insurance or else your sponsor may face penalties. This policy was placed in the aim of providing health coverage for all residents.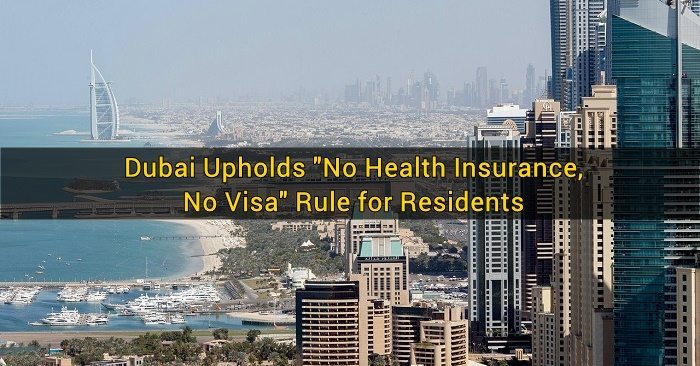 Health Insurance Mandatory: Fine of 500 AED Per Month for Non Compliance
Another Extension of Deadline
Originally, all Dubai residents should have been insured by the middle of 2016, then the deadline was moved to December 31. However, not everyone has been able to get insured, so the Dubai Health Authority (DHA) has extended the deadline once again. No specific cut-off date has been announced, and no fines are being made just yet.
Health Insurance Now Mandatory
Despite the deadline extension, the "no health insurance, no visa" rule has been in place since the start of this year. According to a report from Khaleej Times, the DHA Director of Health Funding, Dr. Haidar Al Yousuf, the Dubai Naturalization and Residency Department (DNRD) has activated the new rule. "New visas will now not be issued or renewed for residents unless they have insurance," he stated.
Companies Working Non-Stop
Meanwhile, insurance companies have been working non-stop since last year, as companies and individuals apply for health insurance. They have also noted an increase in the number of online transactions on their websites. Some of these transactions are done in typing centers that are authorized to renew visas. For an extra fee, these typing centers can process health insurance online. Applicants pay at least AED 200 premium on a AED 650 Essential Basic Package.
No Reason to Delay
Dr. Haidar clarified that the extension does not mean that residents should delay getting health insurance. Indeed, an extended deadline should not be used as an excuse to buy health insurance at the last minute. Fortunately, many Dubai residents have already complied, with DHA reporting that over four million or 98 percent of the residents now have health insurance.