If you are married, the head of the family, and earning at least AED 6000 per month, then you are qualified to sponsor a maid or nanny in Dubai. You can sponsor a maid from Bangladesh, India, Sri Lanka, Ethiopia, Indonesia, and the Philippines.
Generally, sponsoring a maid in Dubai is done in three major phases: applying for the residence visa, undergoing medical fitness tests, then getting the residence stamp, Emirates ID, and Domestic Worker Card. Read on to know the requirements and procedures for each step.
Related Posts: How to Sponsor Husband or Wife in Dubai, UAE
How to Sponsor your Child in Dubai, UAE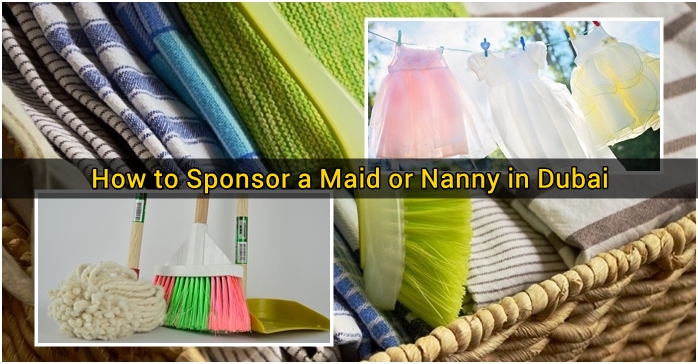 Guide to Getting a UAE Residence Visa for Your Maid or Nanny in Dubai
Once your maid arrives in the country, she should apply for a residence visa, Emirates ID, and medical fitness test within 30 days. Visit an authorized typing center to help you process the applications as well as pay for the corresponding fees.
Applying for Residence Visa
Here are the documents you need to apply for the residence visa:
Application form typed through authorized typing center
Passport of sponsor
Passport copy of maid
Passport photos of maid (at least 3 copies)
Sponsor's salary certificate (government employees) or labour contract (private employees)
Accommodation contract indicating a minimum 2-bedroom apartment with Ejari attestation
NOTE: If your maid is from the same country as you, you need to get an affidavit from your embassy or consulate, which certifies your non-relationship.
Once you have gathered all the necessary documents, proceed to the following steps:
Go to an authorized typing center and fill-up a form for employment entry permit. You will need to pay AED 110 plus a separate typing fee (depending on your typist). For urgent or rush applications, you need to pay an additional AED 100. If the maid you are hiring is already in the country, you need to pay an additional AED 500.
Submit all documents to the General Directorate of Residency and Foreigners Affairs (GDRFA) in Dubai. If the application is urgent, simply wait for a few minutes and you will receive the employment entry permit. Otherwise, it will be sent to you via courier.
Pay a refundable deposit fee of AED 2,000 together with your application. This will be refunded to you when your maid or nanny finishes her contract and leaves the country.
Once you receive the employment entry permit, you may now send it to your maid.
Taking the Medical Fitness Test
Upon arriving in the country, take your maid or nanny to a medical testing center, of which there are 14 in Dubai. Here is the procedure for the medical fitness test:
Register through an authorized typing center. Pay AED 140 for the Emirates ID, plus a typing fee of about AED 30.
Apply for your maid to take the blood test, x-ray, and Hepatitis B vaccination. A non-urgent fitness test costs AED 325, with results taking 5-7 working days. If you need the results after 24 hours, you can opt for the urgent service, which costs AED 520. Meanwhile, the cost is AED 420 for the 48-hour service.
An SMS notification will be sent once the medical fitness results (electronic) are ready. You can also wait for the results via courier.
Go to the Emirates ID office to submit the application and fingerprints. This can also be done during the medical fitness test itself.
Go to an authorized typing center and pay AED 5,100 for the residency visa application. For urgent applications, pay AED 5,200.
Getting Residence Stamp, Emirates ID, and Domestic Worker Card
Once you receive the medical fitness report, submit it to any GDRFA branch, along with the residence visa application and stamped Emirates ID application. Notably, if you receive an SMS notification saying that the medical result has already been sent to the GDRFA, you may proceed directly to any of their branches.
At the GDRFA, submit the residency visa application, your maid's passport and photo, employment entry permit, deposit sticker, your passport copy, and salary certificate/labour contract. An officer will ask about your maid's salary, which will be entered into the contract. Three copies will be printed out for you and your maid to sign, then two of these will be given to you (one for you, one for your maid). Moreover, a residence stamp will be placed into your maid's passport, valid for one year.
As for the Domestic Worker Card, the GDRFA officer will give it to you if the application is urgent; otherwise, it will be sent via courier. Meanwhile, show the residency stamp to an authorized typist to get the Emirates ID.