More than a year ago, the Dubai government began to establish Amer Centres across the emirate. By the end of 2018, around 70 centres had been opened, with many more on the way. But what exactly is an "Amer Centre"? What are the services that each centre offers and where can we find them? Today's article focuses on these centers, which operate under the direct supervision of the General Directorate of Residency and Foreigners Affairs (GDRFA).
ALSO READ: New Amer Centre Opens at Burjuman Mall
If you are looking into applying for a residence visa for your husband or wife, parent, or child, you need to go to an Amer Typing Center in order to submit the necessary documents and have the staff at the Amer Center 'encode' the information to be processed into the government system. Previously, there were 3rd party Typing Centers where you can visit to have these done, but now, they have been replaced by Amer Centres to process visa applications.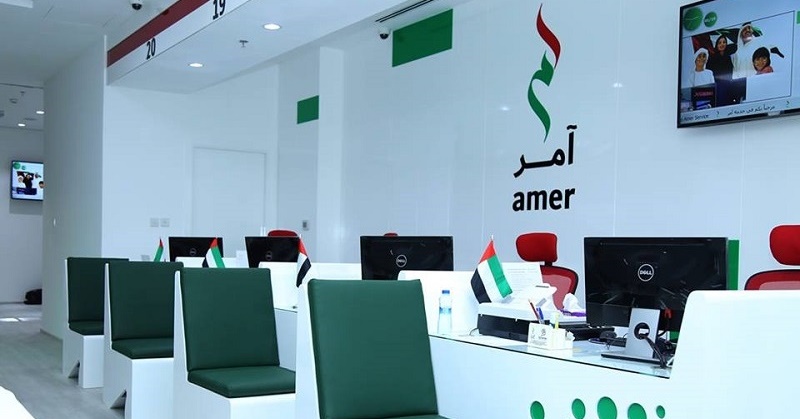 Amer Typing Centre Dubai: A "One-Stop Shop" Service to Process Visa Applications
Basically, the word "Amer" means "Command" in English. The term symbolizes different services that a UAE citizen or resident can avail of in their office. Below is a list of services that you can process in Amer Centres:
Application for entry permits and visit visas
Renewal of UAE visas
Cancellation of UAE visas
Emirates ID services
Maid Visa Service
Employee Sponsorship Transfer Application
Visit Visa for Dependent
Visa Extension Application
… and other government services
Aside from the GDRFA, Amer Centres also coordinate with other government agencies, such as the Department of Economic Development, Dubai Courts, Dubai Municipality, Emirates Identity Authority, Federal Customs Authority, and Ministry of Labour.
In other words, the Amer Centre serves as a "one-stop shop," offering multiple government services that any UAE citizen or resident may ever need while staying in the country. It's actually quite convenient now because you only need to present your documents to this office, you don't have to visit other government offices to submit the rest of the papers. In fact, I even processed my Emirates ID application, and application for a Medical Fitness test in one of the Amer Centers in the city.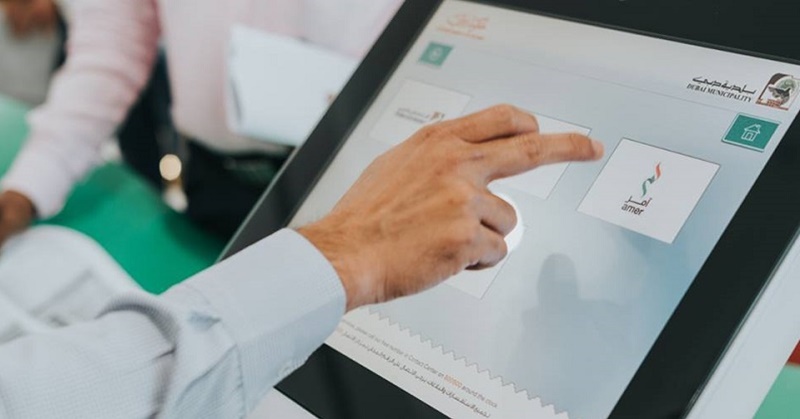 Notably, each Amer Centre is fully operated by Emirati staff, using smart equipment that can accomplish at least 6,000 transactions a day. It also features a self-service kiosk that further hastens the speed of transactions. Recently also, there are some non-Emirati staff also handling the service desks and assisting applications inside the office, but this is based on our experience visiting some branches which may have lesser traffic footfall.
Although Amer centres are supervised by the GDRFA, these are managed by local private investors. For each centre, around 15 Emirati staff undergo training, while the office location, set-up, and equipment are being prepared.
Amer Offices and Locations in Dubai
In case you are wondering where are these centers located, you can easily find them in various areas in the city. You can't miss them as their logo is quite new and striking. Here are just some of the locations in Dubai where you can find Amer Centres:
Ahlan Businessmen Services

. Ibn Battuta Mall, Jebel Ali

Al Rawda Typing and Documents Clearing.

 Waterfront Market, Abu Hail

Al Taresh Government Services.

 Dubai Municipality, Al Kifaf Centre

Itqan Solution Government Transactions. Al Mamzar, Ittihad (Tas'heel building)
Emirates Professional Business Centre. Al Qusais 2 (across from Al Twar Centre)
Express Convey Document Clearing.

 Arabian Centre, Mirdif

Fast Action Online Government Transactions Processing.

 Business Village, Port Saeed

GFE Document Services One Person Company.

 Showroom No. 2/3, Al Garhoud

Good Hand Government Transactions.

 Bin Suloom Plaza, Al Rigga

ID Smart Services. Al Karama
MSME Government Transactions. Al Bustan Centre, Al Twar
NYPD Typing. Umm Suqeim Road
One Click Government Transactions Centre. Muhaisnah 4, Madina Mall
24 Seven Government Transaction Centre. Muraqabat, Salah Al Din Street
Tamaam Government Transactions Clearing. Marhaba Mall, Ras Al Khor
Office Hours
Another thing worth noting are the Timings or office hours of these Amer Centers. Some of them close at 6pm and some close at 8pm. While there are a selected few that operate for 24 hours. Doing a quick Google map search will guide you in checking which centers are open and can handle your application when your time of visit.
Having a more flexible operating hours gives residents more time to process their visas even after work hours. This is truly a great adjustment provided by the government which shows their concern for working expats in Dubai!
With many Amer Centres scattered across Dubai , accessing government services is quick and easy! For more information about Amer Centre locations and services offered, please visit the official website of the GDRFA.
Amer Smart App
Another thing to note is that there is already an Amer Smart App for mobile phones, which makes it easier for residents to file for applications at the comfort of their own home and using a mobile device only. Available on Android and iOS, it makes it easier for applicants to simply upload their documents (by taking photos of their papers) and then send it through the App.
So you can easily apply for a UAE visa on your phone. After the documents are uploaded, you will be redirected to the nearest Amer Centre in order to finalize the transaction. This results to lesser waiting and queue time and makes it definitely more convenient for everyone when doing these procedures.
3rd Party Typing Centers in Other Emirates
Take note though that these Amer centers are NOT located in other emirates as this project is basically part of Dubai only. So if you are looking to process your visa in other emirates, because you are based in Abu Dhabi, Sharjah, Umm Al Quwain, Ras Al Khaimah, Fujairah, or Ajman, you will still have to go through the traditional procedure (go to a Typing Center, then go to the GDRFA office).
As somebody who needs to apply for a residence visa, it is very helpful for me to process and submit our papers all in one location. It removes the hassle of having to visit various government departments in different offices in order to process my visa application. With Amer Centres, Dubai is definitely becoming a 'smarter' city. This is definitely a great improvement and progress knowing that part of the city's plan is to adapt to the digital age in their effort to build a technologically advanced mega city!