Filipinos based in Ras Al Khaimah, please be advised of a Consular mission by the Philippine Consulate General in Dubai which will happen on July 5 from 8am to 12 noon at Al Qusais. This outreach is exclusive to residents of Ras Al Khaimah emirate. More details about this mission below.
A lot of our kabayans overseas can benefit from a number of services offered by the Philippine Embassy or Consulate General available in their host country. However, not everyone has easy access to the embassy or consular office for services they may be in dire need of, and so the Philippine Embassy and its Consular Offices have made it a point to bring these services to where the Filipino communities are on a rotational basis.
Among the many benefits offered is access to events hosted by the Consulate such as community activities, shows, and for those who require assistance with legal documentation, consular missions or outreaches. The great thing about these outreaches is that participants will typically only have to register in advance to join and avail consular services provided at accessible locations. Through these events, participants no longer have to travel too far if the Embassy or Consulate is not that accessible from their residence or place of work.
Consulate Announces Outreach Mission for Ras Al Khaimah Residents
And for July, the Philippine Consulate General for Dubai and the Northern Emirates has announced that it will be holding a consular mission for Filipinos from Ras Al Khaimah on July 5.
Consular services will be offered at the Philippine Consulate General at Al Qusais from 8:00 AM to 12:00 NN.
Filipinos in the Ras Al Khaimah area can benefit from the following services offered on-site:
Passport Renewal (Appointment Required)
Notarial Services
Civil Registration
Labour-related services are also available including the following services:
OEC Processing (Online Appointment Required)
OWWA Membership
SSS Membership
PAG IBIG Membership
Please be guided that the Philippine Consulate's regular timings run from Sundays to Thursdays from 8:00 AM to 5:00 PM, except on public holidays.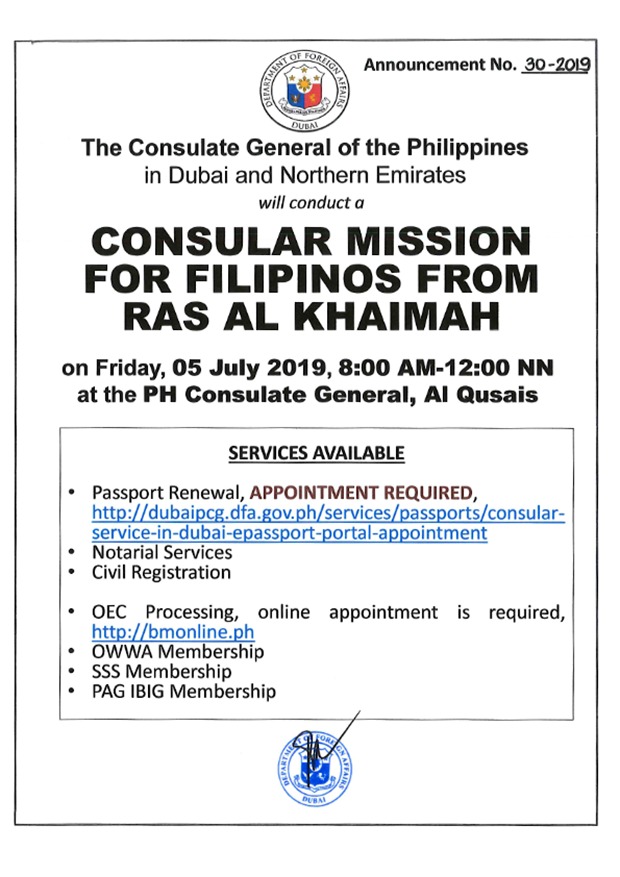 As a general reminder, be sure to set appointment for services such as passport renewal and OEC processing, and be sure to bring relevant documents needed for your documentary service.
Also, do note that there have been changes in certain protocols involving authentication and verification of documents for use overseas. The Philippine Embassy and Consulate General in the UAE will no longer use red satin ribbons as part of the authentication process or consularization of documents, formerly referred to as "red ribbon".
For other services you may require from the Philippine Embassy in Dubai, you may refer to this link or visit their official website  for specific enquiries or concerns.
ALSO READ: Services Offered by the Philippine Consulate and Overseas Labor Office in Dubai