Filipinos in the UAE who are wondering how to send house appliances, furniture, and sensitive shipments (live pets and human remains) to the Philippines, LBC Express is offering a service to help you in delivering these personal items in a prompt and professional manner through the LBC Cares Program.
Related Post: LBC Cares & Biggest Kabayan Holiday Sale
Usually, Pinoys would send balikbayan boxes in specific measurements and we would fill these boxes up with goods and merchandise that would fit the box dimensions. However, what happens if we need to send huge appliances and furniture or live pets? These would require a different type of handling, not to mention other document requirements.
LBC Express is the first Filipino Cargo company to offer this kind of service in the UAE. An end-to-end service will be our value proposition to the customers. Below are more information about the LBC Cares program.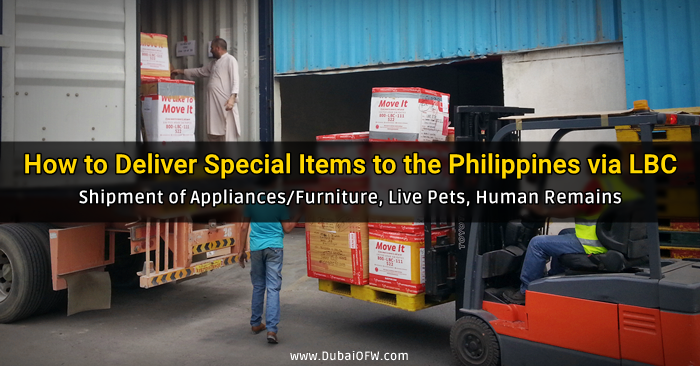 Aside from processing Philippine documents, balikbayan boxes, etc. LBC Express is now offering this special type of shipment. It's great because the company is coming up with ways to better serve the community abroad and it makes our leaves easier because there are more options how to deliver specific items back to our country.
What is LBC Cares?
LBC Cares is a service that aims to provide a friendly and personalized support for OFWs in sensitive requirements such as movement of human remains upon loss of a loved one or transporting their beloved pets by alleviating them with the stress of having to arrange all the documents to proceed with shipment out of UAE.
How to Deliver Appliances/Furniture, Live Animals and Human Remains to the Philippines via LBC Cares Program
LBC Cares offers a set of services which are all about providing comfort and security ensuring precious shipments are safely transported to the Philippines:
Human Remains Repatriation (HUMS) – ensures professional, sensitive and personalized support and assistance to the family of the deceased every step of the way from local document to airline booking requirements and for transport of human remains of their loved one to the Philippines including customs clearance and delivery to preferred consignee.
Live Animal Shipments (AVI) – LBC knows that pets are part of the family so it will provide professional and secured assistance as live animals/pets are entrusted to LBC for shipment
Special Handling – ensures security of fragile personal effects being shipped to the Philippines most applicable to large furniture and appliances through crating services.
LBC Cares Special Handling Service
The service was launched on August 17 at Metropolitan Hotel along with the MEANFID Officers Oath Taking headed by Regional Chairman Dr. Wafa Qasimieh and UAE Chairman Ben Lebig.
"LBC Cares comes to the OFW's rescue in the following situations — when the remains of a departed loved one has to be flown back home, when their beloved pets have to be transported, or when a shipment is so fragile and needs special handling. With LBC Cares, we provide our overseas "kabayans" with a more personalized, friendly and professional approach with the goal of providing convenience as we ensure their most important shipments will reach the Philippine safely." – Allan Michael Bautista, LBC Sales & Marketing Senior Manager for ME
"We, at LBC, are honored that we are the very first Filipino cargo company which provides this kind of service in the UAE.  Just like the goal of MEANFID and all other Filipino organizations, our commitment is to serve the OFW the best way we can. We share the passion to assist the OFWs and provide them with all conveniences so that they can work productively and live comfortably despite the distance that separates them from their families back home. LBC is just a call away and we will be your helpful friend who will assist you every step of the way." – Mark Octavios Cesar Agalo-os, Vice President for Middle East
LBC has already assisted numerous cases for Human Remains Repatriation and has been successful in handling these sensitive shipments.
LBC has also recently partnered with Royal Light LLC, an appliance distributor in UAE which offers affordable rates for appliances that can be used in the Philippines and has packaged an offer for straight shipment via LBC sea cargo with Special Handling services.
For us Pinoys, this is definitely good news because it makes our lives easier so knowing that such services are open. For most of us who might feel uncomfortable or stressed out in finding a solution provider to these types of deliveries, it's a welcome thought to have this option ready and available.