If you are planning to send a package or Balikbayan box to the Philippines, it is important that you are aware of the items that are prohibited when sending via air cargo or sea cargo. This is to avoid going back and forth your house or buying gifts only to find out that it's not allowed. This will also help you prepare your things before going to the courier.
Related Articles: List of Taxable Items via Air Cargo
Prohibited Items in Balikbayan Boxes to the Philippines
We tried to send a package to our hometown in the Philippines via airplane but we had some issues because some items included wristwatches. According to LBC, this is one of the items that are not allowed when sending via air. They advised us to send it via sea cargo shipping instead which would take up to 60 days depending on the location.
For your reference, here's a list of items that  are not allowed via sea cargo shipping or air cargo shipping to the Philippines. This list is taken from LBC in Karama.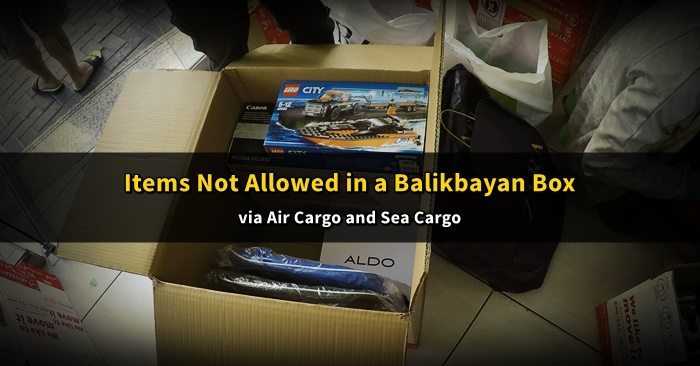 Items Not Allowed via Air Cargo
Delivery Arrival: 3-7 days from date of dispatch
Money/forged/duplicated currencies
Jewelry – Gold, Silver, Branded Watches
Batteries – AA/AAA, 9 volts, all types of battery
Bulk liquid items
Engines
Medicine – vitamins and supplements
Gas Stoves
Generators
Imitations – fake bags, electronics, watches et.c
Vehicle parts
Perfume products, body sprays
Pesticides/insecticides
Cigarettes/Tobacco/Cigar
Common acceptable items sent via air cargo:
Any form of liquid such as toiletries (lotion, toothpaste, cream, shampoo) are acceptable within a maximum of 3 pieces as long as they are properly packed. Fancy accessories and watches for kids, foods such as chocolates, chips, spreads are also acceptable.
As a general rule, items that are not allowed via air cargo are allowed via sea cargo. But there are still items that are prohibited via sea. Here's a list:
Items Not Allowed via Sea Cargo
Delivery Arrival: 30-60 days from date of sailing
3 layers of fishing nets
Crude ivory and rhinoceros horn
Gambling items/machines (playing cards, etc)
All other products prohibited by UAE customs laws or any other laws in the country
Narcotic drugs
Tires/Reconditioned Tires
Cooked/home-made food/food that will spoil
Original engravings, prints, lithographs sculpture and statues
Products imported coming from boycotted countries
Products from Israel or products that have Israeli trademarks and logos
Money/forged/duplicated currencies
Poisonous materials
Radiation polluted substances
Printed publications, stony sculptures, mannequins contrary to Islamic teachings
Products that will spoil
Pirated CDs/ACDs
Products made from pork
Gas and other flammable items
infectious substances
corrosives
Radioactive materials
Cigarettes/Tobacco/Cigar
You can contact LBC Customer care here – 800-035702444. Their website is www.lbcexpress.com