UPDATE: There seems to be an update as we could not view the Ministry of Labour (MOL) website. In the instructions below, instead of going to the MOL website, you can simply head to this link – https://eservices.mohre.gov.ae/enetwasal/login.aspx?lang=eng, then proceed to Step 4 in the details below. 
———————————-
If you're working in the UAE and you want to check a copy of your work contract, you can view it online (and even print a copy) via the Ministry of Labour website. Please be advised that you SHOULD have a physical copy for yourself provided by your employer. But in case you don't, for whatever reason, then you will be able to view and print it online. You can also see what type of contract you have, whether it's a Limited or Unlimited contract.
Note: This procedure only works for people working under the UAE Ministry of Labour. If you are working for a Freezone, then you can get your Labour contract from your respective Freezone company or inquire from the Freezone Headquarters where your company is under.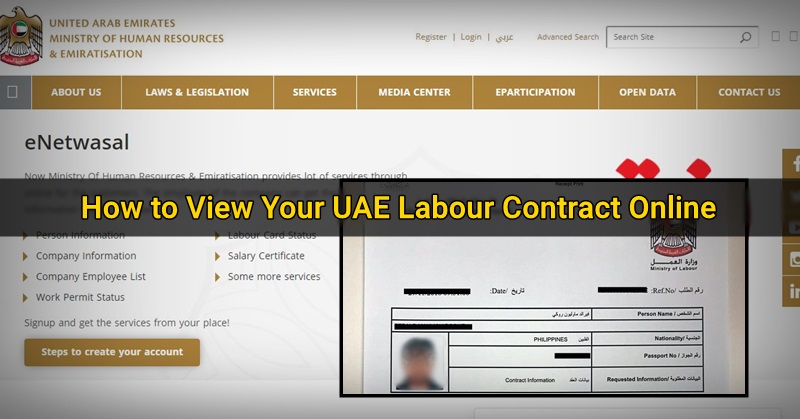 Step by Step Guide to Getting a Copy of Your UAE Work Contract Online
1. Visit the official MOL (Ministry of Labour) website. Make sure it's in English (unless you can read Arabic). Here's the direct link – https://www.mol.gov.ae/molwebsite/en/home.aspx.   — UPDATE — Please visit this link and proceed to Step 4. –https://eservices.mohre.gov.ae/enetwasal/login.aspx?lang=eng
screenshot of MOL.GOV.AE website
2. From the Navigation Menu, Choose "SERVICES", then "eServices"  Skip to Step 4.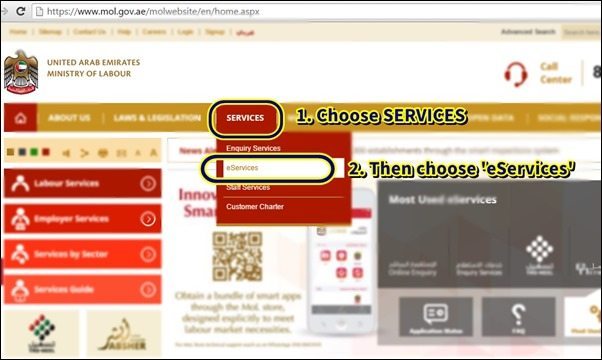 SERVICES>eServices
3. Then, choose "eNetwasal Services". This will open a New Window. Skip to Step 4.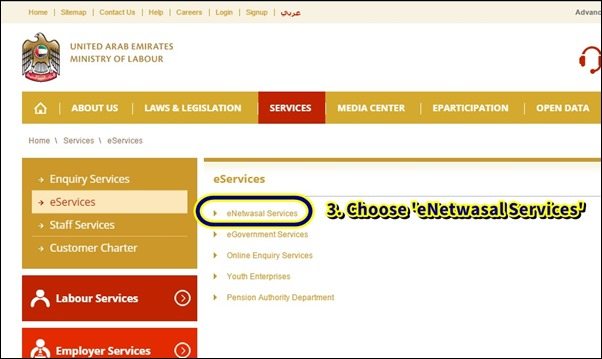 4. From the lower left  portion of the eNetwasal page, choose the "Contract Information" link.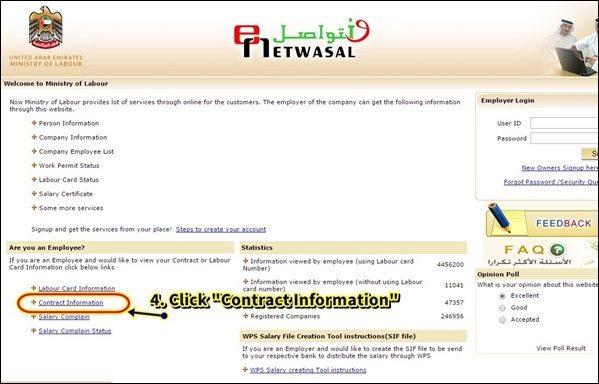 5. On the next page, if you have a Labour Card, you can choose Yes. If not, then simply choose No.
6. Next page will ask you to enter your details such as your Passport Number, Date of Birth, Nationality and Mobile Number. Please enter the information and click "Next"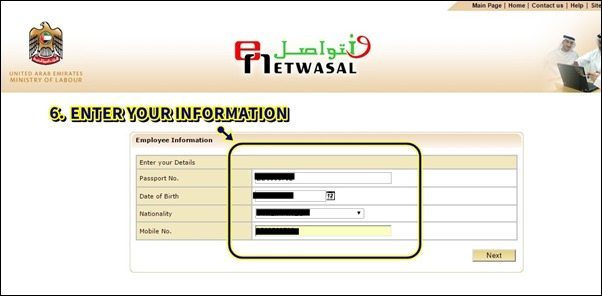 7. When the system is able to locate your information, it will show the page were you can view your UAE work contract online. You can get an idea what of the terms and know what type of your contract you have.
There will be an error message if the site will be unable to locate your details. It's possible that there's something wrong with any of the info that you provided. You can go back and type the correct one again.
UPDATE: Based on an update from one of our friends/readers, they tried to process the request to get a UAE Labour contract online, but instead of getting a copy of the contract, they received a receipt advising them to visit the nearest typing center in order to print the requested contract.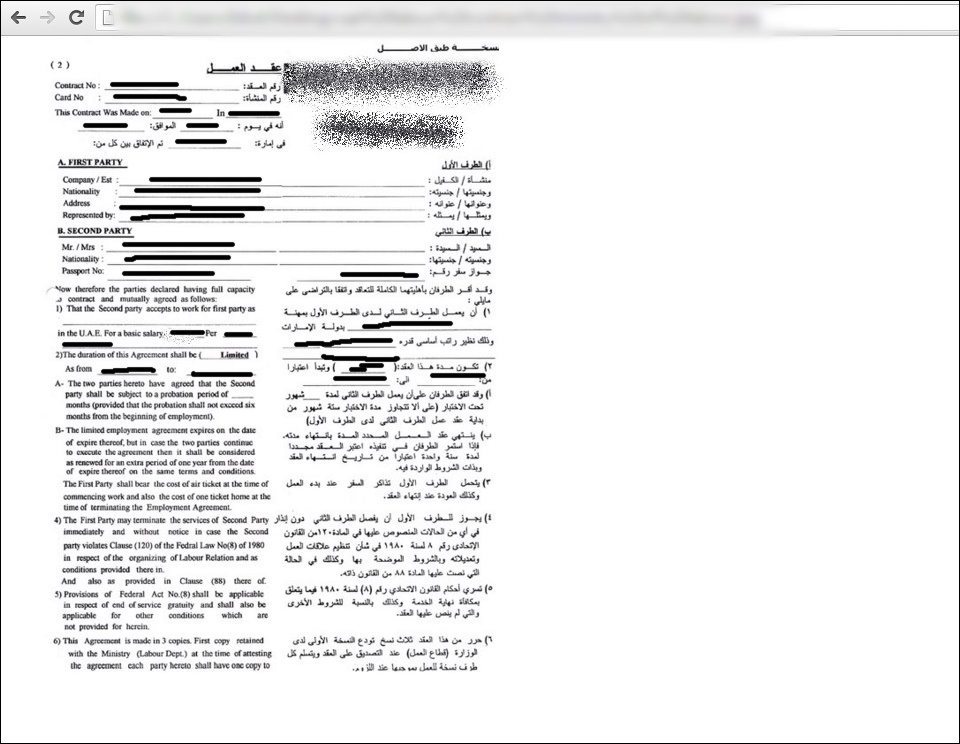 This is the note that they received after requesting for the contract copy:
Thank you for using eNetwasal services, Kindly visit Tas'Heel enabled typing center to print the requested information by providing this receipt.
Maximum service charge collected by the typing center will be 5 dirhams only. Validity of this receipt is 5 days from request date.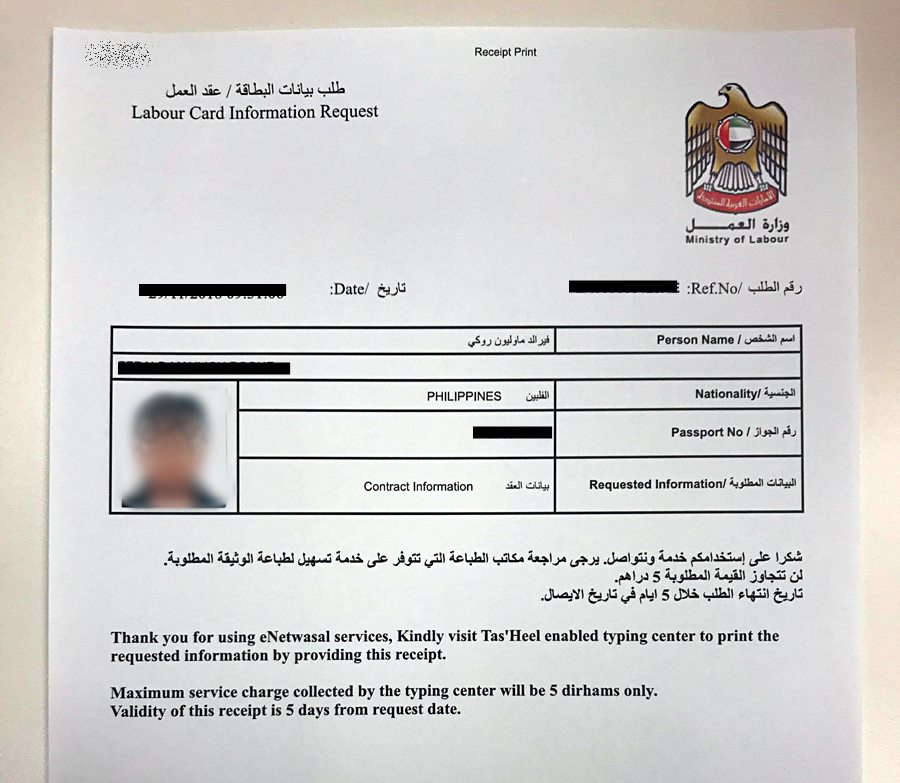 You are requested to visit the Tasheel office and show them the receipt and pay about 5 AED to get the contract. Please be advised.
——————–
So this is the procedure in getting a copy of your UAE work contract. Again, please be advised that this is only applicable if the company is registered under the UAE Ministry of Labour. We hope that this tutorial will help you understand how to check your contract online for your reference and awareness.