Disclaimer: Please be advised that this article below is based on my experience and may vary depending on the situation. It is always best to contact your HR Department, Ministry of Labour (MOL), or Freezone Authorities depending on your employment status. The information below is an account of a person's experience in the company he is working for. This ONLY serves as a guide for awareness and not to be used as a reference in legal cases. 
So I had a discussion with the company about the status of my labor contract. Apparently, the labor agreement indicated that I'm under a LIMITED contract as opposed to an UNLIMITED one. I did not sign the contract right away as I wanted to talk to him about the change of conditions.
The reason why it's an issue to me is because prior to this, the Job Offer Letter that they gave me stated that the contract was for an Unlimited period.
So what's the difference between Limited and Unlimited Contract in the UAE Law?
I haven't really read every single detail but the main difference between the two as far as my research are these:
LIMITED CONTRACT:
You are tied to the company for 2 years. If you resign before the contract ends, you will have an AUTOMATIC labor ban by UAE for 6 months.
Also, your employer can ban you for up to 6 months.
You cannot transfer to other companies within your contract.
Basically, your are stuck to your employer. The only option for you to get out (if you want to resign) is to find a job within a FREEZONE company or work in a GOVERNMENT-owned business, as these are exempted from any UAE Law Ban.
UNLIMITED CONTRACT:
Your contract is for 2 years. If you resign, you will have an AUTOMATIC labor ban by UAE for 6 months.
Also, your employer can ban you for up to 6 months.
You can transfer to other companies SO LONG AS your salary is at least 5000 Dirhams, and you have at least a High School Diploma to submit to the UAE Labor to go along that salary bracket.
This means that you can transfer if there is a better offer (at least 5000 Dirhams) elsewhere. You can still go to a FREEZONE company or work in a GOVERNMENT-owned business.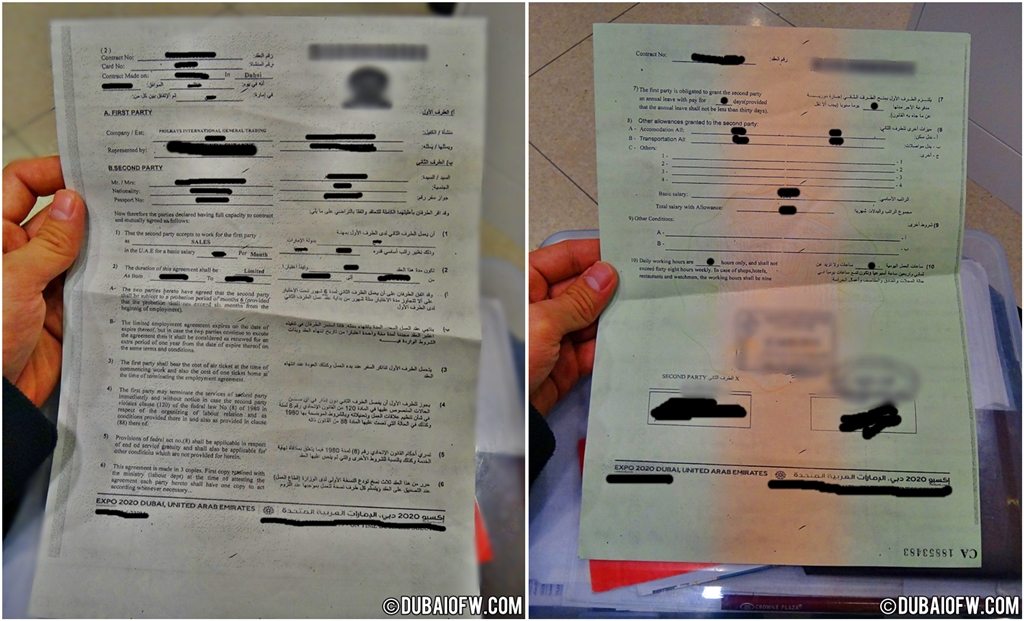 UAE Labor Contract Photo Sample
The difference between the LIMITED and UNLIMITED contract is not that much. But knowing that the agreement in the Job Offer Letter from my employer that I signed was for an Unlimited Period, I was not comfortable agreeing to the labor contract that was presented to me.
I've been with the company for more than 5 months already, and they processed my Labor card late because of a slip-up. They had to pay Fines for the late application.
Going back to the discussion with my boss…
We initially talked over the phone and I told him my problems with the labor contract. It went to a point that I told him about other opportunities outside my employment. There may be other offers from other companies with better job packages within the 2-year timeframe. This was the time when my employer became furious.
He couldn't believe that I was thinking of other jobs when he hired me in "good faith". He said that he never expected this from me to look for employment elsewhere. I had to reply that my issue is with the job offer VS the labor contract as they were both different. But I also had to inform him that I play a big responsibility in my family who needs me back home.
During the end of that conversation, he told me that we should meet in his office the next day to clarify things out.
The next day…
We met and he explained the details of the Job Offer Letter to me. He told me that I was misled by the offer in the Contract Clause. In the offer letter, it said that "The contract is for an unlimited PERIOD…"
He explained that after the contract (2 years) expires, they can still renew/employ me under their company.
This was a critical and misleading statement written on paper that I didn't clarify when I signed the offer letter as it seemed to me that it was clear. Unfortunately, this was not the case.
I did not want to argue anymore and I simply agreed to sign the labor contract. I also did not want to create as much conflict with my employer as I'm still working for him.
What I'm complaining about is the difference between the offer letter and how misleading it was vs the labor contract. I couldn't say I would not sign it since I will still have an AUTOMATIC labor ban for 6 months. Besides, I'm not that miserable in my job. I just hoped that if there's another opportunity that was coming along in 2 years, there's a chance that I would grab it. Because let's be honest, the expats in Dubai are in this city to find work.
Don't get me wrong…
I am thankful that I have a job in Dubai as I can read other Pinoys who have difficulty getting work in the UAE. Also, I know that according to what everyone is going through, I just have to gain experience so that I can present a better resume when I apply for other jobs after my contract expires.
I just wished that the offer letter was more transparent. If I was employed in "good faith", my employer would not provide a vague clause in that letter.
I have this feeling that employers can be very cunning especially on job matters. Sometimes, I also feel that most employers treat Filipinos like these cause we're Pinoys that have this "Yes Ma'am/Yes Sir" mentality. As if we would all just agree to whatever is given to us because we need them.
I know that Europeans and Americans don't treat employees like these. I have worked for them in the past. But that's all I'm going to say. What I'm calling out for is simply TRANSPARENCY.
So what now?
The only option for me (in case I switch jobs) is to find government-owned companies or Freezone companies. I cannot apply to other companies that are covered by UAE Labor Law even if the salary is more than the 5000 Dirhams bracket.
In the mean time, I just need to have more TIYAGA (PATIENCE/PERSEVERANCE) as what every Filipino tells me when I share my story. Include it with "Magpasalamat ka na lang may trabaho ka…" (Just be thankful you have a job.)
For UAE Labor Law inquiries, call toll free 800 665
Helpful Articles Regarding UAE Labour: