If you're thirsty and you're looking for something fresh to drink in Dubai, better head to Juice World Resto located in Al Rigga Metro station. This is a famous hang out place of people of different nationalities who want to sip a refreshing shake to beat the desert heat.
Restaurant: JuiceWorld Restaurant in Al Rigga, Deira
Location: Al Rigga Metro Station, Red Line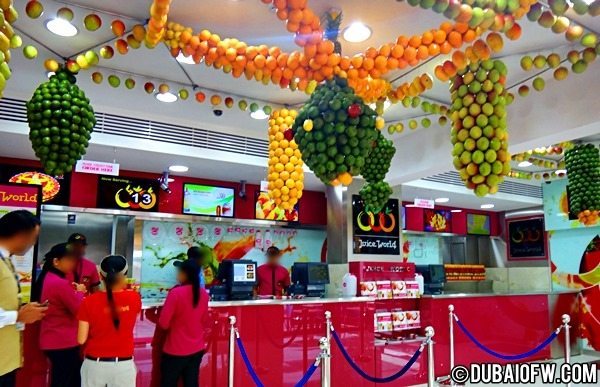 counter of JuiceWorld
Conveniently located in Al Rigga metro station, you can simply exit the metro and then find yourself welcomed by a beautiful display of fruits. This Juice World restaurant is an attraction by itself because of the beautiful display of fruits all over the store.
Juice World bar in Deira
Buying Fresh Juices, Shakes, Salads in Juice World
Personally, I have not been to this store, but I'm planning to drop by very soon. I'm a sucker for avocados that's why if ever I drop by this place, an avocado shake or avocado juice would be my first choice.
But JuiceWorld does not only offer fruit juices, they also have Western choices of Blended milk shakes as well as fruit platters and fruit bouquets for the whole family.
Some of their fruit decoration pieces
Fresh Fruit Structures and Decorations
I find it amazing to see that a shop made of fruits in Dubai. Normally, people buy fruits as a desert or side item in a restaurant. But in Juice World Dubai, fruits are the main course!
It turns out that this shop has been in the business for 20 years. From Saudi Arabia, they've decided to expand to the United Arab Emirates; primarily in Dubai.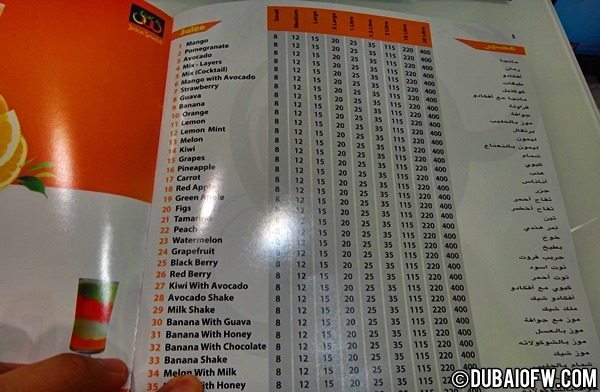 Menu: Wide range of choices
Main Restaurant Attraction
If you drop by the shop in the evening, you can see a lot of customers buying fruit juices, hanging out in the store, or even taking photos with these fruits.
Pineapples, bananas, oranges, avocados, mangos, apples, lemons, kiwis, grapes, carrots, peaches, berries and so much more. You can have your photos taken with these fruits as your background.
Ruman Juice World Restaurant is one of the branches of MADUVIL GROUP OF COMPANIES based in Saudi Arabia that makes the freshest juices, fruit salads, faloodas, and fruit bouquets. The Group has been working in this field for more than two decades and serving people with great pleasure.

It is a memorable occasion for the company to open a new outlet in Dubai with wide variety of nutritious and natural juices. RUMAN JUICE WORLD RESTAURANT prepares more than 150 kinds of juices as well as designs delicious fruit bouquets. Our company ensures the highest standards of food safety that satisfy residents and several millions that visit the Emirates each year.

— from their menu catalog

Avocado Shake and Orange & Lemons Juice for Takeaway
Note: Will post more photos when I'll be able to visit this place. Watch out!
How to Get There:
Location: Al Rigga Street, Deira, Dubai – you can't miss it as it's right outside the Metro exit.
Metro Station: Al Rigga Metro Station, Red Line
Hours of Operation:
Thursday and Friday: 2pm to 3am
Other Days: 1pm to 2am
Juice World Contact Details:
Telephone Number: (04) 299 9465
Email: info@juiceworld.ae
Website: www.juiceworld.ae