The Al Rostamani Exchange center is where I get my monthly salary. In Dubai, according to the UAE Labour Law, an employee's salary should be properly documented. Hence, employees should sign up for Bank Accounts for their salary to be coursed through.
Payroll accounts are mostly being used by large and private companies. For small to medium-scale businesses, it is a challenge for employers to set up accounts for their employees. It is up to the employees to apply for Payroll accounts in a bank nominated by the employer.

Al Rostamani Exchange near Baniyas Square
Deira branch
Before my explanation gets too complicated, my company courses my salary through a money exchange center since I don't have a bank account. They chose AR Exchange when a colleague mentioned that they don't charge extra for claiming the money from them.
Bring Your Labour Card when You Collect your Salary in Dubai
So every end of the month (when the salary hopefully comes through), I normally go to any Al Rostamani Exchange and then claim my salary. In order for me to claim the money, I have to show them my UAE Labour card. They will take a photocopy as proof that it has been received by the correct person.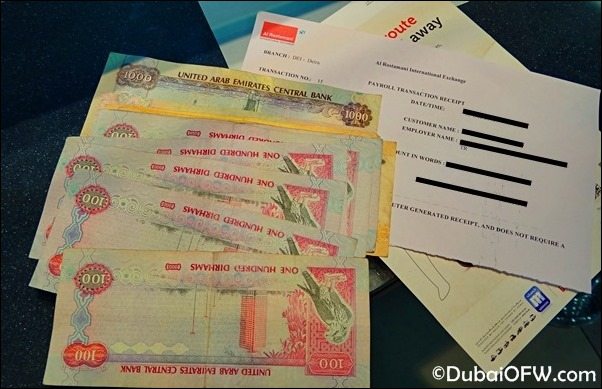 Monthly salary – easy come, easy go
They do not allow somebody to pick up the salary for them except for the authorized person (which is you). This may be a bit of a hassle if there are no AR Exchange shops in your area. It's a good thing that in my case, there's a nearby AR Exchange in Karama.
I already have for a basic Savers Account in RAKBANK but I have not notified my manager about it. I'm fine with them transferring my salary through Al Rostamani Exchange.
Claiming my Salary this Month in Al Rostamani
I claimed my salary by going to the Baniyas Square metro station and heading to the Deira branch. I was able to get my payment for the month, and wished that the money that I earned would be stay with me for a longer period. I know that I have to pay my monthly expenses in Dubai. I'll write about it the cost of living in the UAE after some time.
One great timing after I took my monthly pay was the sky turning dark. I got to see glimpses of the sun's rays painting the sky. I don't see the sunset everyday since I work in the afternoon shift. I went out during my lunch and saw this welcome break for a few minutes.