Note: UAE Labour cards (pataca) have already been scrapped/phased out. They have been replaced and unified with the Emirates ID already.
I received my UAE labour card the other day. It was given to me by my employer since they are the ones who processed it. After about a month of signing my Labor Contract (which indicated a LIMITED status), I finally have the brown card to prove that I'm legally employed in Dubai!
This is a government identification card that is very important to show that I'm officially a working expat in this desert city. Note: This is also called a Pataca.
How the UAE Ministry of Labour Card Looks Like
The front side of the card contains your personal details like your Name, profession, Employer, Expiry Date, Nationality, Work Permit Number and Personal Number
Dubai Pataca Front Side
Dubai Pataca Back Side
The back side, I'm not really sure what details are listed except for the some notes regarding the work permit. One helpful tip is the toll free number of the UAE Ministry of Labour for any concerns regarding your employment. So in case you have any questions about your job or you have issues with your employer, better call the Ministry of Labor first to ask for guidance.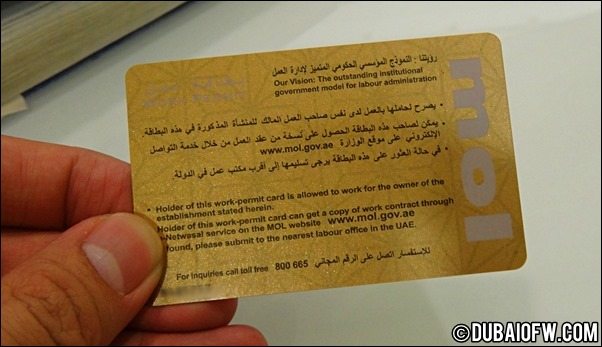 For UAE Labor Law inquiries, call toll free 800 665
Take note that aside from the Emirates National Residence ID, you should also keep your UAE Labor card at all times! Also for those in Freezone companies, they have their own labour card according to their freezone guidelines.