The other day, I was told by my employer that my passport was going to be kept for safekeeping. I was advised that this was the norm for Dubai employees and their employers. At the beginning, I was taken aback since I didn't like surrendering my Philippine passport to my Dubai employer and I thought that while working in the UAE, I should always have my passport with me because it is my ownership.
Related Post: How I Filed a Complaint at MOHRE Against my Employer for Keeping My Passport 
I have been travelling outside the Philippines in the past and I have always made sure to secure my passport with me at all times. So the thought of giving my passport and leaving it with my manager just did not feel right.
Disclaimer: Information below is an account of a single person's experience only. Please do not use this as a basis if you have any legal concerns with your employer. The purpose of this blog post is for awareness. If you have questions, it's always best to consult legal advice with the proper people.
Watch the video below on the 10 Things to Know when Getting a Job in the UAE:
Contacting the UAE Ministry of Labour about Surrendering Passport to Employer
When I contacted the UAE Ministry of Labour (now called Ministry of Human Resources and Emiratisation – MOHRE) through their hotline, they informed me that "It is a mutual agreement between the employer and the employee to surrender their Passport."
Note: UAE Ministry of Labour Telephone Number: 800 665 (toll free)
I tried to explain my situation, and they repeated the same statement. "Surrendering your passport to your employer is a MUTUAL Agreement."
Obviously, if one party does not agree, then there is no need to give my passport to my boss.
Also Read: Employers not Paying Salary on Time is Illegal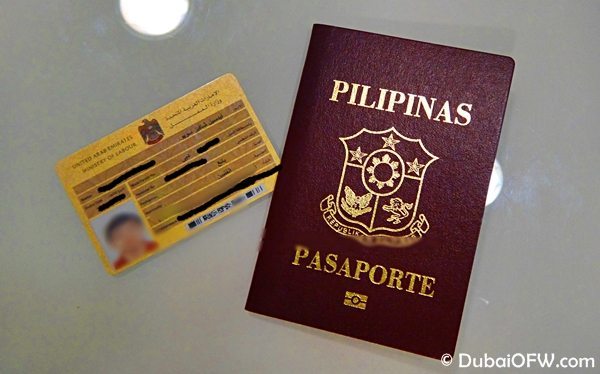 My Dubai Labor card and my Philippine Passport
Situation with Other Pinoy OFWs
I tried talking to some Pinoy friends in Dubai about the matter. Some had left their passports with their employer, while others kept them. But one of the main reasons why companies take their employee's passports is because they don't want their employees to leave the country without permission.
There are incidents where Overseas Filipino Workers or even other expat nationalities would fly out to their home country even if they are still  tied to their company. For various reasons, they try to escape Dubai and not return. Given this situation, companies are wary of hiring employees and taking the passport of their employees is an assurance that they would not leave the company without notice.
My boss said that since he gave me my pataca (Labor card), then I should give him my passport. I can still claim it in case I want to leave the country. If ever I leave the country while I'm still tied to them, then I'll have to undergo the proper process of resignation. I might have to pay Fines for not fulfilling my 2-year Limited Contract though.
Related Posts: Helpful Articles Regarding UAE Labour and jobs in UAE