Employers keeping the passport of their employees may be a common scenario especially when working abroad. It is considered illegal as the passport is the property of the its owner, and not the employer. However, this can still happen especially for various reasons. This article shares an experience about one of our readers on how she was able to claim her passport back from her employer following proper procedures. She formally filed a complaint via MOHRE. (formerly known as Ministry of Labour).
We hope you find this guide only as a tip and not a basis if you plan to file a complaint against your employer (even if it is for other reasons).
Note: Please be advised that the information posted here is based on one of our kabayans who shared her story on how she successfully claimed her passport via Ministry of Human Resources & Emiratisation (MOHRE). She shares her personal experience in filing a complaint as per due process. Take note that her experience may be different from yours but let it serve as a tip to guide you in case you will go through the same process. For legal assistance, please contact proper authorities.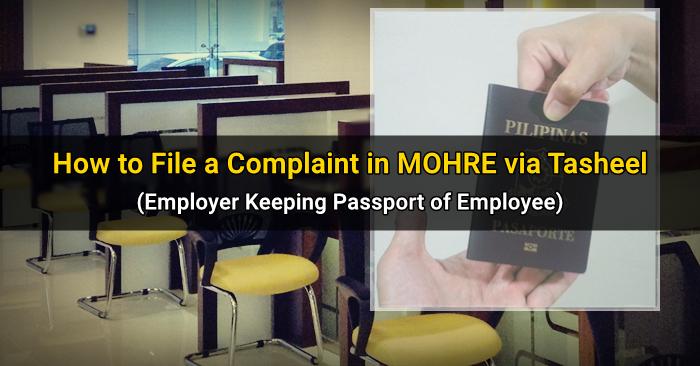 Filing a Complaint against your UAE Employer at MOHRE through TASHEEL
First and foremost, you might wonder what Tasheel is and its function. Basically, Tasheel is a government partner that handles UAE labour processes and they are also an expert in establishing businesses. Many transactions can be done here. It is even the right place to file a complaint.
Filing a complaint is NOT only limited to workers complaining against their companies, this is also applicable to companies who have disputes over their employees. If you are working in a freezone company, please try to contact the freezone headquarters where your office is registered for assistance.
Also Read: Types of Companies in UAE: Private, Government and Freezone
We have our own personal stories and so I have mine.
My case, I was employed with employment visa provided but the facility wasn't operating yet. I was left with no job and no salary. I was put in a situation to keep on waiting. After 6 weeks, I resigned. I was under an unlimited contract.
Also Read: Difference Between Limited and Unlimited Contract
Leaving wasn't a smooth process. I was asked to pay back 3,500 AED. I was very complacent and I even signed the paper agreeing that I will pay. Then I realized that I don't have that amount to pay them. Worse, my employer kept holding my passport and they will only release it after I pay the said amount.
I am aware of my rights but I was afraid. I overcome that fear with the many help and support from others. A complaint was filed against my employer through Tasheel.
1st Step: Go to Tasheel and formally file a complaint.
Tips:
Visit the nearest Tasheel. There are many Tasheel centers so try to search for one nearest your location.
Transactions will be filed online by Tasheel. Make your statement direct to the point and summarized.
Since I didn't have my original passport and I didn't have an Emirates ID yet, they considered the photocopy of my passport as my identification.
Bring the necessary documents such as visa and papers you signed. From those papers, Tasheel can get the company number as well as your work permit number.
Make sure to give your correct mobile number as well as the correct name and contact mobile number of the person from the company.
An amount of 30 AED was paid for the transaction. (The amount I paid is as of February 2018.)
2nd Step: You will be given 48 hours to settle the issue with your employer.
From my experience, few minutes after the complaint was submitted online, I received the complaint application number on my mobile. The other person from my previous company received the same message as well. We were given 48 hours to mutually discuss and settle the issue.
In my case, my employer and I didn't talk about it.
3rd Step: Verify the complaint and confirm if you want to continue with case.
After 2 days, I received a phone call from Ministry of Human Resource and Emiratisation (MOHRE) verifying my complaint and if I wanted to push it through.
TIP: Make sure again to be direct to the point with your complaint during the phone call.
4th Step: Schedule an appointment with MOHRE.
A day after the phone call, I received another message informing me about an appointment schedule to visit MOHRE with the date and time which is the next day already. (It shows only that MOHRE takes action quick and fast.)
TIP: Being the one who complains, you really have to attend.
From the message, they didn't include the address of MOHRE. In Abu Dhabi, it is located in Mazyad Mall, 3rd floor in MBZ City near Mussaffah.
The location is a bit far from the city but there are public buses that pass by Mazyad Mall.
5th Step: Discuss Case with MOHRE.
I arrived at MOHRE during the scheduled date. It was around 8am when I passed by the reception and showed them the message that I have an appointment. The receptionist copied the complaint number and I waited for few minutes before I was called again.
They gave me a paper with the complaint number, my name and the company name. I waited in another waiting area. I saw other persons too with different cases.
TIP: To be honest, there's nothing to be afraid of if you're aware of your rights.
Although I felt jittery when my name was called. I met the legal researcher handling my dispute. Much to my surprise, my employer was there as well.
It took only a few minutes to talk with the legal researcher before my case was solved.
To make the story short, I had the right to have my passport back without paying them. My employment visa was cancelled and my employer returned my passport a few days after. I was happy about the outcome as I got my passport back without much issues.
—————————-
During my short stay waiting at MOHRE, I have learned some cases like delayed salary, end-of-contract benefits withheld by the employer, long hours of work without compensation and many others.
TIP: Many of us experience the same issues but just keep silent. Let us be aware and guard our own rights.
And when we go to MOHRE, we should keep in mind that we are NOT going to make drama there. The time spent by the legal researchers with us is valuable. They listen to both sides and give fair solutions to the complaints.
————————–
I hope this experience serves as a valuable tip to most of us so that we should assert our rights accordingly. Let's also try to avoid ranting and instead, take action. These complaints won't be resolved if we just share without taking action. Let us read about the law so that future employers (as well as existing ones) won't take advantage of us not knowing the law.
Lastly as a reminder, please do try to seek legal assistance if you need help with your specific case as every issue and situation is different. Good luck!
---
About the Author: Louiela

Louiela Ann Analista is a Pinoy expat in Abu Dhabi, a Nurse by profession and a nomad by heart… She's also the person behind Beyond Chasing Dreams and www.beyondchasingdreams.com
IG: @beyondchasingdreams
"Hi, thank you for passing by. May you keep on chasing your dreams whatever it is."}
---
Share your thoughts. Contribute an article to DubaiOFW.com
Want to publish your experience? Share your everyday stories, food trips, travel, photo stories, or tips in Dubai to our growing community. More information here – Become a Dubai OFW Contributor!
Related Posts: Helpful Articles Regarding UAE Labour and jobs in UAE