When you are job hunting in the United Arab Emirates, "Freezone" is one of the common terms you might hear from fellow kabayans. They will ask if the organization you are applying belongs to the Free zone list.
In general, if a company is labeled under the free zone, it is exempted from the UAE Labour Law – Hence it's called "Free".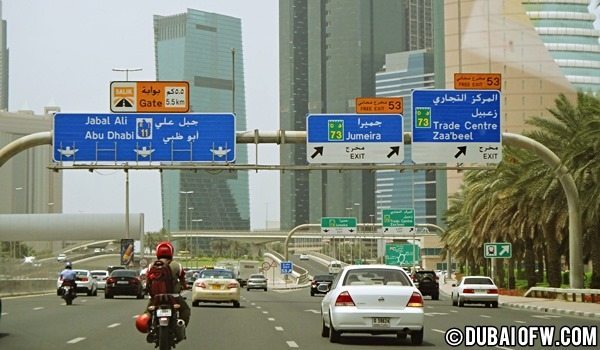 Dubai road
UAE has set 2-year contracts for employers and employees to prevent the staff to hop from one job to another. In case an employee resigns, it is breach of contract, and UAE Labor will impose an automatic ban. The labor ban means that you cannot work in other companies except those that are in the freezone. So which areas are these? Here's the list:
Note: This list may change or updated without prior notice. It's always better to check the actual company and inquire from them if they belong to the free zone category.
FREE ZONES Locations in the United Arab Emirates
Jebel Ali Free Zone
Dubai Internet City
Dubai Airport Free Zone
Dubai Media City
Dubai Metals & Commodities Center DMCC
Dubai Internet City
Dubai International Financial Center
Dubiotech
Dubai Auto Zone
Dubai Building Material Zone
Gold & Diamond Park
Knowledge Village
Dubai Silicon Oasis
Hamriyah Free Zone
Techno Park
Maritime City
Sharjah Airport International Free Zone
Dubai Aid City
Dubai Health Care City
Ajman Free Zone
Dubai Textile City
Dubai Auto Parts City
Dubai Outsource Zone
Dubai Studio City
Ahmed Bin Rashid Free Zone
Heavy Equipment & Trucks Free Zone
Dubai Academic City
Dubai Flower Center
Dubai Carpet Free Zone
Ras Al Khaimah Free Zone
Jebel Ali Airport City
Fujairah Free Zone
International Media Production Zone
Abu Dhabi Airport Free Zone
International Humanitarian City
Umm Al Quwaim Free Zone
Dubai Logistics City
Abu Dhabi Airport Free Zone
Ras Al Khaimah Investment Authority
No Ban in Freezone Company
Whether you are transferring to another job or applying for a new one, it's better to get acquainted with businesses in this category. The main reason is that you won't have to worry so much about your Labor contract in case you will switch professions. If the company is in a freezone area, then there is no issue on being banned from working in the UAE.
So the companies belonging to this areas are most likely under a free zone law. You can apply for jobs in these areas and worry less about being banned from working in the UAE in case you switch jobs abruptly. Still, it's always a plus if you finish your contract before transferring to another organization as it's added points to your resume and background.