The Philippines announced on Tuesday (March 2) that it will resume the deployment of household service workers to the UAE starting March 31.
Also Read: UAE Law on Domestic Workers: 12-Hours Daily Rest, 30 Days Leave, Weekly Off
Both governments arrived at the decision after delegations from the UAE and the Philippines have come to an agreement during a two-day committee meeting held in Manila from Monday to Tuesday.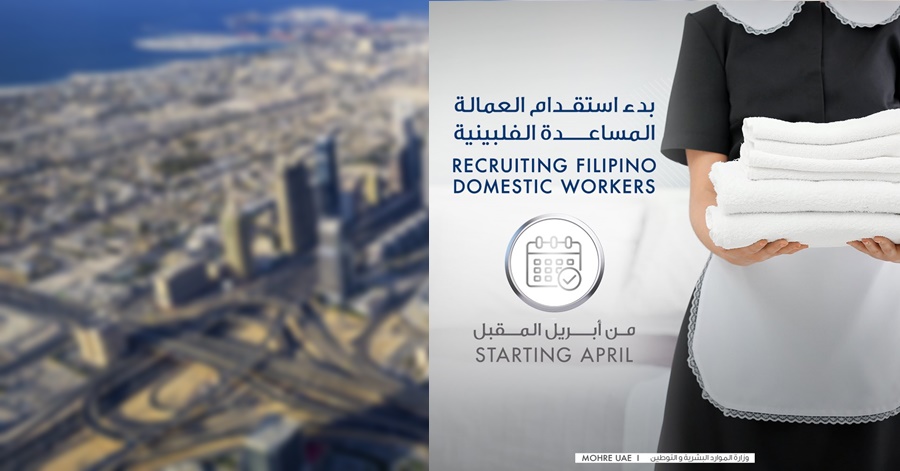 UAE, Philippines Lift Recruitment Ban On Domestic Workers
The UAE delegation was headed by Saif Ahmed Alsuwaidi, undersecretary of the Ministry of Human Resources and Emiratisation (Mohre), while the Philippine representation was led by Labour Undersecretary Claro Arellano.
In a tweet on Tuesday, the MoHRE confirmed that domestic workers will be allowed to work in the country through authorised channels.
Concluding a series of meetings held in the Philippines between a delegate from #MOHRE & senior Filipino officials, it was announced that starting April; the UAE will import domestic workers from the Philippines through the officially authorized channels in both countries. #UAE pic.twitter.com/dQV6mYitQh

— MOHRE_UAE وزارة الموارد البشرية والتوطين (@MOHRE_UAE) March 2, 2021
According to Arellano, the ban on the recruitment of domestic helpers from the Philippines had been in place since 2014. Once this is lifted, deployment will resume and the measure shall be covered by a 'unified employment contract' (UEC) that provides stringent measures to protect Filipino domestic workers.
In line with this, Philippine President Rodrigo Duterte has specified instructions to ensure the safety of domestic workers. These were incorporated in the four-party contract, which becomes an addendum to the Memorandum of Understanding on Labour Cooperation with Annex Protocol on Domestic Workers. Such provisions maintain that:
A domestic worker must be able to take at least eight continuous hours of sleep every night;
He/she must take a break that is paid, outside the residence of the employer, at least one full day every week;
He/she must be able to keep his/her passport or identification documents and the employer is not allowed to hold them;
The domestic worker must be allowed to have and use mobile phones and other communication devices and the employer is prohibited from confiscating them;
He/she must have a bank account under his/her name for the payment of salary; and
Domestic workers must be allowed to cook their own food.
Also Read Articles about Domestic Workers in UAE: