Starting March 1, 2017, Dubai Government employees can take a paid maternity leave for three months. His Highness Sheikh Hamdan bin Mohammed bin Rashid Al Maktoum, the Crown Prince of Dubai and Chairman of the Executive Council, recently approved the extension.
The new policy comes as part of the government's efforts to support employees and their families. Sheikh Hamdan stated that it will help employees develop closer family bonds as well as strengthen family stability. He also noted that the extended leave will "help working mothers to play their crucial roles in the family more effectively."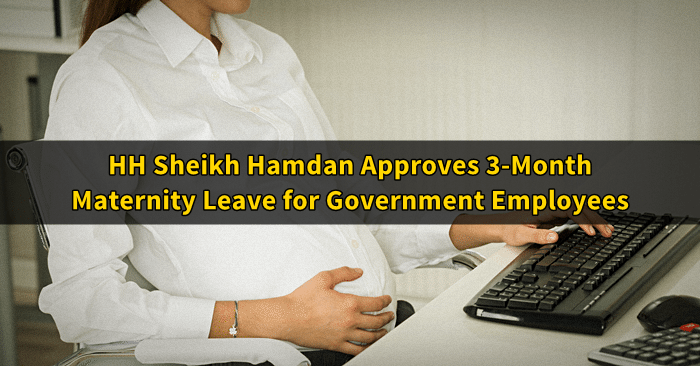 HH Sheikh Hamdan Approves 3 Months Maternity Leave for Government Employees
New Policy Highlights
The new policy includes the following specific amendments to the existing maternity leave:
Extension of paid maternity leave to three months. Employees may add their annual and unpaid leaves to the maternity leave, as long as the entire period does not exceed 120 days.
Extension of breastfeeding period to two hours. Employees can take a fully paid, two-hour breastfeeding period at the beginning or towards the end of their working hours. This benefit will last one for year starting from the date of the baby's birth. During Ramadan, this period will be reduced to one hour.
Sick leave for cases of miscarriage and abortion. Upon presenting a note from an authorized doctor, female employees who experience miscarriage or abortion will receive a sick leave.
Special care leave. A female employee who gives birth to a baby with special needs can take a special care leave. Depending on the case, the official medical commission shall specify a salary together with the leave.
. @HamdanMohammed approves the new maternity law granting #Dubai Government Employees 3 months paid maternity leave effective from March 1

— Dubai Media Office (@DXBMediaOffice) January 18, 2017
Care for Newborn Babies
The Crown Prince emphasized the need for working mothers to have enough time for taking care of their newborn babies. He added that this becomes more apparent in cases of babies with special needs, as they need a higher degree of care. At this point, he highlighted "the integration of individuals with special needs into society" as one of the Dubai government's top priorities.
A Supportive Government
According to the Chairman of the Commission for Social Development, HE Major General Mohammed Ahmed Al Marri, maternity leave has always been one of their top priorities. Meanwhile, Director General of Dubai Government Human Resources HE Amal Bin Adi believes that the policy will help women achieve a healthy balance between work and family.
Moreover, the policy covers the different cases that could affect working mothers, according to the Secretary General of the Executive Council, HE Abdulla Abdul Rahman Al Shaibani. Indeed, the consideration for babies with special needs, as well as miscarriage and abortion cases — sets the maternity leave policy of Dubai apart from other parts of the world.
We hope that private sector will follow suit. We'll keep you updated for news.