Since the #StayAtHome and sanitization campaign have been enforced for over two weeks already, residents who are keeping themselves safe in their homes have also started getting medicines delivered to their doors from pharmacies thanks to a new initiative by the Department of Health – Abu Dhabi.
Through this initiative, many of the outpatient pharmacies in the emirate already have the approval to offer this service.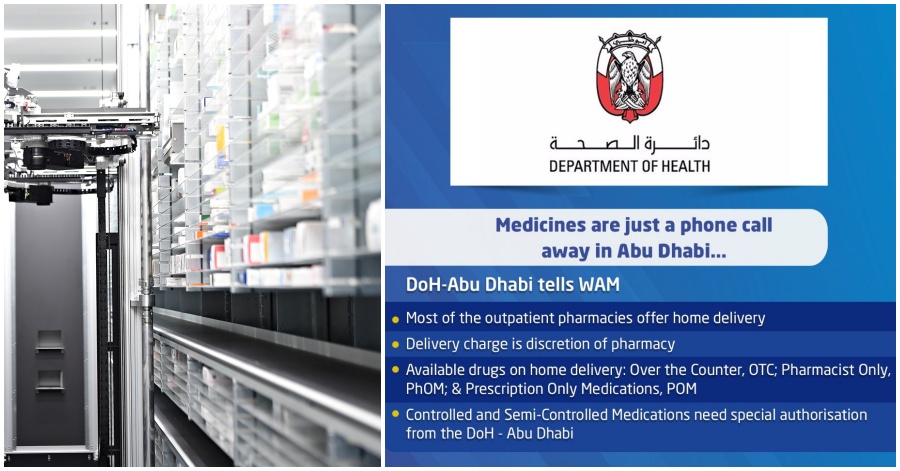 Purchase Medicine Online and Have it Delivered Straight to Your Door
According to a report shared by WAM, all the DoH-licensed pharmacies in the government (under SEHA, the Abu Dhabi Health Services Company) and private sectors, which adhere to mechanisms and requirements of DoH – Abu Dhabi's new standards for home delivery of patients' medication, have been authorized for this purpose. 
This means that patients can now reach out to accredited pharmacies directly to order medicines.
Moreover, the said service was originally launched to serve the demand of patients and for their convenience, especially for the elderly, vulnerable patients, and those who live in remote areas. 
That being said, the timing of this initiative is critical as it enables the health sector to support the government strategy to ensure taking preventive measures against the new coronavirus, COVID-19, including social distancing, protecting society by encouraging them to stay at home and ensuring the continuity of care for all residents in the Emirate according to the DoH – Abu Dhabi.
Regarding the delivery charge for this service, the DoH noted that pharmacies are allowed to take a charge, but it is the discretion of each pharmacy whether they intend to charge for the service.
Meanwhile, here is the list of the permitted drugs for home delivery:
Over the Counter, OTC

 (sold directly to a consumer without a prescription); 

Pharmacist Only, PhOM

 (sold without a prescription but its safe use requires professional advice); and

Prescription Only Medications, POM

 (that legally requires a medical prescription to be dispensed)
The health department clarified, though, that those who want to get home delivery of Controlled and Semi-Controlled Medications, special authorization is required from the DoH – Abu Dhabi to ensure all legal and regulatory requirements are met.
Controlled medications are those that, if not used responsibly, can lead to addiction and have the potential to be abused by individuals.
These drugs are usually prescribed and administered to patients of acute and chronic diseases following modern medical practice. They are mostly administered to in-patients. 
Furthermore, those requiring complex medication regimens (for patients with multiple chronic conditions) prescribed for the first time – supplies should not be delivered. However, refills are permissible, the DoH – Abu Dhabi explained.
In the part of the pharmacy or dispensary, drug storage guidelines must be strictly observed to ensure that the medicines delivered to patients are packaged and sealed properly.
Moreover, to observe confidentiality in these deliveries, only the patient's name and his or her contact details will be mentioned on the package.
It is also worth noting that pharmacists are only permitted to prepare an order for delivery if the original or electronic prescription is presented in the pharmacy before delivery. The Emirates ID is the primary identification document and it must be presented to receive the delivery of medication.
ALSO READ: HH Sheikh Mohamed reassures residents: UAE is able to "provide all required food & medical supplies continuously and infinitely"