Dubai Police urges the public to stay home and maintain physical distance
The Dubai Police General HQ has called upon members of the public to stay indoors and strictly adhere to the precautionary measures issued by the Supreme Committee of Crisis and Disaster Management in Dubai in line with the National Sterilization Programme that has been extended for two weeks and over 24 hours.
Also Read: Mandatory MOVE Permit for Dubai Residents Going Out for Essentials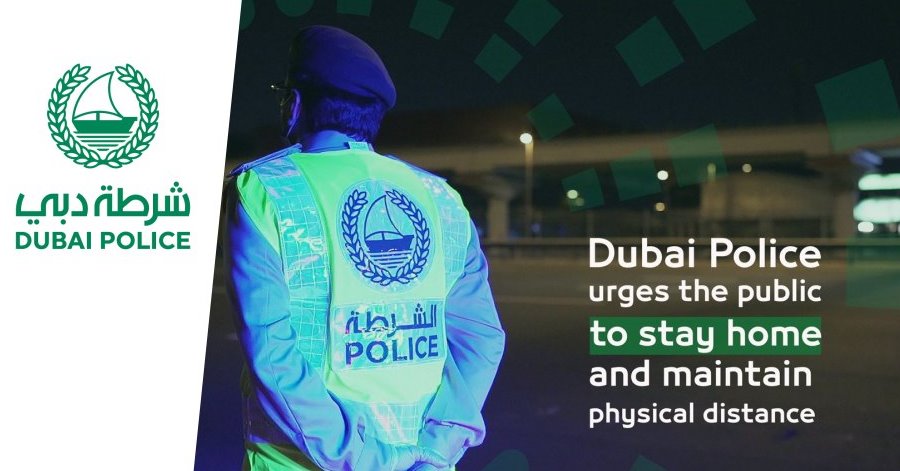 Engineer Major General Kamel Butti Al Suwaidi, Director of the General Department of Operations, said that Dubai Police had engaged a number of precise methods and technologies, including radars and police patrols, to determine the itinerary of individuals during the implementation period of the National Sterilization Programme, whether they are from the exempted groups or ordinary individuals.
Maj-Gen Al Suwaidi reaffirmed that all measures taken so far are not meant to disrupt the public lives or interests. He added that the movement restrictions take into considerations all special cases including individuals who need to pass through Dubai onto other emirates, they are now allowed to use Emirates Road (previously known as "Dubai Bypass Road").
Maj-Gen Al Suwaidi said that "A fine of AED 3000 will be issued against individuals violating the curfew set out during the National Sterilization Programme. The fine excludes individuals who seek to obtain essential supplies, such as food and medicine, and individuals working within previously announced vital sectors. "This is according to Resolution No. 38 of 2020 on enforcement of penalties for violations following the Cabinet Resolution No. IV of 2020 to contain the spread of the coronavirus, COVID-19." Maj-Gen Al Suwaidi added.
Maj-Gen Al Suwaidi further explained that the law is clear, and the aim of it is known to all, which is achieving highest levels of physical distancing among members of the public as it represents a major preventive method against the infection with COVID-19 or transmitting the virus. He further added that all countries around the world had taken similar measures to protect their people, adding that the solidarity of members of society is an essential pillar in the success of these efforts. "All national authorities in the state are working day and night to ensure everyone's safety and overcome this situation. Therefore, we seek full cooperation from our valued society members to overcome this situation." Maj-Gen Al Suwaidi said.
Below is the post from the Dubai Police on their official Twitter account:
Dubai Police urges the public to stay home and maintain physical distance#StayHome pic.twitter.com/0cdTjD42rE

— Dubai Policeشرطة دبي (@DubaiPoliceHQ) April 5, 2020