The UAE is a proud country which remains deeply grounded to its roots. This just shows how unified they are as a nation in terms of public observance to important events which helped shape the cultural identity of the UAE of today.
Whether this is to celebrate the spirit of tolerance, or pay tribute to their national leaders, citizens of the UAE are gracious in acknowledging the importance of such themes and events in preparing a path towards the future of the country, in its bid to become among the best in the world.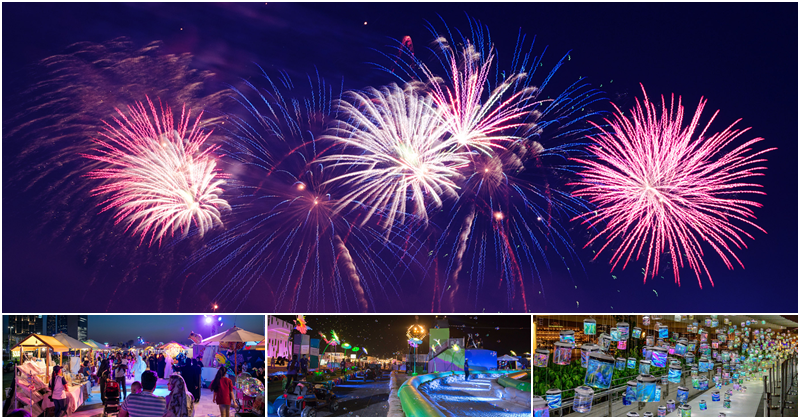 Abu Dhabi's Mother of Nation Festival Sees First-Ever fireworks Competition in UAE
This month, as part of the 12-day mother of Festival celebrations in Abu Dhabi, the UAE will also see its very first fireworks competition taking place in its own open skies, as shared in a report by the National.
Every Friday and Saturday for the duration of the festival, which will takes place from March 12 to 23, there will be a bright fireworks display that will light up the UAE skies for 20 minutes.
The contest will showcase 360 metres of pyrotechnics, with over 87,000 shells set to be launched, as internationally renowned teams from various countries compete against each other before an expert panel of judges.
For week one of the event, pyrotechnic experts from South Korea and the Netherlands will go head-to-head, to be followed by participants from Australia and Canada in week two to round up the four teams for the event.
The fourth edition of event organized by the Department of Culture and Tourism, the Mother of Nation pays homage to the legacy of HH Sheikha Fatima bint Mubarak, the widow of Sheikh Zayed, chair of the General Women's Union and president of the Supreme Council for Motherhood and Childhood.
As part of the festivities, there will be musical performances, art workshops, and fitness classes offered, and a variety of food stalls to keep the visitors happy, engaged, and satisfied. For the kids, there will be inflatable and trampoline parks set up, as well as an adventure playground, gaming zone and zorbing safari area (where guests can roll around in the giant transparent inflatable balls).
Moreover, there will be a virtual reality experience, laser quest, and a mini Spartan challenge for a well-rounded family experience.
The Mother of Nation will be held in Abu Dhabi from March 12 to 23 from 4pm to 10.30pm (Sunday to Wednesday) and 2pm to 11.30pm (Thursday to Saturday).
Tickets are priced at AED 25 per adult guest and AED 20 for children between ages 6 to 12. Entry is free for elderly guests (aged 60 and above) as well as for all people of determination.
To know more about the event, please visit the event's official page.
ALSO READ: IMG Worlds of Adventure Tickets for Only 89 AED!