Even though Dubai is known for its skyscrapers and modern architecture, it still has plenty of green spaces. Like oases scattered in the desert, there are several parks in the city where people can relax, play, and be refreshed.
This article presents 10 of the most beautiful parks in Dubai. You don't need to pay anything to access them, as entrance to these parks is absolutely free: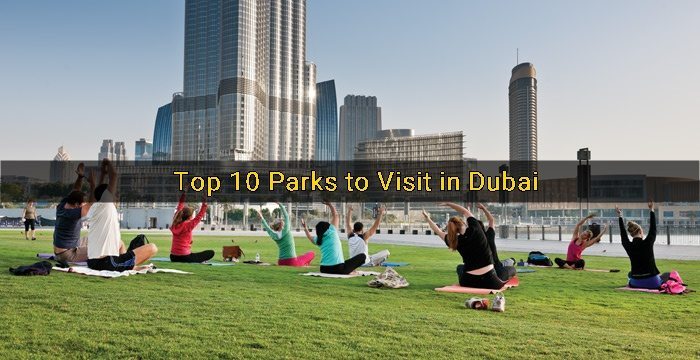 Free Parks to Visit in Dubai
1. Al Ittihad Park
This park is famous because its opening marked the UAE's 41st anniversary in 2012. Situated at the Palm Jumeirah between Golden Mile buildings 2 and 3, it covers an area of 1.1 million square feet. The park includes a 3.2-kilometer jogging track as well as 60 varieties of plants that are native to the UAE. It is open 24 hours every day.
2. Al Khazzan Park
Opened in the late 1980s, this is one of the oldest parks in Dubai. You can find it along Al Safa Street in Satwa. Just recently, the park was transformed into the first spot in the UAE that runs completely on solar energy. It also features Inn The Park, which serves great coffee, breakfast, and snacks. The park is open every Saturday to Wednesday from 8am-10pm, as well as Thursday and Friday from 8am-11pm.
3. Bay Avenue Park
This 100,000-square foot park opened in 2014 along Bay Avenue. It has a playground, a trampoline, and a skate park where skaters can zoom to their hearts' content. The park also includes an outdoor gym and a jogging track. Every Friday, it holds a farmers' market where you can buy organic products. The park is open from 10am-midnight daily.
4. Burj Park
Situated in Downtown Dubai, this park is a prime location for viewing the Burj Khalifa, the Dubai Fountain, and the Dubai Opera. It is also a favorite spot for those who plan to hold banquets, corporate events, and even weddings. The park is also open to dog walkers and cyclists. It is open from 6:30am to 8pm every day.
5. Gadaf Community Park
This is located in Jumeirah Village, right across the Diamond Views 2 building. Nearby residents like to visit this park on weekends. It features a play area for kids as well as a running track for health-conscious joggers. The park is open from 7am to 10pm daily.
6. JLT Park
Situated near the Jumeirah Lake Towers, this park actually started out as a lake before being filled in and transformed into a park. It holds a mini funfair every winter, plus a JLT Outdoor Cinema event from time to time. The park is open 24 hours every day.
7. Media City Park
Since this park has an amphitheatre, it is often packed with people during concerts and food festivals. In-between events, this place is actually peaceful and quiet. You can curl up with a good book on one of the benches, or relax after dining in one of the nearby restaurants. Located in Dubai Media City, this place is open 24 hours daily.
8. Nad Al Sheba Park
Situated along Nad Al Sheba Road, this park is often frequented by cyclists who have just crossed the nearby cycle tracks. You can jog along the running track, or simply relax out on the lawn. The park is open 24 hours every day.
9. Port Saeed Plaza Park
You will find this park near the Deira City Center, just behind the City Seasons Hotel. It features a 400-meter running track for joggers and lots of benches for weary travellers.  After a day of shopping in Deira, you can go here to rest and have a quick snack. This park is open 24 hours daily.
10. Umm Suqeim Park
Located at Umm Suqeim along Jumeirah Beach Road, this park offers fantastic views of the Burj and the Gulf seascape. Children are bound to have a great time at the wide play areas, and families can grab a bite at the nearby Rest N Café. The park is open every day from 8am to 10pm.
Dubai may be an urban dwellers' haven, but it also provides spaces for nature lovers. When you need a break from your busy schedule, just head to these parks to rest, play, or simply hang out.
Image Credit: Emaar Properties Website