In case you get into an accident on the road, knock on wood, here's a step by step guide how to pay your Dubai Police Traffic Fine online. The Dubai Government is making it more convenient as you don't have to go to their office/headquarters just to pay your penalty.
Note: Be advised that during accidents, the one at fault will be the one to get a Fine. The other party will not pay for anything.
I got into an accident one evening as I was driving in the city. Fortunately, it wasn't a serious damage and nobody had to go to the hospital. Both parties were cooperative and the one at fault (me) admitted the mistake. We called the Dubai Police hotline and sought advice. It was good that we were able to drive our vehicles and nobody was hurt. The Police advised us to head to nearest police station after calling the emergency hotline. If it was serious damage, they would send police cars to assess and handle the scenario.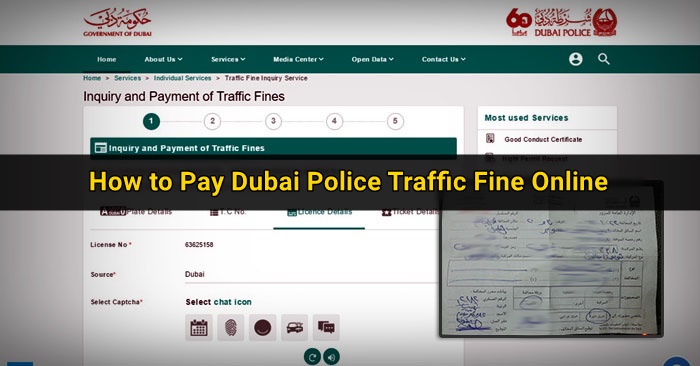 Step by Step Guide to Paying Your Dubai Traffic Violation Online
At the Police station, we informed the police rep about what happened and he made a Police Report. The Police Report is very important when claiming your insurance for repairs.
As I was the one at fault, I had to pay a Fine for the Police Report incident. The Fine cost us 400 AED and the reason was for "not keeping a safe distance". We got the report and the police advised us to pay the fine online.
Please take note that you can also pay your fine by going to designated police headquarters, there's one in Al Ghubaiba area. Or pay via credit card over phone, etc. For your reference, here's what we did to guide you in case you need to pay your traffic fines online.
1. Search your Police Fine on the website, you can search via Plate number, traffic report number, or other parameters.
Note: Sometimes the police report might not show up right away so give it a few weeks for it to be added in the system. Ours took about two weeks before we were able to see our file came up.
2. Verify the Report details and then after click the "Pay Now" button afterwards.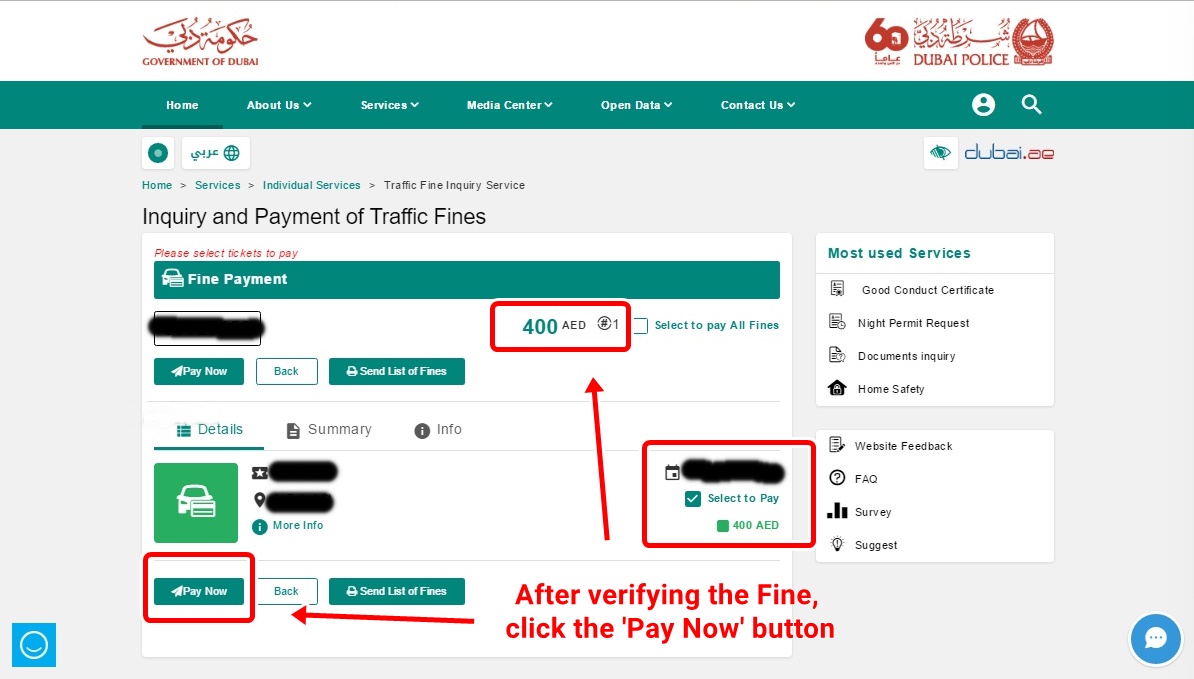 3. You will be asked to confirm your mobile number and email address. Click Next.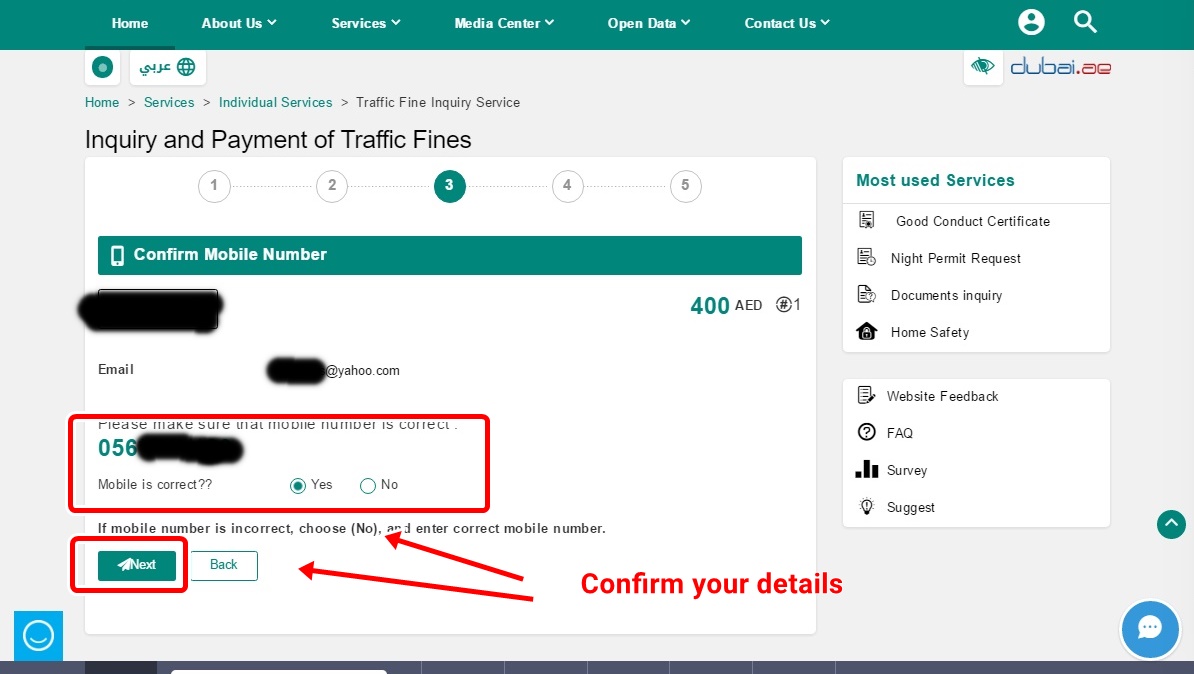 4. You will receive a text message from the phone number you've entered. The message will have an activation code for you to enter.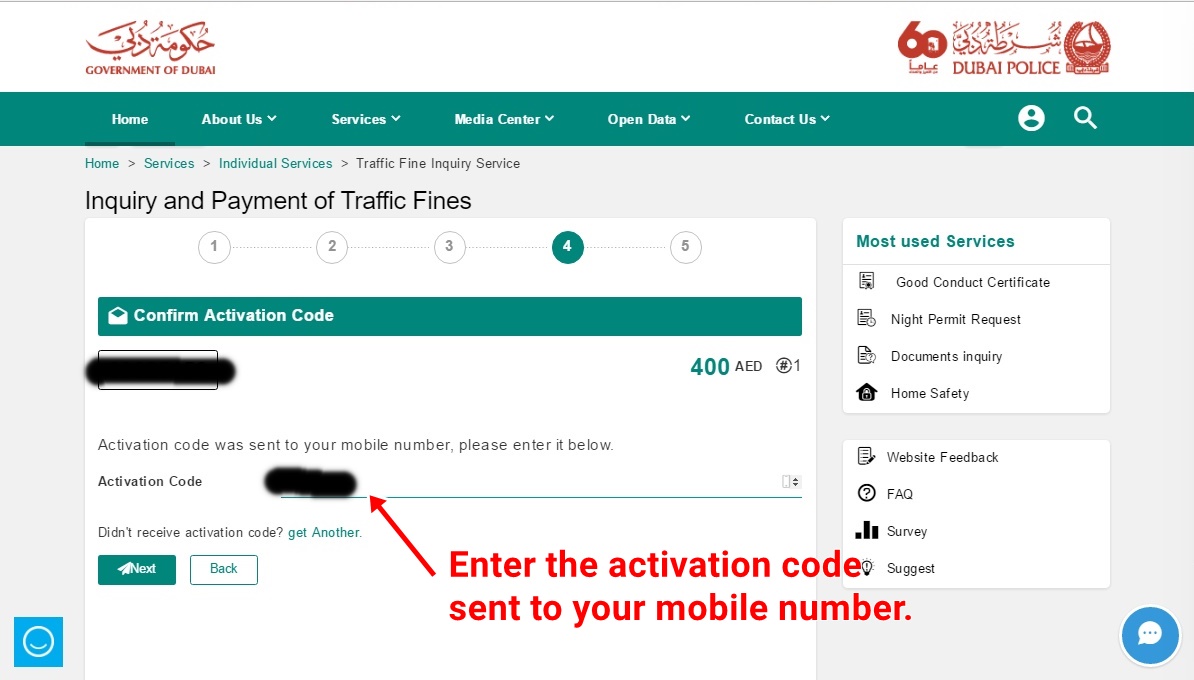 5. Verify your payment fee details. There is an additional 20 AED 'processing' or 'educational' fee on top of the Fine.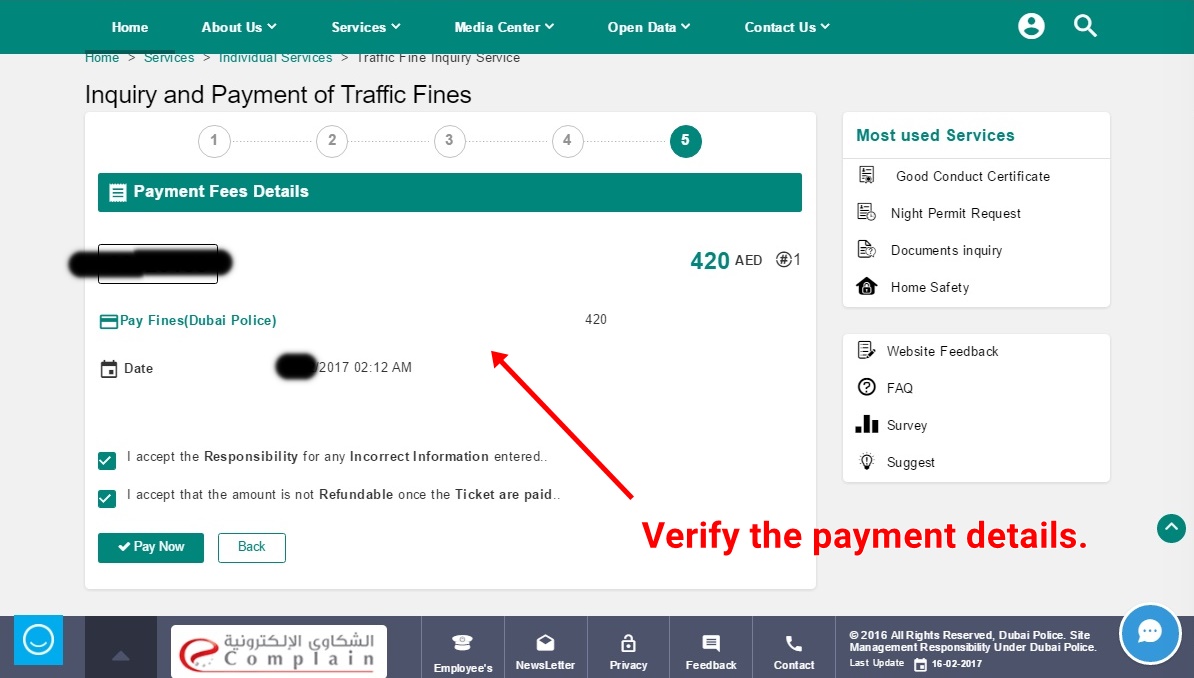 6. Choose our payment method. We chose to pay via Credit Card.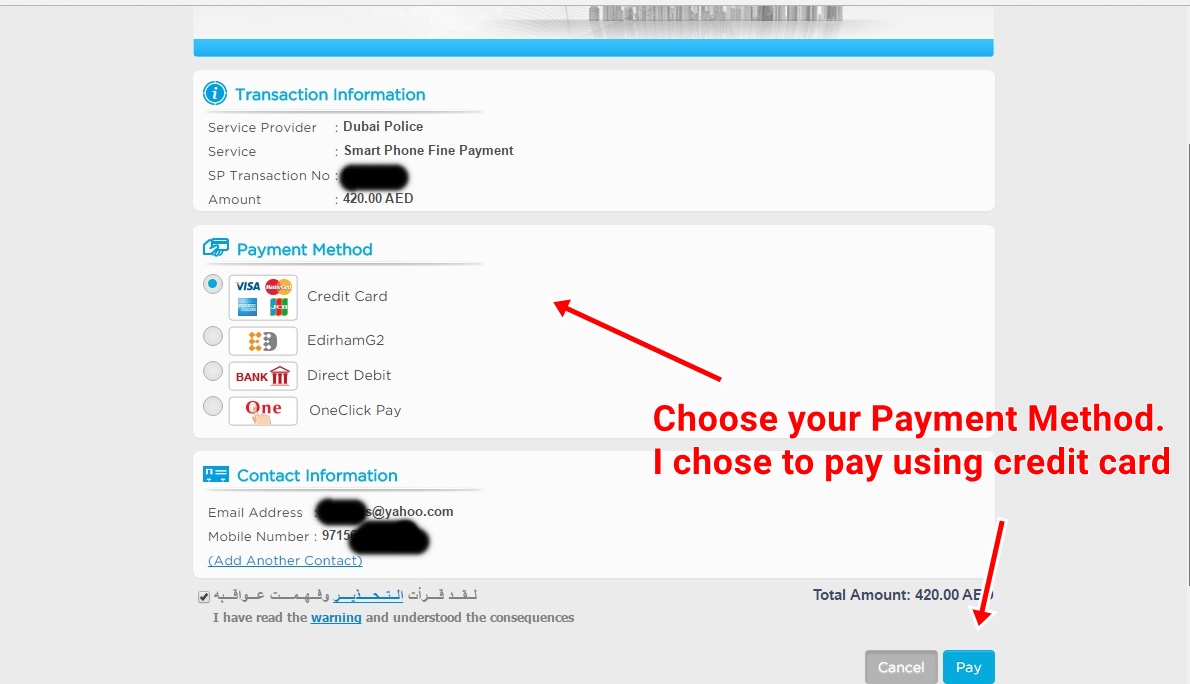 7. Enter your credit card details and Pay the Fine.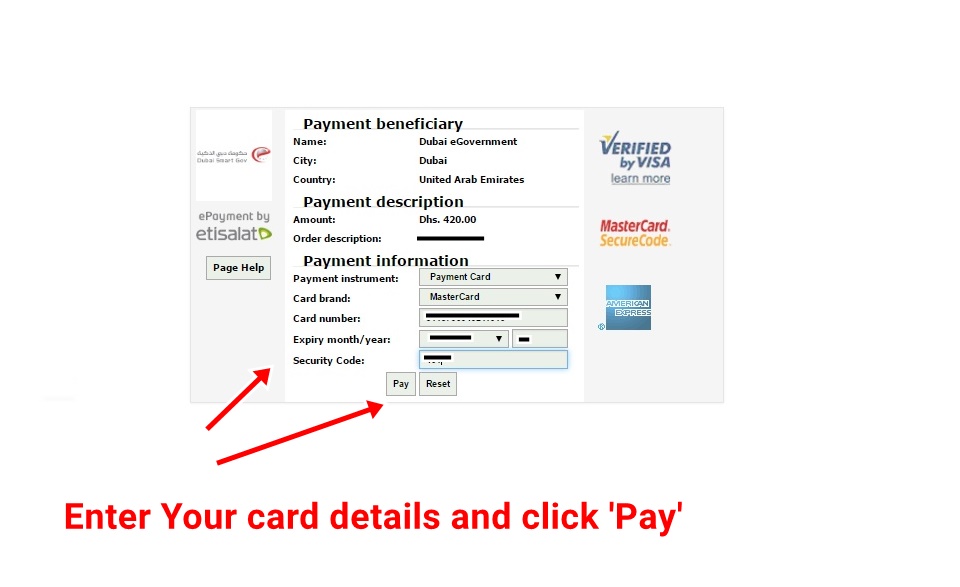 8. Once successful, there should be a page that would tell you that you made your payment successfully. In our case, we ran into an error page. I received a notification from my bank that my card was charged so I called the Dubai Police hotline to inquire about the error. They advised that if if the payment was successful, I would receive an email about it.
9. Check your email  address you should get an email about the transaction. True enough, I got the email and I paid my police fine successfully.
—————————————–
We hope you find the above procedure helpful. For any issues, you can simply call the Dubai Police customer service hotline through their call center: Dial 901.
As for the damages, it will be covered by your car insurance. So you can schedule your repair with your car insurance company in Dubai. Call them and present your report to them.
—————————————–
Below are some other details found on the Dubai Police traffic violation report paper:
Issued Fines must be presented upon payment.
Fines are to be paid within 15 days or else an extra charge will be imposed.
If your license was not presented when asked for by the police you must then present it at Deira or Bur Dubai Traffic Depts. or any police station, within 48 hours.
Violators have the right to object.
Fines can be paid through the Dubai Police website: www.dubaipolice.gov.ae
Inquiry and Payment channels
For inquiries and payment options, here are the following places where you can get more info:
www.Dubaipolice.gove.ae
Toll Free Number: 800 7777
Kiosk in all shopping malls
Subscribe to SMS 4488
ATM and Cash deposit machines (Emirates Bank)
Dial *123# on your mobile (using Etisalat line)