UAE residents, please beware of phone scammers out to ask for your personal information. You might get calls from unknown persons or from callers pretending that they are working from an official institution/organization. In a post by Abu Dhabi Police on their official social media account, they shared how a 29-member group was allegedly involved in a telephone scam.
Also Read: How to Spot Job Scammers and Fake Jobs Online
The group acts out as bank employees and calls their victims on the phone, advising their victims that their credit cards or bank accounts have been frozen. They will attempt to get your personal information in order to 'update' the status in the system.
However, after getting the personal information from the victims, these scammers will then steal your money from the bank accounts of the victims.
Fortunately, these suspects were tracked down and arrested in several locations in Ajman and Dubai. These suspects were hiding in apartments where they conducted their operations by using the apartments as "call centres" to communicate with their victims.
So this serves as a warning to all UAE residents to please be careful and NEVER give out any sensitive information over the phone. These scammers may pretend that you have won a contest, or tell you that your account has been frozen, or for may employ other tactics to steal your money.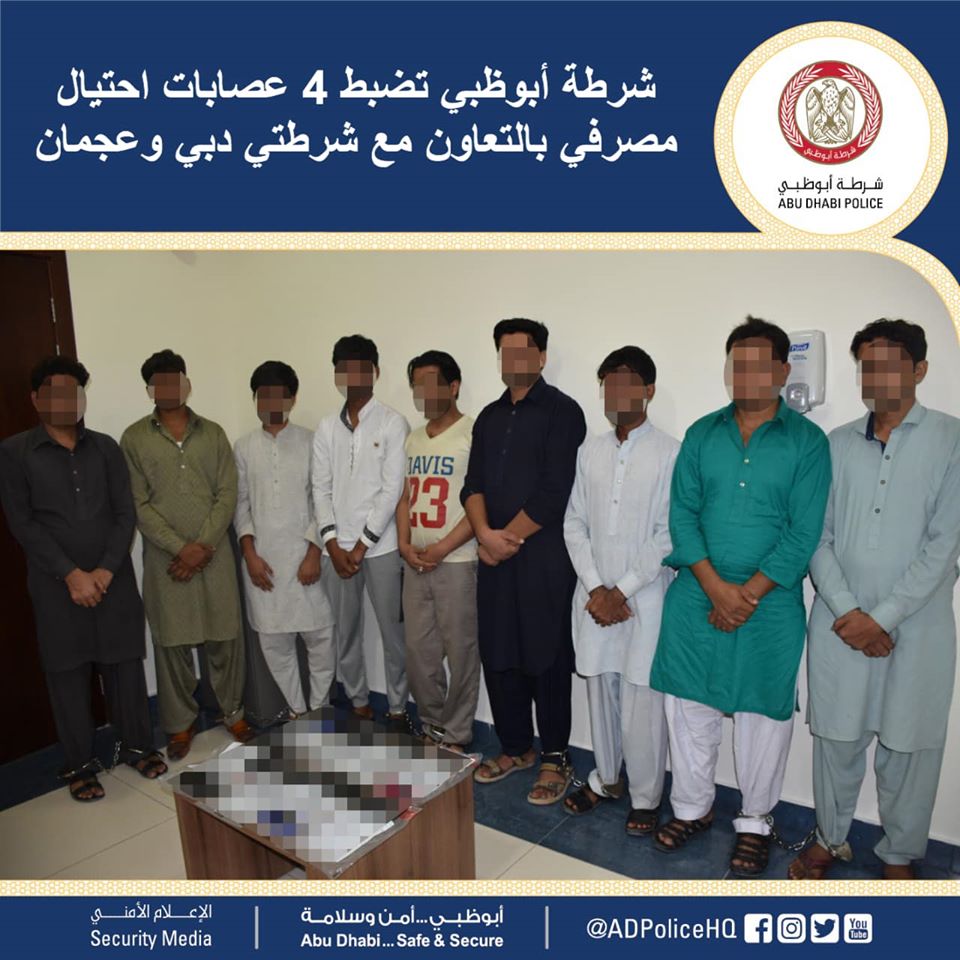 UAE Phone Scammers: Bank Fraud Gang Arrested
Translation as per Google Translate:
The Abu Dhabi Police has dealt a severe blow to "bank fraud gangs" after they signed 29 Asians in cooperation with Dubai and Ajman police and thwarted their attempts to seize the money of the account holders after contacting them by telephone and obtaining their bank statements and using them to commit their crimes.
The perpetrators belong to four gangs that make contact with people and impose a ban on their bank accounts and credit cards, which must be updated provided that information about them includes account numbers to be used to seize the balances of victims.
Brigadier General Mohammed Suhail Al Rashidi, Director of the Criminal Security Sector at Abu Dhabi Police, continued to confront this type of crime and the criminal gangs that use the banking monument as a means to seize the victims' money illegally.
He expressed his deep appreciation for the efforts of cooperation and coordination with Dubai and Ajman police in the prosecution and arrest of members of the criminal gang so that the owners of the accounts bank vulnerable to fraud.
Brigadier General Muslim Al Ameri, Deputy Director of the Criminal Security Sector, demanded the owners of bank accounts not to respond to the communications received by people claiming to be from the cadres of the banks and not to provide any information about their bank accounts or their personal data so as not to be vulnerable to exploitation by gangs # to penetrate and transfer money from them .
Brigadier General Omran Ahmed Al Mazrouei, Director of the Criminal Investigation Department at Abu Dhabi Police, reported reports of people who were victims of the gang monument, and in light of this a team was formed from the Directorate to prosecute and arrest the perpetrators, after following the criminal method used to catch the victims and conduct the necessary investigations. They were identified and arrested.
Here's the same post from their official Facebook Page: