Today's OFW interview features Vea, a Filipina who has been living and working in Dubai for 5 years now. With a degree in Business Administration, she is currently working as an Accounts Intern for an amusement supplier company. During her free time, she is a Makeup Artist — making her clients look and feel beautiful!
Vea admits that in the beginning, life in Dubai was not easy. Like many other expats, she faced many challenges: homesickness, living alone, and struggling to find a stable job. Today, however, she enjoys living in the city with her husband. And while juggling two very different jobs can be difficult, she enjoys all the challenges and rewards!
Money-wise, Vea shares that at first, she wasn't good in handling finances. But as time passed, she learned how to save, invest, and focus on essential things. She also aspires to improve her skills, put up a business, and start a family someday. Learn more about Vea's experiences through this OFW interview!
OFW Feature: Vea, Accounts Intern & Makeup Artist in Dubai
Name: Vea Marie R. Cayan
Current Profession: Accounts Intern & Makeup Artist
College Degree: Bachelor Science in Business Administration, Major in Management
Years in Dubai: 5 years
1. Tell us about yourself.
Hello! My name is Vea Marie R. Cayan. My relatives and friends simply call me "Vea." I am currently working as a temporary Accounts Intern for an amusement supplier company based in Tecom Al Barsha, and as a Freelance Makeup Artist. I completed my Bachelors Degree in Business Administration (BSBA), Major in Management at New Era University, Philippines. I've been living in Dubai for almost 5 years now.
2. Why did you come to Dubai?
Just like any other expat, I came here for better opportunities. I also like stepping out of my comfort zone and I love exploring new things!
3. What were your previous jobs?
My first job was in BDO Leasing & Finance, Inc. in the Philippines. I worked there as an Administrative Assistant. In Dubai, I first started as a Customer Service Representative for a leading distributor of premium food and non-alcoholic beverages in the Gulf Region. After a year of working in Dubai, I received another offer in Abu Dhabi and moved there. I worked as a Front Desk/Receptionist in the showroom for the sole distributor of Jeep in Abu Dhabi and Al Ain.
4. How do you find your current job? Are you happy/satisfied with it?
I have two jobs at the moment: an office job and a freelance job as a Makeup Artist. To be honest, juggling two jobs is hard and tiring, yet challenging and rewarding at the same time. Aside from working in the office during weekdays, whenever I have a makeup gig I normally have an early call time and finish in the afternoon or sometimes until evening. But the rewarding part comes when I see my clients happy and satisfied with my work. I am able to make them look and feel beautiful, which gives them confidence! I can say that I am very happy with where I am right now, with lots of opportunities for growth and learning.
5. Are you able to save in Dubai? Why/How?
At first, to be honest it was hard to save money because I left some financial responsibilities in the Philippines. I needed to pay some debts back then and just like any other OFW, I also need to send money to my family back home. I must admit that before, I wasn't good in handling my finances. I splurge on things that I don't need!
However, as I get older, my goals and perceptions in life changed. Working abroad helped me realize that everything I have here is not permanent; the job and material things. When it comes to spending and managing my money, I became wiser and learned to consider things before buying. My husband and I normally use coupons when eating outside and we grocery shop in bulk. I also minimize shopping for shoes and clothes. I only buy makeup if I need to replenish or if it's on sale. We also do part time businesses for extra income. Fortunately, today my husband and I manage to save!
6. Is it difficult to live in Dubai? What are/were your struggles? What's life like outside work?
In the beginning… yes, it was hard! Being away from family and learning to live on my own was really difficult at first. I also struggled searching for a job that time because I didn't have any UAE experience. It took me 6 months before finally getting a good and stable job.
Life outside work involves doing my passion, which is makeup. I usually spend my weekends in prenups or weddings of clients. Sometimes, I hang out with my cousins or friends.
7. What do you like about Dubai?
What I like about Dubai is the safety, security, and convenient transportation. It is safe everywhere in the city! There are many security cameras. You can wear expensive jewellery or use your gadgets anywhere without being worried. You can also go to places and explore without spending too much money. Food choices are good and cheap, especially when you have vouchers.
8. What do you NOT Like about Dubai?
Only the weather during summer!
9. What are your plans in your career/family/future?
Career-wise, I am planning to enroll in a short course on Makeup Artistry to pursue my goal of working in the field. I also want to save, so that if we decide to stay in the Philippines for good, I would be able to provide a good business for me and my parents as well. The long term plan is definitely to have a family of my own.
10. You have any tips for Kabayans when working/finding work/living in Dubai?
My only advice to all our Kabayans out there who want to work, or are already living here in Dubai, is this: always ask God for guidance in all the things you want to do, or before making any decisions. SAVE and INVEST. Focus on your goals and don't forget the very reason why you are here!
BONUS: Can you tell us more about your business?
I am a Dubai-based Freelance Professional Makeup Artist for weddings, prenups, and other special events. For any inquiries, you can visit my social media accounts below and I'd be happy to assist you!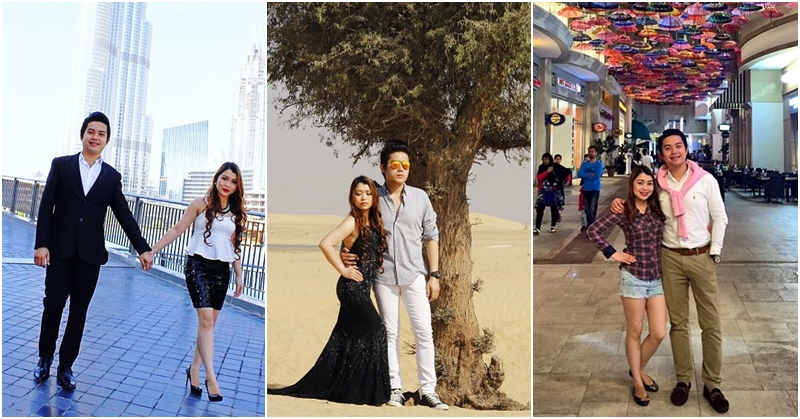 Connect with Vea on Social Media
To know more about Vea, you may get in touch with her through her social media pages. Watch out for her upcoming website, veautified.com, as well!
Instagram: @iamveautiful
Facebook: Vea Rodriguez-Cayan
—————-
*Photos provided by Vea
Are you an expat in Dubai? Do you want to be featured in the website? Send us an email telling us you want to be featured at admin@dubaiOFW.com and we will send you the set of questions! Let's help other Pinoys who want to come to Dubai understand what life in the UAE is like through your story.