Today's OFW interview features Eve, a 24-year-old Filipina who hails from Leyte province. She graduated with a degree in Accountancy and worked for a major bank in the Philippine before coming to Dubai. She is currently working as an Admin Coordinator for a logistics company, and has been living in Dubai for one and a half years now.
Despite her young age, Eve is financially savvy and knows how to manage her expenses. Within less than two years in Dubai, she has already managed to put up a new house for her family back home! A firm believer in distinguishing "needs" from "wants" — she is able to save much from her monthly earnings.
Even if she is budget-conscious, Eve also believes in treating herself from time to time. A true-blue YOLO (You Only Live Once) girl, she loves to travel and hopes to see more of Dubai and other countries. "Prayers, perseverance, and courage" are her key traits. Keep reading to know more about Eve's inspiring story!
OFW Feature: Eve, Admin Coordinator in Dubai
Name: Eve Marie Napa
Age: 24 years old
Current Profession: Admin Coordinator for a Logistics Company
College Degree: Bachelor of Science in Accountancy
Years in Dubai: 1 years and 6 months
1. Tell us about yourself.
Hello! I'm Eve Marie Napa; simply "Eve" for short. I am a 24-year old graduate of Bachelor of Science in Accountancy from Leyte province. Yes, I am a proud Bisaya! I've been staying in Dubai for a year and a half now, and I've been working as an Admin Coordinator in a logistics company for one year and 5 months. Fortunately, I got hired just a month after I arrived in Dubai while I was on my tourist visa. Though my job isn't much related with what I studied, I know that all things can be learned through experience, so I grabbed the chance.
2. Why did you come to Dubai?
The usual reasons… I came to Dubai to find a chance to earn more and to support my family in the province as my father had an early retirement and my mother is a housewife. Though my eldest brother is a teacher, I don't want him to shoulder all the house expenses as he's a single father with two kids. And even though I'm the youngest in the family, I still find myself making ways on how to reciprocate good deeds to my parents.
3. What were your previous jobs?
I graduated at the age of 19 and eventually got a job with an established bank in the Philippines (BPI). I spent 3 years in the banking industry before I decided to come to Dubai. It might sound good that I'm in banking, but I don't see myself working in it for the long term and I didn't get to enjoy my days so much during those years. Back then, I thought perhaps that working overseas might change my ways of living. A change of career, indeed!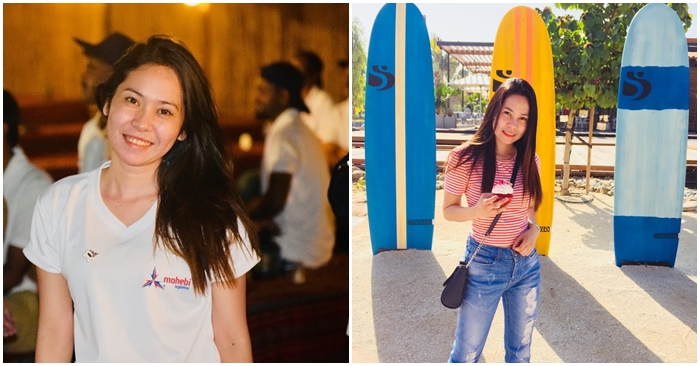 4. How do you find your current job? Are you happy/satisfied with it?
I was on a tourist visa with the help of a good friend since I don't have any relatives here. I stayed with her for the meantime while I was still looking for a job. It just so happened that the company where one of our flatmates worked was looking for the said position and so I applied, but I also sent lots of applications to different companies just like everyone does.
All praise to God, I was hired immediately and yes, I can say that I'm very much happy with my job now. I am surrounded by great people at work, and my job is challenging me to be a better person. I learned lots of things, such as new cultures from foreign co-workers and how to deal with people of different beliefs. Also, knowing that my parents are proud of who I am now — that is happiness and a glimpse of what satisfaction truly means.
5. Are you able to save in Dubai? Why/How?
Yes, I am able to save in Dubai. After a year, I got to save enough to start building a concrete house in the Philippines as my family is living in a bamboo-made house for the moment. As of now, it's already done up to the roof. At least I can see where my salary goes when I get home soon. I'm starting to save again to have the construction continued.
I am a cost-conscious and always-on-a-budget kind of person. I have my expenses well planned and I stick to it (it's just about discipline). I make a budget every month and make sure a part of it goes to savings. I used some of my savings for my travel goals because I'm the YOLO type. You only live once, so do what makes you happy!
6. Is it difficult to live in Dubai? What are/were your struggles? What's life like outside work?
It was easy for me to cope with Dubai life, after all I can see lots of Filipinos around and it somehow lessens the longing. In addition, I have always been an independent girl, so it wasn't hard for me to adjust. The only struggle I see is sometimes I mess my budget up because of emergency expenses back home, so it means I need to sacrifice some things to provide what my family needs.
I don't really have much friends here; I don't have a "social life" if you mean night outs, clubbings, and the like. But this doesn't mean that I am anti-social. I often go out on weekends strolling in malls and visiting places here in Dubai. Moreover, whenever I go out to visit new places in Dubai, I always find ways to spend less. Being resourceful and doing a lot of research always helps!
7. What do you like about Dubai?
For a first time OFW, I can say that I've chosen the best country to work in. With the cost of living being really expensive, Dubai taught me how to control my expenses. Let's just say there are things you might like but are not meant to be yours, such as branded stuff out there.
What I also like about this country are the many opportunities to try and experience new things, things that you can't certainly do in other countries, as Dubai holds tons of world records. Even if you have experienced a bunch of things in Dubai already, it is still introducing new things to try as it continues to make more improvements year by year.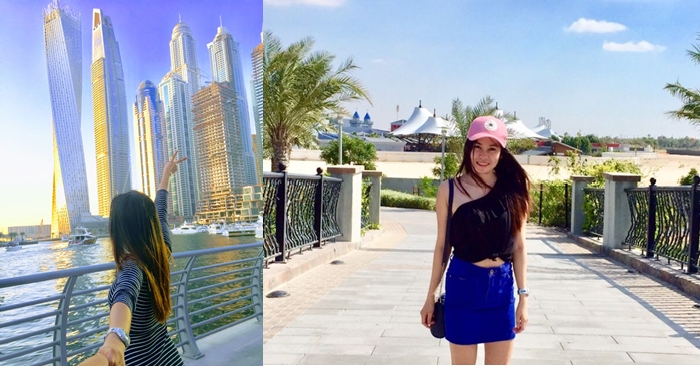 8. What do you NOT Like about Dubai?
What's "unlikeable" in Dubai is that because it's a dessert land, the weather goes very bad especially in summer season. It gets super hot!
And of course, nobody likes the idea of how much we are paying every month for rent. The cost of living is pretty expensive. So you really need to balance and make sure your expenses don't go over your income. There are lots of temptations around that will make you spend more and become broke afterwards. So as for me, I'm really keen with expenses because I don't want to end up being "young, dumb, and broke" as the song title says.
9. What are your plans in your career/family/future?
For now, I'm still doing well in Dubai. I'm still single so maybe I'll be spending most of my time exploring and I might travel to other countries. Lots of things may or may not happen along the way. I'm putting it all on God, in His will I'll be in good hands. And if Mr. Right comes, maybe that's the time I'll have plans for another chapter.
For now, I am more focused on the completion of our house because we all know that Philippines is a typhoon-prone area, so I just want to provide my family with good shelter. I want us to experience how to live in a well-built house because I am one of those who grew up with a life that — when it rains, it pours literally — drenching the inside of our house and my mother can't sleep because she's afraid the wind might blow our roof away! I thank Dubai for giving me the chance to improve our status of living.
10. You have any tips for Kabayans when working/finding work/living in Dubai?
I had a good job back in the Philippines, but I can't say that I earn enough to able to help my family, so I took the risk and went abroad for a better opportunity. I borrowed money from my relatives to sustain my expenses while still processing all the things needed to get here. Prayers, perseverance, and courage — these three things brought me to where I am now. I should say that If you really want something, you just need the courage to take it, and believe me everything will be worth it!
Our families in the Philippines might say that we are living life perfectly here as our standard of living is quite high, yet the least we can do is to let them understand that we are not. Don't be an "I like that, I'll buy that" kind of person; know what you "need" from what you "want." Be practical, but of course sometimes you should treat yourself with expensive things, too, because you deserve it and you worked for it! But we don't want to end up with lots of credit and negative balance, so we should set limits and know our priorities.
—————-
*Photos provided by Eve
Are you an expat in Dubai? Do you want to be featured in the website? Send us an email telling us you want to be featured at admin@dubaiOFW.com and we will send you the set of questions! Let's help other Pinoys who want to come to Dubai understand what life in the UAE is like through your story.