Today's OFW feature features Sonia, a 33-year-old Filipina in Dubai. She hails from the city of Biñan, Laguna, where she grew up as the 9th child among 10 siblings! Although she holds a Bachelor's degree in Nursing, her career path has taken her to other fields instead.
At present, Sonia works as an Executive Secretary for a hotel. Prior to this, however, she experienced lots of challenges in her previous jobs — such as having her passport withheld and being terminated! Still, even when things seemed hopeless, she didn't give up but kept on going! After years of hardship, things eventually turned out for the better.
Having stayed in Dubai for almost 8 years, Sonia plans to continue working here in order to save more money for her family. In the meantime, she hopes that her story can help inspire people to go for their dreams. Read more about Sonia's experience through this inspiring OFW story!
OFW Feature: Sonia, Executive Secretary in Dubai
Name: Ma. Sonia Almarinez
Age: 33 years old
Current Profession: Executive Secretary
College Degree: Bachelor of Science in Nursing
Years in Dubai: 7 years and 8 months
1. Tell us about yourself.
Hello! I am Ma. Sonia Almarinez. My family and close friends fondly call me "Aizon." I am currently working as an Executive Secretary in a hotel, although I finished Bachelor of Science in Nursing. I've been living in Dubai for 7 years and 8 months to be exact.
2. Why did you come to Dubai?
My brother-in-law convinced me and my brother to work here. Just like any other Filipino, I want to earn money as fast as I can to achieve my goals in life and to help my family financially.
3. What were your previous jobs?
My first job was as a Receptionist in an upholstery and curtains shop. Unfortunately, my employer just used my visa! I had to exit Dubai and stay in Kish, Iran, for a month. I remember spending my first Christmas and New Year away from my family in such a difficult situation! I didn't know what to do, so I prayed that God would hear my prayers.
During my stay in Kish, I met some good people who told me that their employer was still looking for staff in a cupcake shop. So as soon as I came back to Dubai, I didn't waste any time! I met their employer and eventually became a Saleslady in the cupcake shop. However, when their sales went down, they started treating us badly. We had to work for 10 to 12 hours straight, without time to eat or even to sit down. It was a horrible experience! They then began terminating staff, one by one. Before I reached 6 months with them, they terminated me as well.
Once again, I did not waste any time! Everyday, I checked the newspaper and browsed the Internet for job opportunities. I couldn't stay unemployed as I had a nephew in college and I was the one supporting his education. Soon, I found work as a Secretary for a law firm, but my previous employer was still holding my passport and cancellation. Hence, I asked my friends for advice, did some Internet research, and decided to file a complaint with the Ministry of Labour.
After a week, I was able to get my passport and cancellation. I felt so relieved! I worked very hard for the law firm, whose owner eventually offered me a job in his hotel — where I worked as a Sales Coordinator. After 5 years, I became an Executive Secretary for the same company. Despite all the hardship, I kept going! I never stopped trusting God, believing that every good thing happens at the right time!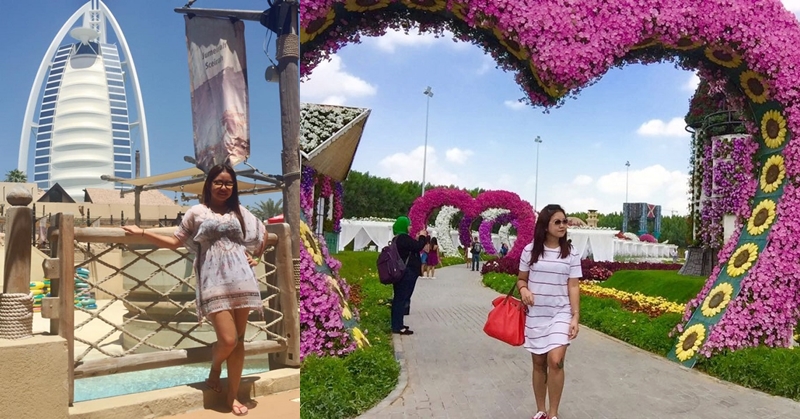 4. How do you find your current job? Are you happy/satisfied with it?
My work is actually a combination of administration and sales, as I am also working in coordination with the Sales Department. I can say that I am happy and satisfied with my job now. It is not that stressful (unlike my previous jobs), and my salary is always on time. However, I am considering a transfer to Human Resources, if there is any opportunity.
5. Are you able to save in Dubai? Why/How?
Honestly, I am trying to save. But sometimes there are unexpected expenses back home and temptation is really everywhere! Fortunately, just last year, my partner and I started to invest in our own house.
6. Is it difficult to live in Dubai? What are/were your struggles? What's life like outside work?
It is not easy to be away from my loved ones, especially from my parents. Homesickness can strike me anytime and everywhere! But I always remind myself about the reason why I am away from them. Meanwhile, my life outside work is amazing! I am living in a place with good people who have a hilarious sense of humor! Special mention to Alvin, Ate Angel, Ann and Mitch 🙂
7. What do you like about Dubai?
Living in Dubai is very convenient and there are lots of place to explore without spending too much money. The food serving is superb; you can order 1 meal for 2 persons already! The huge malls also offer sales almost weekly.
8. What do you NOT Like about Dubai?
I really don't like summer season, as it is such a hassle every time I walk on my way to work!
9. What are your plans in your career/family/future?
Career-wise, I will sign up to study a short course in Human Resources to pursue my goal of working in that field. Actually, I want to stay here in Dubai for at least 3 to 5 more years, so I am trying my best to save money before I go back home to my family.
10. You have any tips for Kabayans when working/finding work/living in Dubai?
I hope that my story can help inspire people to go for their dreams. My advice to my Kabayans is this: Always remind yourself about why you are away from your family. Don't forget your priorities, focus on your goal, and work hard! Understand and respect the rules and culture of Dubai. Learn how to get along with your colleagues and housemates to avoid conflict. Finally, always surround yourself with good people and be respectful.
—————-
*Photos provided by Sonia
Are you an expat in Dubai? Do you want to be featured in the website? Send us an email telling us you want to be featured at admin@dubaiOFW.com and we will send you the set of questions! Let's help other Pinoys who want to come to Dubai understand what life in the UAE is like through your story.